McMaster to host 10th annual Canadian National Brain Bee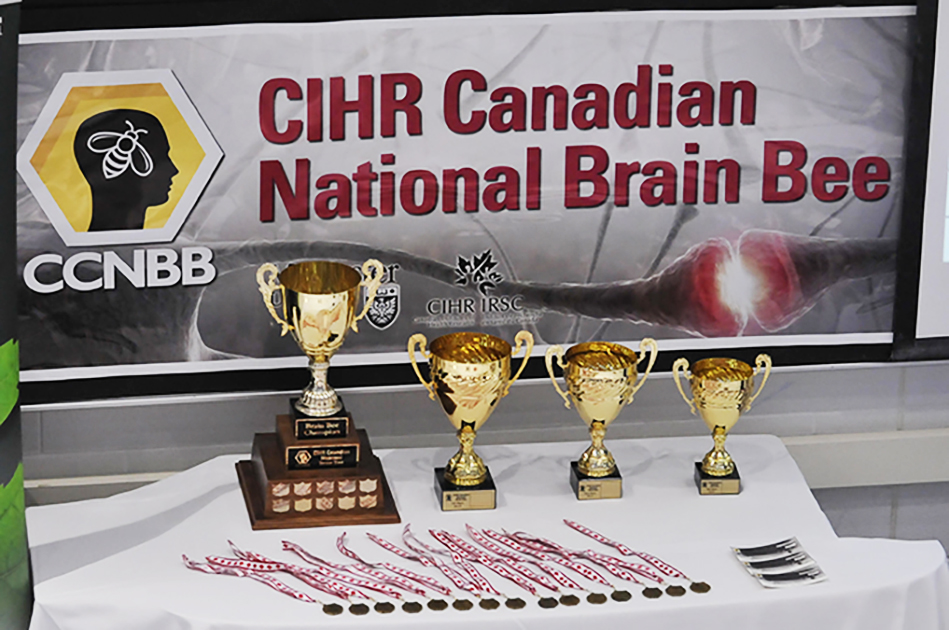 May 25, 2017
High school students from across Canada will converge on McMaster University Saturday, May 27th, 2017, to compete for the 10th Annual Canadian National Brain Bee championship.
The students, all winners of their regional competitions, will be tested on their knowledge of neuroscience and their skills at patient diagnosis and neuroanatomy. Topics will cover memory, sleep, intelligence, emotion, perception, stress, aging, brain-imaging, neurology, neurotransmitters, genetics and brain disease.
Regional Brain Bee competitions took place earlier this year in Victoria, Vancouver, Calgary, Edmonton, Saskatchewan, Winnipeg, London, Waterloo, Guelph, Hamilton, Toronto, Kingston, Ottawa, New Brunswick, and Newfoundland and Labrador.
Dr. Judith Shedden, associate professor in McMaster's Department of Psychology, Neuroscience & Behaviour, is chair of the CIHR Canadian National Brain Bee Committee. Shedden says, "This is our tenth year hosting the national brain bee competition at McMaster.  We are excited to welcome these outstanding high school students who are the next generation of neuroscientists."
The CIHR Canadian National Brain Bee is supported nationally by the Canadian Institutes of Health Research (CIHR).
"CIHR is honoured to support this exciting opportunity for Canadian youth to strengthen their passion for brain science through participation in the 8th annual CIHR Canadian National Brain Bee," says Dr. Anthony Phillips, Scientific Director for CIHR's Institute of Neurosciences, Mental Health and Addiction. "This championship never fails to stimulate interest and excitement about brain research and always attracts some of Canada's brightest young minds to the study of neuroscience. I'm always impressed by the knowledge these students display in the annual Brain Bee."
Winners will receive trophies and scholarship awards of $1,500, $1,000 and $500. The first-place winner will win an internship in a neuroscience laboratory, and will represent Canada at the International Brain Bee in August in Washington D.C.
More information can be found at http://www.brainbee.ca.
McMaster University, one of four Canadian universities listed among the Top 100 universities in the world, is renowned for its innovation in both learning and discovery. It has a student population of 23,000, and more than 156,000 alumni in 140 countries.
At the Canadian Institutes of Health Research (CIHR), we know that research has the power to change lives. As Canada's health research investment agency, we collaborate with partners and researchers to support the discoveries and innovations that improve our health and strengthen our health care system. www.cihr-irsc.gc.ca
For more information, please contact:
Michelle Donovan
Public Relations Manager
McMaster University
905-525- 9140 ext. 22869
donovam@mcmaster.ca
Wade Hemsworth
Public Relations Manager
McMaster University
905-525- 9140 ext. 27988
hemswor@mcmaster.ca
Dr. Judith Shedden
Associate Professor
Psychology, Neuroscience & Behaviour
McMaster University
905-525- 9140 ext. 24345
shedden@mcmaster.ca
Dani Ablack
Media Relations
Canadian Institutes of Health Research
613-941- 4563
mediarelations@cihr-irsc.gc.ca