McMaster to partner with Lund University in the fight against pandemics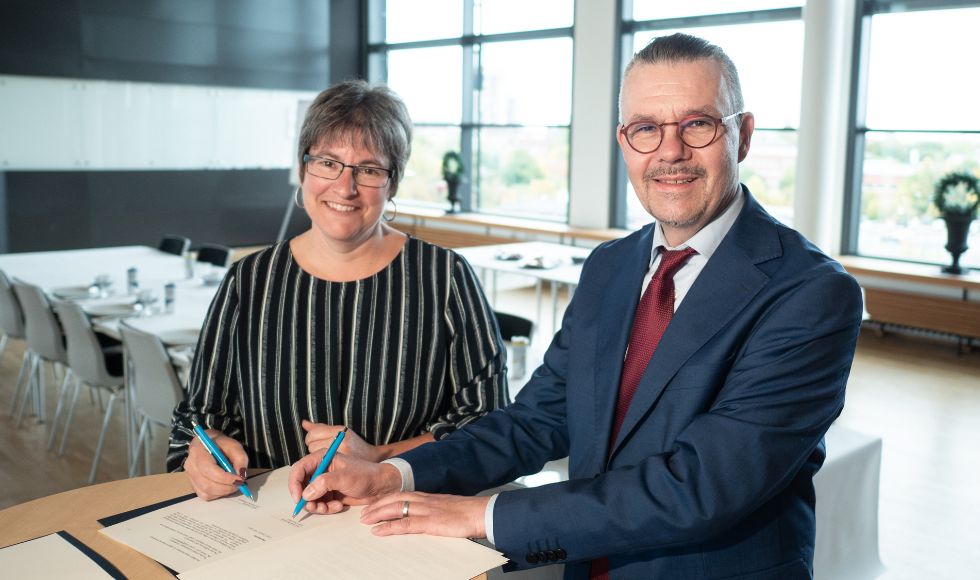 McMaster's partnership with Lund University in Sweden "sets the stage for us to work together, explore opportunities to strengthen our education and research programs, and train the next generation of leaders," says VP Research Karen Mossman, seen here with Lund's vice-chancellor, Erik Renström.
---
February 3, 2022
McMaster and Lund University, a leading Swedish institution, have entered into a promising new partnership that will advance research and education in both countries.
Lund is a key player in Scandinavia's health sciences ecosystem and McMaster is home to Canada's Global Nexus on Pandemics and Biological Threats. Together, they will focus their research and training efforts to advance the fight against the COVID-19 pandemic.
"The virus knows no borders, nor should those who are working to erase it," says virologist and Vice-President of Research Karen Mossman, adding that this is just the first step of the collaboration.
"Combining our talents and strengths in areas like virology will allow both universities to be even more efficient in our collective quest to find solutions to this global challenge."
Lund's vice-dean of medicine, David Gisselsson Nord, echoes Mossman's comments, noting the partnership is a major step toward fruitful collaboration between the two universities.
"At Lund University, we look forward to joining forces with our Canadian friends, not only in research but also in training future scientists and health professionals," he said.
"We will start with virology as a major focus area for our joint efforts but foresee expansion towards many other fields of collaboration."
Infectious disease expert and lead for Canada's Global Nexus, Gerry Wright, says the partnership holds great potential for students, researchers and society.
"Lund provides a view from across the Atlantic and shares our interest in pandemic preparedness, said Wright.
"Pandemics are not local, as we have painfully understood over the past two years. Global challenges require global solutions, and this is a step in the right direction."
Mossman and Canada's Global Nexus colleague Matt Miller, associate professor of biochemistry and biomedical sciences, visited Lund in the fall to meet with the university's world-leading virology and immunology groups to discuss their efforts to fight COVID-19.
"There are obvious areas of mutual interest and great enthusiasm to explore the synergy between our universities," says Mossman.
"This new partnership with Lund University sets the stage for us to work together, explore opportunities to strengthen our education and research programs, and train the next generation of leaders."