McMaster University and the University of Liverpool partner on pandemic preparedness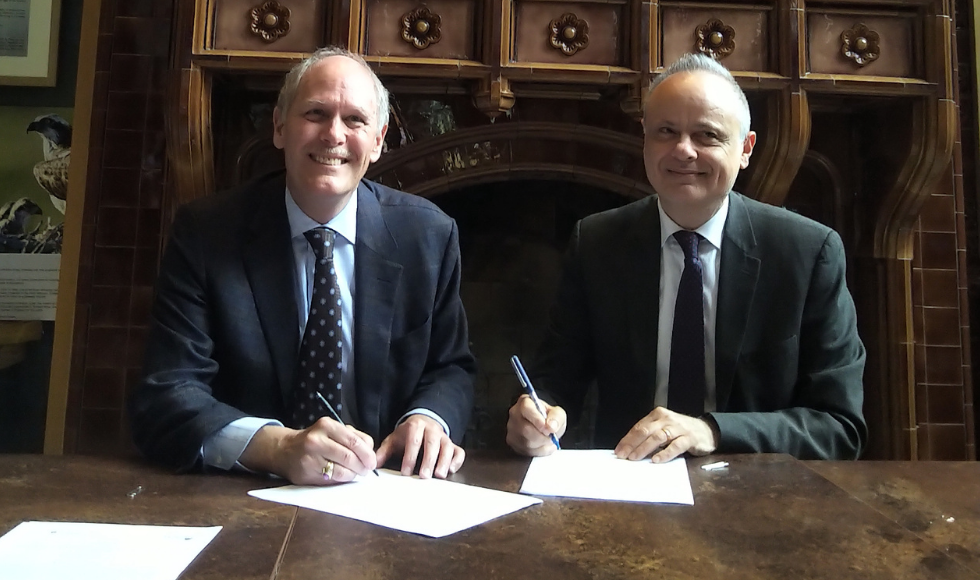 David Farrar, president and vice-chancellor, McMaster University, and Anthony Hollander, executive pro-vice chancellor for research and impact, University of Liverpool, sign a new partnership to advance research and training in pandemic preparedness.  
---
June 1, 2022
McMaster University and the University of Liverpool have entered into a partnership that will advance pandemic preparedness research and training opportunities at both institutions.
David Farrar, McMaster president, visited the University of Liverpool in May to discuss areas of mutual interest and identify opportunities to build international capacity to tackle global health threats.
The visit provided a forum to exchange ideas and perspectives on the past and current difficulties that COVID-19 has brought globally, including the challenging landscape universities around the world have experienced, and their role in developing strong evidence-based solutions for future epidemics.
Farrar says that the University of Liverpool is key in developing the local, regional and national framework for pandemic preparedness in the United Kingdom, in part due to its research strengths in tropical and veterinary medicine, virology and antimicrobial resistance.
"Between our universities, we see several opportunities to accelerate vaccine and antibiotic development and address the challenges related to infrastructure, PPE, manufacturing, public policy and the spread of misinformation," he says.
Anthony Hollander, pro-vice chancellor for research and impact at the University of Liverpool, says international collaborations are essential in addressing the global challenges that have arisen during the Covid-19 pandemic.
"I am delighted to see this new relationship developing between the University of Liverpool and McMaster University in a field where we both have a strong track record of impactful research. I am looking forward to the opportunities that this partnership will create for our researchers to work with our partners in Canada."
Gerry Wright, lead at Canada's Global Nexus for Pandemics and Biological Threats, says these kinds of international partnerships are critical and will allow Canada's Global Nexus researchers to significantly expand their scope and accelerate their research programs.
"The University of Liverpool is an important partner and a great addition to the team of international institutions that are now working with Nexus to address current pandemic issues and prepare for what may come next."