Mac's new senior health physicist has an unexpected hobby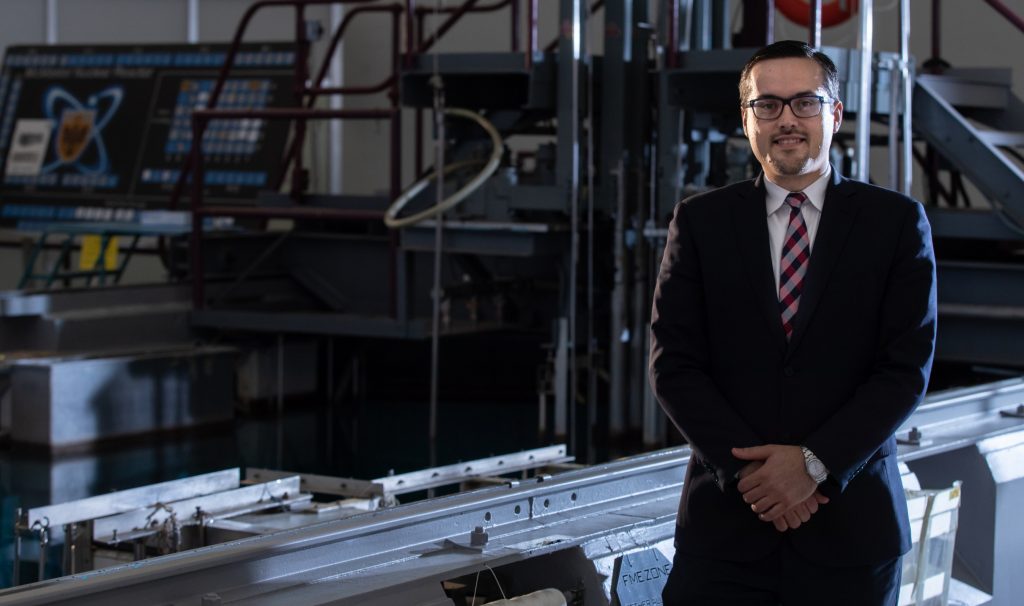 Joe Zic loved everything about his job at OPG — the work, the people, the prospects. But when his former mentor Dave Tucker's job opened up, he knew he had to follow his heart back to McMaster. Photo by J.D. Howell
---
BY Sonia Verma
June 6, 2018
By day, McMaster's new senior health physicist, Joe Zic, is responsible for protecting the university community from radiation-related health risks.
In his off hours, he collects radioactive household items.
"Have you ever heard of a revigorator? It's a container made of radium ore," Zic proudly describes one of his prized possessions. "In the 1920s, people would fill it with water and let it sit overnight, then sip that water through the day. People thought it would good for them."
And was it good for them? "No, absolutely not," Zic says, cheerfully. "That water would be pretty radioactive."
Zic is bringing a few of his treasures with him to McMaster this month, when he replaces long-time senior health physicist Dave Tucker, who now works for the International Atomic Energy Agency. Tucker happens to be the professor who introduced Zic to health physics as an undergraduate.
It's a homecoming for the 35-year-old Mac grad, who grew up in Hamilton.
"It's nice to come back to your family again," he says. "And I'm from McMaster. I had a great undergraduate experience and master's experience and it's nice to be back with that family too."
Before his move to Mac, Zic was Radiation Protection Manager for Ontario Power Generation. He is the youngest-ever Canadian to be certified as a senior health physicist for a Class 1 nuclear power generating station.
"Joe's McMaster training, combined with the knowledge he brings from OPG, positions him perfectly for his role at McMaster," says vice-president of research Rob Baker.
"We're recognized as a world leader in safe and compliant nuclear research, and the selection committee unanimously agreed that Joe's leadership would not only help us to expand our capacity in radiation safety, but also to continue to build our reputation."
Zic started working at OPG's Pickering Nuclear Generating Station right after finishing his undergraduate degree in health physics in 2005. He rose rapidly in the organization, and when he left was overseeing a team of 186 people and a multimillion-dollar budget.
"Pickering is an old station, but that makes it a really great atmosphere for coming up with innovative ways to do our jobs," Zic says. "We've come a long way from the days where you would find a radiological source and you'd be trying to pick it up with long-handled tools and quickly throwing things in buckets. Now we have robotic tools; we have drones that we're flying around to survey things."
Zic created a small museum of his radioactive treasures — like the revigorator — at the Pickering plant. ("My wife won't let me keep them at home anyway.") It's very popular with visitors.
"People are interested in it because it's really everyday items that you can find even today," he says. "I like to use it as an opportunity to talk about radiation safety: This where we were, and this is where we are today. And then I tell them why it's important to keep learning."
Innovation and constant learning are immensely important to Zic. At OPG, he helped institute a permanent remote monitoring program, which allows radiation technicians to remotely check on workers' safety without actually accompanying them one-on-one.
"It was a game changer," Zic says. "Instead of having one radiation protection technician with every single group performing work in the reactor, I could literally have one technician sitting behind a panel in a clean office, talking to and watching up to 20 people working at the same time."
But the best part of his work has been mentoring others and fostering their creativity, Zic continues.
"It's amazing to have people come in and watch them learn, see them look at things differently, come up with new and innovative ways to do things," he says. "I like pushing that change. I like being the person who gets to support their ideas and help turn them into reality."
Zic gets increasingly animated as he describes his work at OPG — he loved the intense pace, the pressure, and the opportunities for innovation and to foster new ideas. And his career was on the perfect trajectory there, he says.
So why walk away from it? "It wasn't easy," he admits. "I really loved my job, and my team."
But when Tucker told him he was leaving, Zic says he had to follow his heart.
"Dave was the one who really got me excited about health physics," he says, smiling. "And I always thought, Wow, if I could ever have Dave's job, I would be the happiest guy. Those are some big shoes to fill, but I couldn't pass up the chance to try. It's always been my dream."