McMaster's Nobel Legacy: Bertram Brockhouse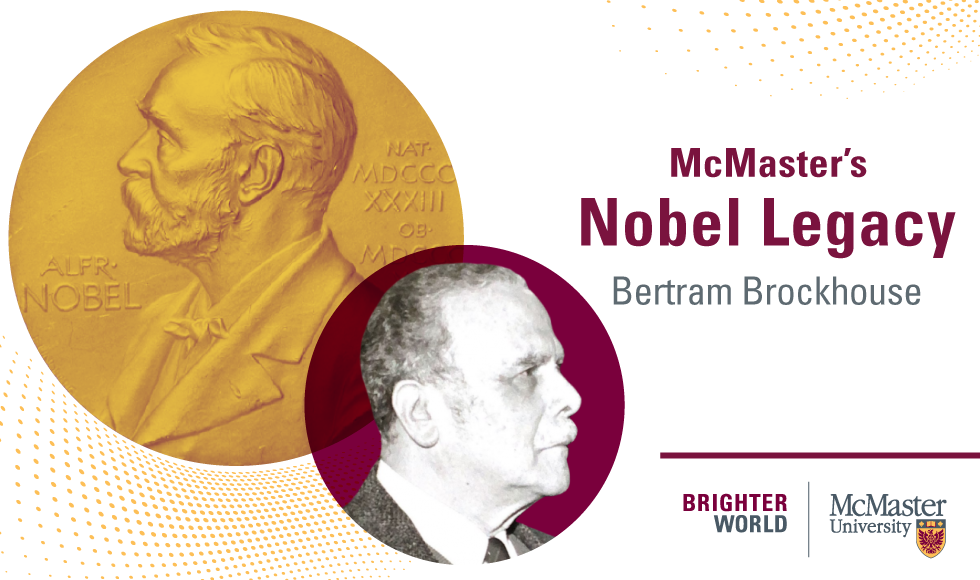 Bertram Brockhouse's pioneering research that led to the development of neutron spectroscopy not only earned him the Nobel Prize, but also laid the foundation for an entire field of research.
---
BY Jesse Dorey
October 6, 2022
Nobel laureate Bertram Brockhouse wasn't entirely sure that the research he was doing was all that important.
And then, in the early morning of October 1994, an unexpected call came through from Sweden that changed everything for the 76-year-old retired McMaster University professor and nuclear researcher.
At least, that's what Bruce Gaulin remembers his former colleague telling a panel of students at an undergraduate physics conference, recounting the story of Brockhouse being named a Nobel Prize winner for the Globe and Mail a short time after Brockhouse's passing.
While working at the Chalk River nuclear research facilities in the 1950s, Brockhouse developed a way to use neutron beams to probe condensed matter. This foundational discovery, called neutron spectroscopy, revolutionized our ability to investigate a wide array of physical materials.
Brockhouse found his way to McMaster in 1962, when he began a professorship in physics until his retirement in 1984. While at the school, Brockhouse was integral in the construction of new spectrometers at the McMaster Nuclear Reactor and played a key role in advancing the physics department.
In 1994, Brockhouse was awarded the Nobel Prize in Physics alongside Clifford Shull for the creation of neutron spectroscopy.
Towards the end of his career, Brockhouse's research turned inwards, as he took a keen interest in the roles philosophy and the mind play in scientific endeavours.
Today, the work that Brockhouse began in the 1950s at Chalk River is alive and well today at McMaster's Brockhouse Institute for Materials Research (BIMR).
"Brockhouse's work had a profound impact on our ability to study the properties of a wide array of different materials," says Alex Adronov, director of the Brockhouse Institute for Materials Research (BIMR) at McMaster.
The institute comprises over 150 faculty members from nearly all parts of the university, carrying out research in all aspects of materials science and engineering.
BIMR continues to have a strong connection to the field of neutron scattering, as the recently opened Small Angle Neutron Scattering Facility supports the work of numerous research groups and will uncover new phenomena, properties and applications.
Much like Brockhouse himself, BIMR has a wide range of interests.
Currently, the institute is investigating materials that have profound impacts on our global community, such as the degradation and recycling of plastics and rubber products that pollute the earth, the development of new battery materials that will store energy in a more efficient way and the creation of new lightweight structural materials that will make up our buildings of the future.
In addition to the sustainability efforts of the institute, BIMR is also revolutionizing health care through their work on polymeric soft materials and biomaterials.
It may look different than the work he carried out at Chalk River, but Brockhouse's foundational work on neutron spectroscopy continues to inform materials research to this day.
And the institute that shares his namesake knows how much they owe to his work.
"It is through the achievement of luminaries like Brockhouse that vibrant, successful research institutes such as BIMR can be created and maintained," explains Adronov. "What Brockhouse achieved throughout his career at McMaster remains relevant today and continues to enable researchers to push the boundaries of materials research."