McMaster's Nobel Legacy: James Orbinski and Médecins Sans Frontières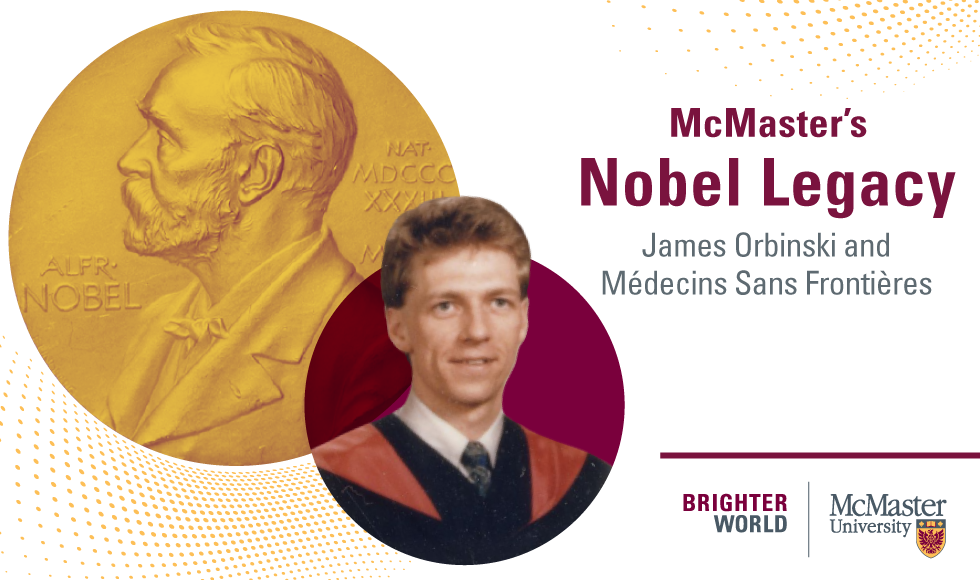 While serving as international president of Médecins Sans Frontières, James Orbinski accepted the Nobel Peace Prize on behalf of the organization. His story is one of many global humanitarian stories to come out of McMaster's Faculty of Health Sciences.
---
BY Jesse Dorey
October 7, 2022
James Orbinski, a medical doctor and global health advocate, has spent a significant portion of his professional career providing medical aid to peoples living in countries affected by war, disease and famine.
A short time after graduating from McMaster University's Michael G. DeGroote School of Medicine in 1989, Orbinski, alongside fellow McMaster medical graduate Richard Heinzl of '87, founded the Canadian chapter of Médecins Sans Frontières (MSF). The global humanitarian organization provides frontline care to individuals affected by war, disasters and disease, and during his time with MSF, Orbinski provided medical humanitarian aid in, among others, Somalia, Rwanda, Afghanistan and Zaire.
In 1998, after extensive work on the frontlines with the organization, Orbinski was selected as the international president of MSF, a role he held until December 31, 2000.
Just one year after his appointment, in 1999, MSF was awarded the Nobel Peace Prize for their global humanitarian work. As international president, Orbinski accepted the award on the organization's behalf. In his Nobel Prize speech, Orbinski used his platform to address the systemic barriers to equity that exist in the world and the necessity of humanitarian aid.
"Humanitarian action is more than simple generosity, simple charity," said Orbinski during his speech to the Nobel committee. "It aims to build spaces of normalcy in the midst of what is profoundly abnormal."
The proceeds from the award were used to set up the Neglected Diseases Fund, a project within MSF that supports the development, production and distribution of treatments for neglected diseases.
Having a global impact
Students, faculty and alumni from McMaster's Faculty of Health Sciences have a long history of working with communities both at home and around the world to provide medical aid and training to citizens and experts working and living on the front lines.
Both the School of Medicine and the School of Nursing have built strong educational and social ties with many partner nations around the world, including Uganda, Guyana, Namibia and Pakistan. This initiative builds relationships with developing countries by training the next generation of global health leaders and enabling them to build up their health care capacity at home.
---
Here are some further examples of the global health work currently being carried out by McMaster alumni and faculty:
Fighting for mothers and children
Jean Chamberlain, a professor of the Department of Obstetrics and Gynecology, is the founding director of Save the Mothers, a multinational non-profit group that works to improve maternal health around the world. By working with professionals from a wide array of disciplines in developing nations, Save the Mothers empowers local professionals to improve quality and standards of care for mothers and their newborns throughout East Africa.   
Advocating for children in combat zones
In over two decades of global humanitarian work, Samantha Nutt, a 1994 graduate of McMaster's undergraduate medical program, has worked with families in conflict zones across the world to provide medical and humanitarian aid to children. After noticing a disconnect between local communities and global humanitarian organizations that intended to help these populations, Nutt, alongside her husband and fellow McMaster medical graduate Eric Hoskins '85, founded the Canadian chapter of War Child, a global organization that works tirelessly to aid children and families in war-torn countries around the world.
Training the next generation of professionals
Karl Stobbe, founding assistant dean of the Niagara Regional Campus of the Michael G. DeGroote School of Medicine, has been working to ensure equal access to and quality of health care for marginalized populations in local and rural settings. His international work has taken him to Nepal, Philippines and Peru. In addition to his work with local health-care professionals, Stobbe also serves on the board of Academics Without Borders, a global organization that aids universities and colleges in developing nations to train the next generation of academics and scholars.