Measuring the fiery effects of climate change on Canada's Boreal forest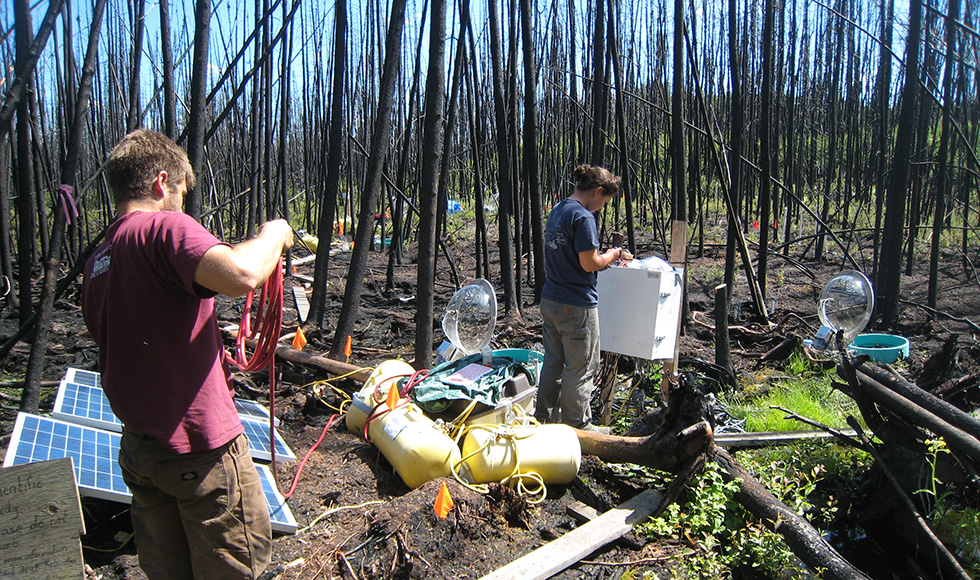 November 15, 2017
Canada's boreal region is a mosaic of forests are wetlands. These ecosystems store carbon, purify the air and water and regulate the climate—not to mention are a crucial part of the Canadian economy. Most of Canada's resource activity is in boreal areas including mining, oil and forestry.
But, in terms of research, boreal wetlands are often neglected. Restoration practices are often treated as an afterthought: when an area is severely impacted after a fire or industrial activity, the former ecosystem might not recover, leaving the area's moss species – crucial to the ecosystem – unsupported.
"What you get then is a regime shift," says Mike Waddington, a professor of ecohydrology in the School of Geography and Earth Sciences at McMaster. A regime shift means that the function of the former ecosystem is gone forever.
Since his days as a grad student, Waddington has been at the forefront of research in boreal ecosystems. He has been working with government and industry to better understand how boreal wetlands can be rebuilt after the impacts from fire or resource extraction such as mining or forestry.
Essentially, he's finding a way to rebuild a bog.
As the boreal forest floor burns, so does the large repository of organic matter of peat which, when burned, can greatly inflate Canada's carbon emissions. The Fort McMurray fires in 2016 released 85 million tons of carbon dioxide equivalent emissions, or 10 percent of Canada's total carbon emissions.
Learning how to control such peat fires not only saves ecosystems but will also help fight climate change.
In its natural state, the peat beneath boreal forests holds a lot of water. The saturated organic material of partially decomposed moss and leaves doesn't break down as it would under drier conditions. Instead, it accumulates, as it has for millennia. During drought conditions, that can change, especially with the now drier organic layer becoming a fuel source itself for wildfire.
But another danger hides from the public eye: the insidious fires that can remain smouldering underground, says Waddington. The fires can burn into the peat, sometimes several meters down, smouldering and burning through the thick layer of detritus, making any new forest and moss growth vulnerable. "Wildfires can actually burn down into the soil and smoulder over weeks, months or an entire year, even through the winter," says Waddington.
Waddington's research seeks to better understand how water interacts with the ecosystem, with the goal of keeping the peat from drying out and making the boreal ecosystems less vulnerable to wildfire. His research suggests a solution: keep the peat moist by introducing a 'super moss' species, Sphagnum fuscum. The structure of the Sphagnum 'super moss' allows it to retain water for longer periods than other moss species. The layer of underlying organic material remains saturated and the fire has no easy fuel source to burn. How to go about doing that is the subject of his work this past summer in Alberta.
Waddington has been collaborating with Alberta Agriculture and Forestry and with other academics and doctoral students to conduct experimental fires to better understand the role of peat in underground fires and to test his 'super moss' restoration solution.
Be it mining, oil, forestry or another resource sector industry, chances are that industry is occurring in an area with boreal wetlands. Being able to understand how to restore these wetlands then is critical.
"I love the challenge of being able to understand how to build a bog," says Waddington. "Our industrial partners are also keen to understand how these ecosystems are working. Canada is an international leader in this area."
More recently he is applying his bog building knowledge to species-at-risk reptiles. Two winters ago in Ontario, there was a large decline in the Massassauga rattlesnake population. The snake uses peatlands in the Georgian Bay Biosphere Reserve to hibernate. Waddington, who knew about the temperature, soil quality and hydrology of these ecosystems, shed light on the problem.
"I found it very satisfying working with snake experts. Working together, we can learn how to better predict when these ecosystems may not be an ideal habitat for the snakes and to use that knowledge when restoring this critical habitat"