Mechanical engineers develop 3D printed sensors powered by snow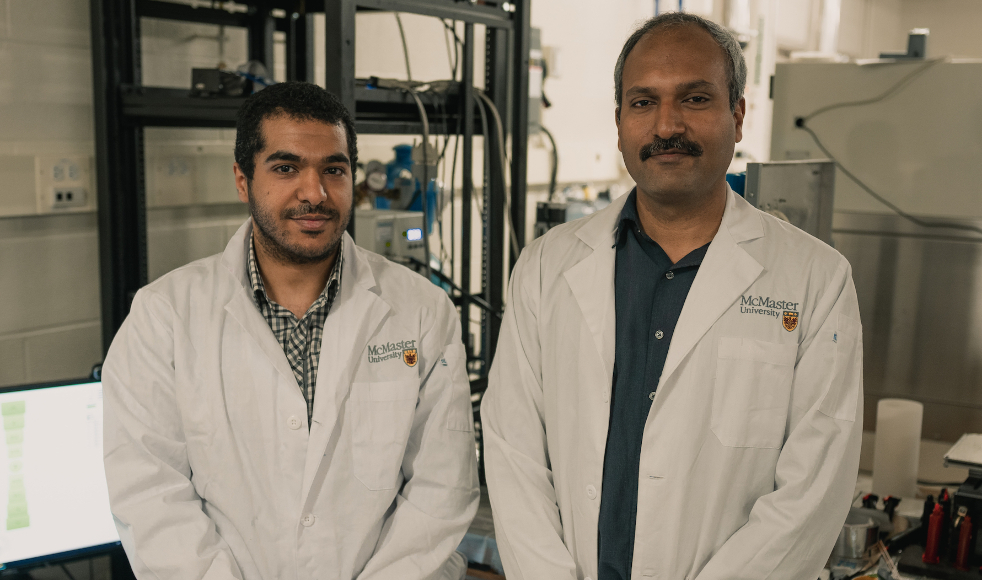 PhD candidate Islam Hassan (left) and professor Ravi Selvaganapathy have developed sensors that are powered by the movement of snow.
---
BY Michelle Presse
July 5, 2019
Is this the most Canadian technology ever?
Ravi Selvaganapathy, a professor in Mechanical Engineering and Canada Research Chair in biomicrofluidics, along with Ahmed Abdelsalam, a visiting researcher and Islam Hassan, a PhD candidate in Mechanical Engineering, used Canada's harsh winter climate as inspiration for their unique device. They also teamed up with researchers from the University of California, Los Angeles (UCLA), University of Connecticut and Stevens Institute of Technology.
Abdelsalam and Hassan, who came up with the original idea, thought, "We have a lot of snow. Why don't we try to extract energy from it?"
"We've been doing prior work on triboelectric nanogenerators, but not necessarily extracting energy from snow," says Selvaganapathy. "It was an interesting side project that led to this idea."
Triboelectric nanogenerators are "energy harvesters" that can take energy from the environment in a variety of forms (mostly mechanical) and convert it into electrical power.
"What we're doing is 3D printing those generators in order to adapt it to a variety of materials, such as clothing and shoes and other wearable technologies," says Selvaganapathy.
Hassan says the integration of a variety of materials — some of which were conducting and some of which were dielectric — and 3D printing them was the greatest challenge.
"It is possibly the coolest 3D printed device we have worked with," says Selvaganapathy. "It's an interesting application, especially when we started out in December when snow was around."
The device was made possible by depositing successive thin films, which acted as the electrode and UV-curable silicone (the triboelectrification layer). The structure proved to be transparent, mechanically strong, metal-free and flexible — so much that the device can be stretched up to 125 per cent of its original length.
The device was tested under three different modes of operation — tapping, sliding and snowfall.
During the tapping mode, the device was briefly and repeatedly brought into contact with a snow surface. During the sliding mode, the device was attached to a rubber bicycle wheel, which was ridden across a snow-covered surface. In the final test — snowfall mode — the device could be used to detect snowfall angles.
The team says the device could be used as "…a self-powered, sensitive snow-related meteorological monitoring station to measure critical weather parameters," suggesting that, with further work, it has the potential to be suitable for direct printing onto solar panels.
"People have been very excited," says Selvaganapathy. "The fact that we could extract energy from snow has been a very interesting aspect. It has been a fantastic dinner table conversation, but is of general interest because we have so much snow in Canada. There has been very widespread interest in Canada and abroad."
Read the team's full paper here.