Meet the first Labarge Mobility Scholarship recipients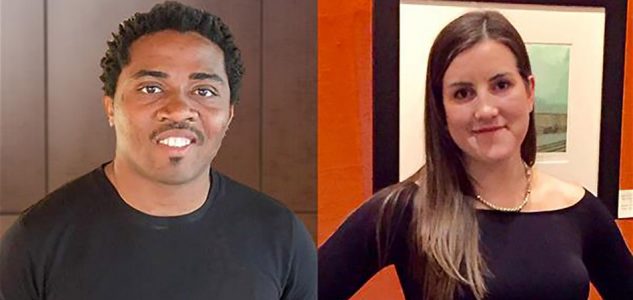 August 18, 2017
In July, two promising students in the field of aging became the first recipients of the Labarge Mobility Scholarship, an influential new award presented by the Labarge Centre for Mobility in Aging within McMaster's Institute for Research on Aging (MIRA).
Funded through the generous contributions of McMaster's Chancellor Suzanne Labarge, the awards are valued at $15,000 for a Master's student and $18,000 for a Ph.D. student, both in their first year of study.
"These scholarships were created to inspire interdisciplinary research and support scholars who demonstrate outstanding potential in the diverse area of mobility in aging," said Parminder Raina, scientific director of MIRA and a professor in the Department of Health Research Methods, Evidence and Impact.
This year's recipients are Sydney Valentino, a Master's student in Kinesiology in the Faculty of Science, and Michael Kalu, who is pursuing a Ph.D. in Rehabilitation Science within the Faculty of Health Sciences.
Both recipients were selected for their demonstrated high academic achievements, proven interest in aging and mobility research, ambition to collaborate with other disciplines, and participation in research activities that show potential to benefit older adults.
Valentino's passion for research in aging comes from her close relationship with her grandfather, who recently experienced a heart attack.
"It's hard to see him [struggle] with any physical activity more strenuous than walking," she says. "If I'm able to help someone else's grandparent—if I could help change their trajectory and increase their quality of life—that would be amazing to me."
Fittingly, Valentino spent the last two years working alongside newly appointed Dean of Science Maureen MacDonald in her Vascular Dynamics Lab. There, students and researchers examine the response in arteries to changes in physical activity. Valentino will continue her work in the lab developing a stair climbing intervention for cardiac rehabilitation.
"Individuals enter an incredibly challenging period after experiencing a cardiac event," she said. "It's essential to engage in a safe physical activity to regain cardiovascular and functional capacity. My research will inform the benefits of low volume, high intensity stair climbing as a feasible and effective exercise in comparison to current rehabilitation programming."
Ultimately, she'd like to see more accessible cardiac rehabilitation, as well as increased mobility, active living and cardiovascular health for older adults as a whole.
Kalu, a trained physiotherapist from the University of Nigeria, has devoted his undergraduate and two Master's degrees to studying mobility among older populations. Having extensive clinical experience, Kalu observed a decline in the mobility of older adults as they move from one care setting to another. That observation formed the basis for his current Ph.D. thesis, which will focus on mobility enhancement for older adults across care transitions.
"In order to enhance mobility for older adults who are transitioning between care settings, I believe a holistic approach—one that requires understanding the psychological, social, cultural, environmental and personal determinants of mobility—is required," said Kalu.
Kalu has a strong interest in interdisciplinary research and was attracted to McMaster University because of its access to multiple platforms in aging research.
"I have always had a desire to be a member of a multidisciplinary research team," he said. "Receiving the Labarge Mobility Scholarship excites me, as I am certain the opportunity will expose me to a great network of researchers focused on mobility-related issues in older adults."
To learn more about MIRA's funding opportunities, visit MIRA.McMaster.ca.