Meet the researchers behind McMaster's inhaled COVID-19 vaccines
From left to right: Co-principal investigator Matthew Miller; Fiona Smaill, professor of Pathology and Molecular Medicine and leader of the clinical trial; Zhou Xing, co-principal investigator and professor in the Department of Medicine; and Brian Lichty, associate professor in the Department of Medicine.
---
December 7, 2021
Human trials are set to begin for two next-generation COVID-19 vaccines developed by a team of scientists at McMaster University. Both are designed to combat variants of concern and will be delivered by inhaled aerosol, targeting the lungs and upper airways, where respiratory infections begin.
The researchers behind this innovative research are all members of McMaster's Canada's Global Nexus for Pandemics and Biological Threats. Learn more about their work below.
Fiona Smaill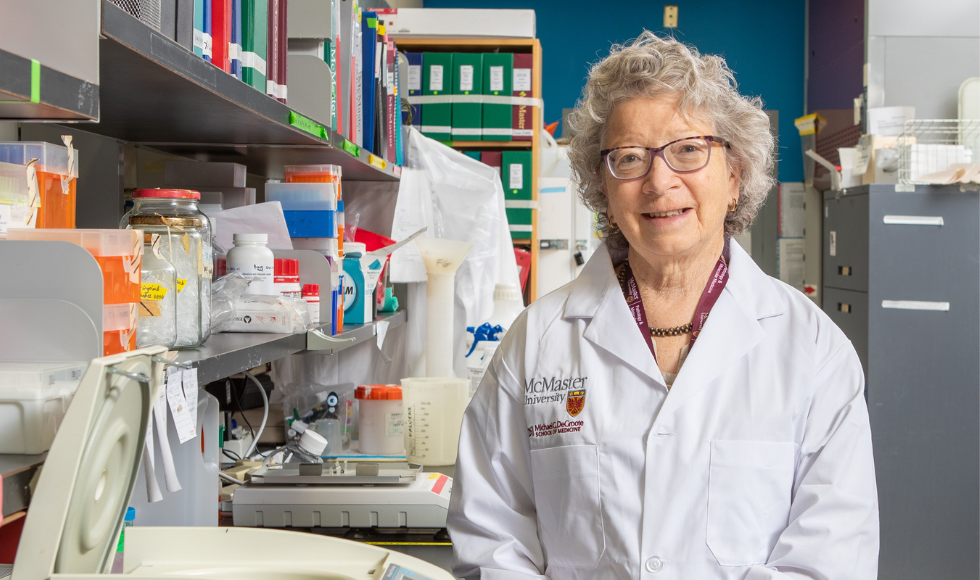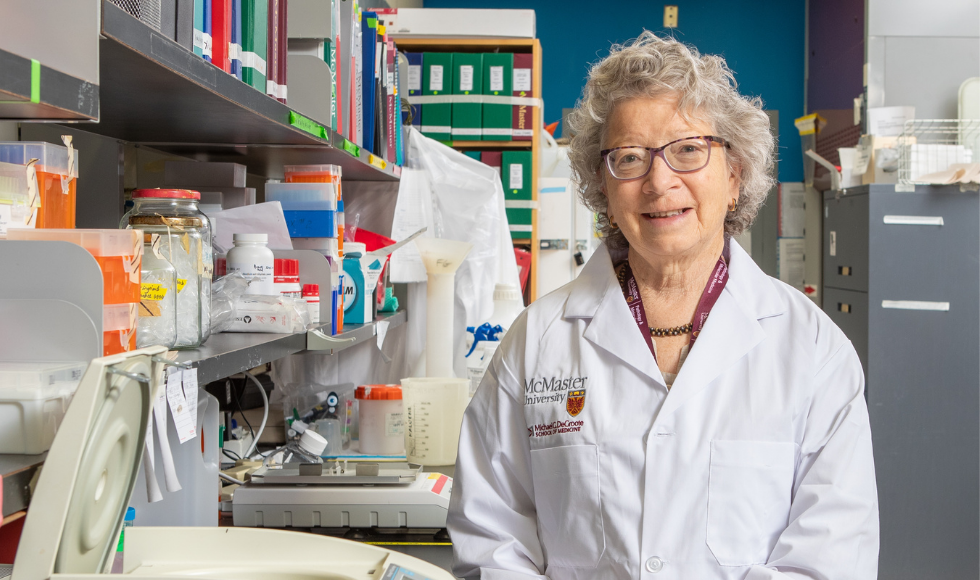 Fiona Smaill is a professor of Pathology and Molecular Medicine at McMaster University.
The infectious disease specialist is leading McMaster's clinical trial developing two next-generation COVID-19 vaccines that are delivered by inhaled aerosol directly into the lungs. The development marks "an exciting direction that COVID-19 vaccine science is taking," says Smaill. "This is the first time that a vaccine has been developed containing three of the important proteins of the Covid virus, and so our belief is that this will broaden the immune response and lead to better protective immunity," says the microbiologist.
Smaill is also the research lead of the HIV clinic at Hamilton Health Sciences and specializes in infections in immunocompromised hosts, diagnostic medical microbiology, infection control and clinical epidemiology.
Zhou Xing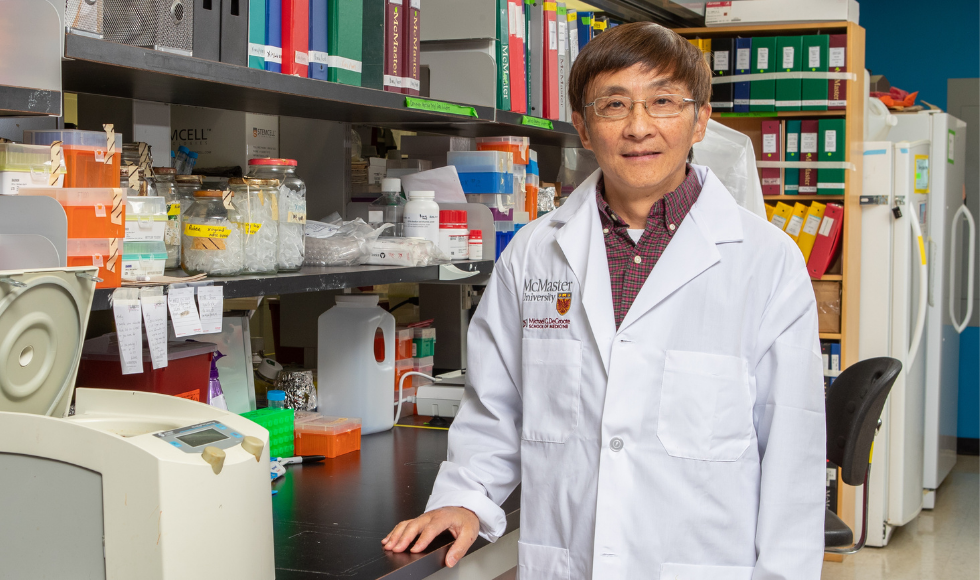 Zhou Xing is a professor in the Department of Medicine and McMaster Immunology Research Centre. The infectious disease expert is a co-principal investigator behind two new homegrown COVID-19 vaccines delivered via inhalation.
The delivery concept draws on the respiratory mucosal immunity expert's two decades of research in developing a tuberculosis vaccine.
"We aim to release or induce the broadest possible protective immunity, right at the site of viral entry. The different vaccine design and different route of administration leads to what we believe to be much better protective immunity," says Xing.
Brian Lichty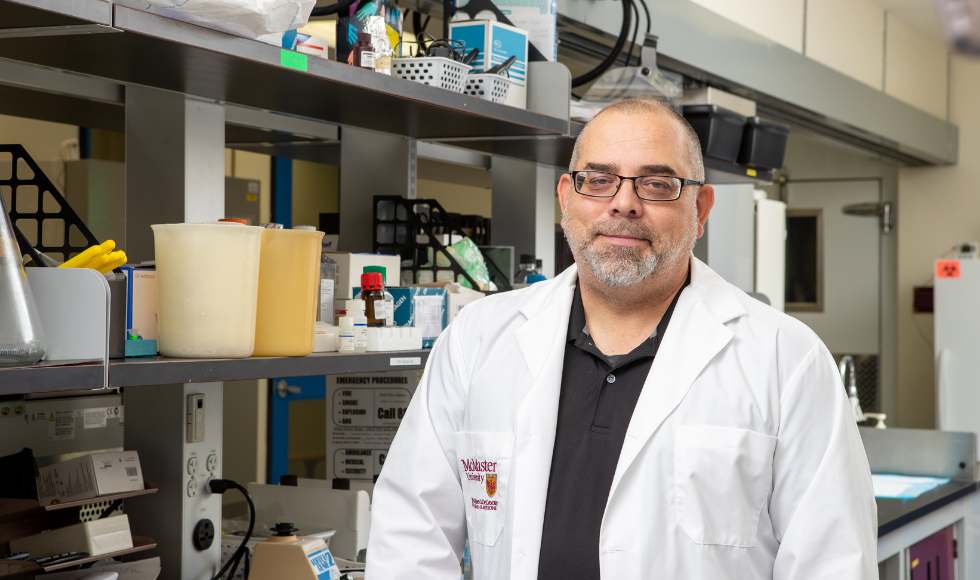 Brian Lichty is an associate professor in McMaster University's Department of Medicine and the director of the Robert E. Fitzhenry Vector Laboratory.
Lichty, whose research is centred around host virus interactions, is co-leading the development of two second-generation vaccine candidates at McMaster.
The researcher says the critical work happening in the Vector Lab is uniquely positioned to address the lack of bio-manufacturing in Canada that the pandemic has highlighted.
"We fill a role that I think is largely missing in Canada," says Lichty. "That's the role of the smaller-scale manufacturing facilities that can enable scientists or small bio-tech to take their innovations and manufacture something that can then be tested in a clinical trial."
Lichty says the promising two new vaccines build upon the lab's solid track record of manufacturing vaccines for tuberculosis, cancers and veterinary medicine.
Matthew Miller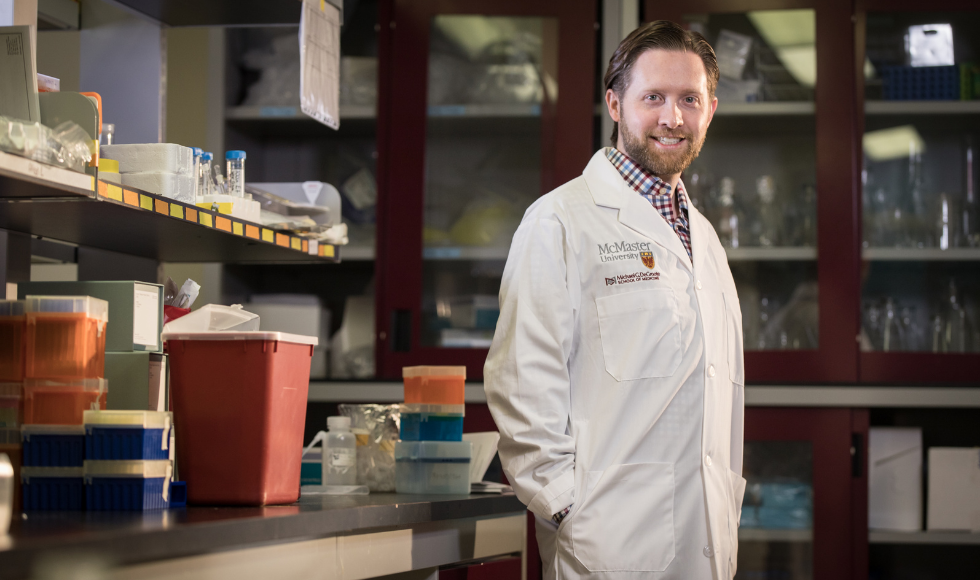 Matthew Miller is an associate professor at McMaster's Michael G. DeGroote Institute for Infectious Disease Research. The immunology expert is a co-principal investigator behind McMaster's two second-generation COVID-19 vaccines. Miller, whose work has been instrumental in the ongoing development of a 'universal' influenza virus vaccine, says the innovative approach of expressing three different SARS-CoV-2 proteins rather than only the distinctive spike protein (like the first-generation vaccines) has the potential to make a tremendous impact on public health.
"[It] is very forward looking and a homegrown strategy that's likely to get ahead of the virus so that in the future we're not chasing coronavirus evolution the same way that we have to chase influenza on an annual basis by constantly updating the vaccine."
---
About Canada's Global Nexus for Pandemics and Biological Threats, McMaster University
Building on a world-leading track record of infectious disease research, Canada's Global Nexus at McMaster University brings together a vast, international network of researchers, government, industry, health care and other partners with the goal of finding solutions to the current pandemic, while preparing for future global health threats.