Music as cultural commentary: Henry Giroux's writing inspires composer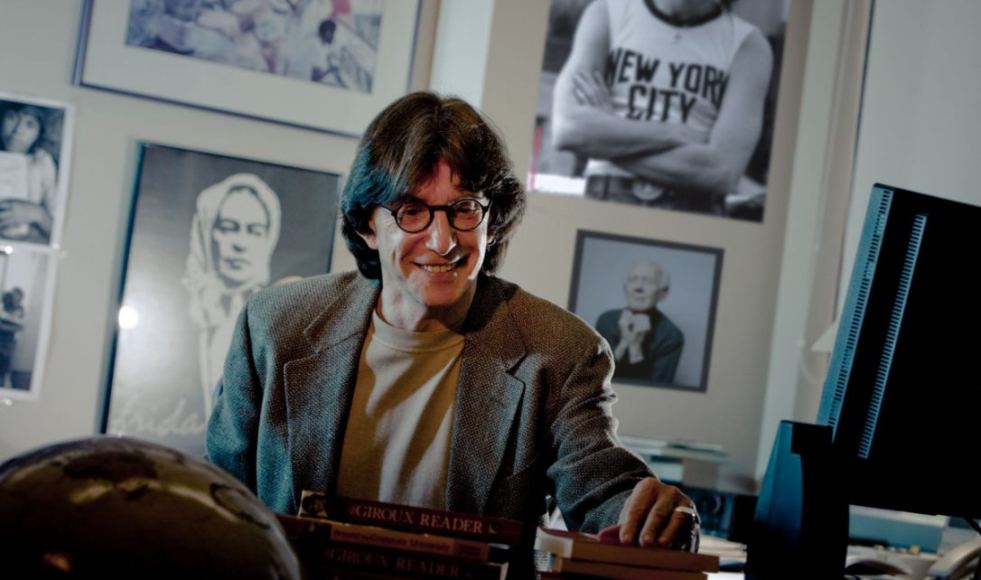 Prolific and genre-crossing composer John Psathas is marrying cultural critic and Humanities professor Henry Giroux's writings with music to share his insights with an even larger audience.
---
BY Sara Laux, Faculty of Humanities
March 10, 2022
Henry Giroux, the McMaster University Professor for Scholarship in the Public Interest and the Paulo Freire Distinguished Scholar in Critical Pedagogy, has made a career of sharing his work in non-academic settings: websites like Counterpunch, Salon, and Truthout, op/eds in local, national and international publications.
In 2016, he was interviewed by Julian Casablancas, the lead singer of The Strokes, in Rolling Stone magazine. (Casablancas and Giroux re-united three years later for a sold-out public forum at the Westdale Theatre following Casablancas' visit to McMaster.)
The celebrity interviews didn't stop there: Comedian and actor Russell Brand interviewed Giroux in 2019. 
Now, Giroux's work will be making the move to a different medium altogether: music. He's collaborating with genre-crossing New Zealand composer John Psathas. 
"John contacted me and said he'd read my books The Violence of Organized Forgetting and Disposable Futures – he wanted to work with the material because he saw a certain rhythm in the work that he wanted to capture," Giroux explains.
"He wanted to take his expertise, his creative power, and combine it with my ability to work with language and politics, and bring them together." 
Along with many other works, Psathas composed the music for the opening and closing ceremonies of the 2004 Athens Olympics and is a frequent collaborator with musicians from around the globe, including percussionist Evelyn Glennie, System of a Down frontman Serj Tankian and jazz saxophonist Joshua Redman. 
One of New Zealand's most performed composers, Psathas was in San Francisco in 2016 when he discovered Giroux's books at City Lights Bookshop – and knew he had discovered something important both to his thinking about the world, and to his own work as a composer. 
"Henry's work was a new way of experiencing information and meaning – every sentence would conjure into reality many things I had until then only imagined, or suspected," Psathas says.
"Ideas and concepts I'd been peripherally aware of were given a kind of oxygen and were able to breathe." 
Psathas wanted to introduce those ideas to other people, but in a way that would make sense to folks who might not sit down and read one of Giroux's 73 books. 
That meant using music: figuring out how to combine Giroux's ideas with music that would allow the end result to be both understandable and emotionally powerful. 
"The journey I'm on is to extract nuggets – concise, diamond-clear quotes and moments from Henry's books – and marry them with musical narrative," Psathas explains.
"I'm talking about a kind of translation – a lens through which Henry's writing can be experienced by many."  
Psathas has already created a piece for solo percussionist, audio track and video called RealBadNow, which was inspired by the book Disposable Futures: The Seduction of Violence in the Age of Spectacle.  
The five-movement piece, which premiered on February 5, includes sections named for moments in the book, including "Individualize the Social," "Normalize Catastrophic Imagination" and "Encourage Citizens to Participate in Their Own Oppression."  
There's also a larger work in progress. Composed for pianists Dawn Hardwick and Michael Houstoun, 2nd-Hand Time will be scored for piano, audio and video and will potentially include projections of text from Giroux's works. 
"RealBadNow was a cautious trial run for me creatively, and now I'm feeling confident enough to try for Henry's words to speak directly to audiences through these musical works," says Psathas.
"I can feel, in a deep way, the huge potential strength and value in this approach. I feel like I've just embarked on a journey with Henry's work that will see me through the rest of my time on earth." 
For Giroux, this collaboration is a natural extension of his role as a public intellectual — a role that has him, and other thinkers like him, breaking down traditional barriers between disciplines, between the academy and the public, and between media.  
It's a hopeful development, he says. 
"There's an integration of knowledge and discipline and values and concerns that says we can't do this alone. We're not isolated intellectuals living in silos – in a time of tyranny and urgency, we need to re-think that role. That tells you that something important is happening in the world."