Shooting for the stars: How a team of researchers and students built McMaster's first space mission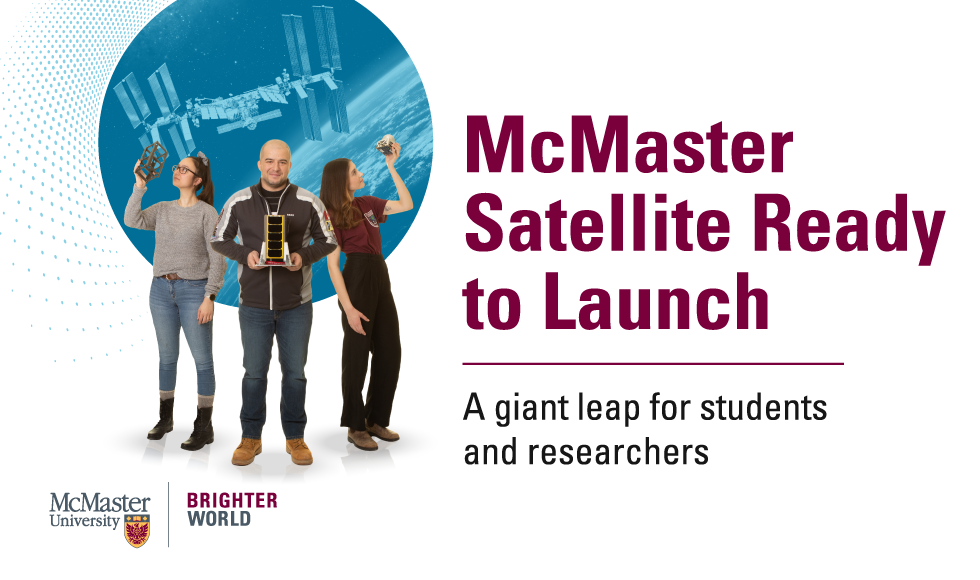 With the help of the Canadian Space Agency, McMaster's NEUDOSE satellite team has built one of the first satellites capable of measuring space radiation in real time. And they're about to launch it into space on board a SpaceX rocket.
---
BY Jesse Dorey
March 7, 2023
The next golden age of space exploration is on its way, and this time around, humankind appears to be aiming higher and further than ever before.
And, thanks to McMaster's NEUDOSE team and their golden-yellow satellite, it will be a lot safer.
This month, the team will be at the Kennedy Space Center to watch eight years of hard work and late nights culminate in a satellite launch aboard a SpaceX rocket bound for the International Space Station.
Not long after that, their tiny but mighty satellite will start the most important phase of its mission: to make space safer for humans.
---
---
Space radiation: The next frontier
With talk of sending humans back to the Moon, commercial space flights and a desire from entrepreneurs to extend our reach to Mars, we are pushing the limits of space exploration. But before we can embark on deep space missions, we need to solve a major problem: radiation.
When humans venture outside the protective bubble of Earth's atmosphere, we're exposed to dangerous levels of radiation. And future deep space missions will leave astronauts up there for far longer than ever before.
Over time, this exposure can lead to serious health risks — including cancer, cardiovascular issues, memory loss or cataracts — that can go undetected for years.
While we do have some man-made modes of protection from radiation here on Earth – namely, materials such as lead – there's one main problem: Lead is exceptionally heavy.
"Imagine you're going to get an X-ray at the hospital, they'll put a lead vest on you," explains Eric Johnston, McMaster graduate and co-Principal Investigator for the NEUDOSE project. "There's only so much lead and material we can bring up to space at any given time. So not only is there more radiation, but it's also difficult to defend against."
We need more information on the amount and nature of radiation astronauts are exposed to in space so we can better protect them.
And a team of McMaster researchers and students, building on the university's rich history of space research, has built a satellite that can do just that.
A long time ago, on a campus not so far away
In 2015, Andrei Hanu, an adjunct professor in McMaster's department of physics and astronomy and senior scientist at Bruce Power, came to Soo Hyun Byun, his former PhD supervisor, with an idea for a state-of-the-art satellite specifically designed to measure radiation levels in space.
Byun was on board right away, and the two formed a small team of researchers and students. They called themselves the McMaster Interdisciplinary Satellite Team (MIST).
McMaster's first-ever space mission was a go. Its name: The Neutron Dosimetry and Exploration (NEUDOSE, pronounced "new dose") mission.
The team has continued to grow. More than 150 students have worked on this project since 2015.
And when NEUDOSE is launched into space and deployed, it will carry each of their names with it.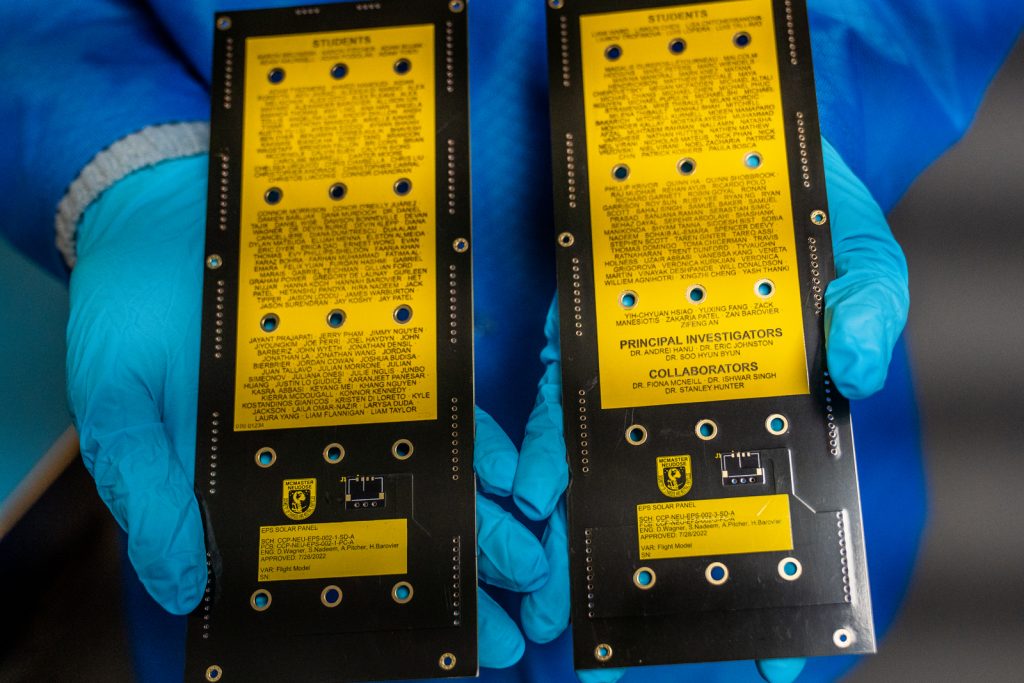 One giant leap for McMaster
From the very beginning, NEUDOSE has been more than just any space mission.
While the primary goal is, of course, to use the satellite to protect future astronauts, Hanu says the project was designed to train students in small satellite design.
For students, this opportunity was more than just an out-of-this-world, hands-on learning experience; it was also a chance to work with and learn from other students in other disciplines.
"When you get a broad scope from all the different students that are involved from different fields, you get different perspectives you might not have if it was focused on one discipline," says Taren Ginter, operations manager for NEUDOSE.
"We have a lot of different sub-teams on NEUDOSE and everybody has to do a very specific role, but everything needs to work together in the end or else it's all for nothing."
While the students were predominantly from Engineering and Science, other faculties, like Health Sciences and Business, were also represented.
"It's a cross-pollination that normally doesn't happen," explains Hanu. "Getting to work with engineers, scientists, physicists and business students is a once-in-a-lifetime opportunity, and I think it's one of the unique projects at McMaster that allows all of these students to work together towards a common goal."
Angela Tollis, fourth year mechanical engineering and society student and NEUDOSE mechanical team co-lead, says the project offered a hands-on opportunity to combine her education and robotics experience with her life-long passion for space.
"As a kid, way before knowing I wanted to be a mechanical engineer, I was fascinated with our solar system and the cool research being done by the astronauts on the ISS," she says.
It's been "a dream come true," agrees Aaron Pitcher, a fourth-year PhD student in electrical and computer engineering who has been involved with NEUDOSE since 2016.
"If you had told me when I was like five years old that I would've launched something into space, I would've said that you've been dreaming. There are no words that can honestly comprehend the amount of joy that I've had as part of this team."
And for Jonathan Densil, member of the NEUDOSE thermal team and mechanical engineering and management co-op student, NEUDOSE was an opportunity to realize his lifelong dream of working in the aerospace industry.
"When I was in high school, I never would have imagined that I'd be working on a satellite, let alone being able to see it go space before I finished university. Knowing that we have built a novel technology to detect radiation that will keep astronauts safe during long-term space missions makes me appreciate this mission even more."
The world's most powerful loaf of bread
NEUDOSE is a small satellite – roughly the size of a loaf of bread – capable of measuring the radiation levels that astronauts are exposed to in outer space.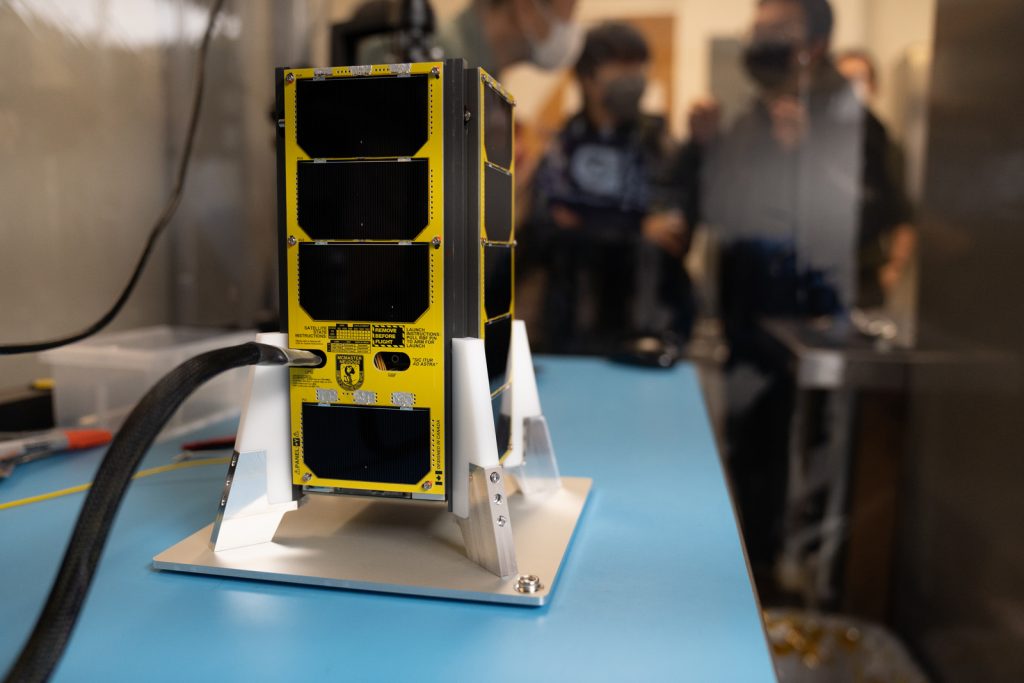 Inside the satellite, Hanu and Byun explain, there's a special instrument that's divided into two sections. The centre of this instrument measures radiation as it passes through the device, while the outside separates these readings into two distinct forms of radiation: neutrons and charged particles.
These measurements, all in real time, will outline for researchers both the types and levels of radiation astronauts are exposed to.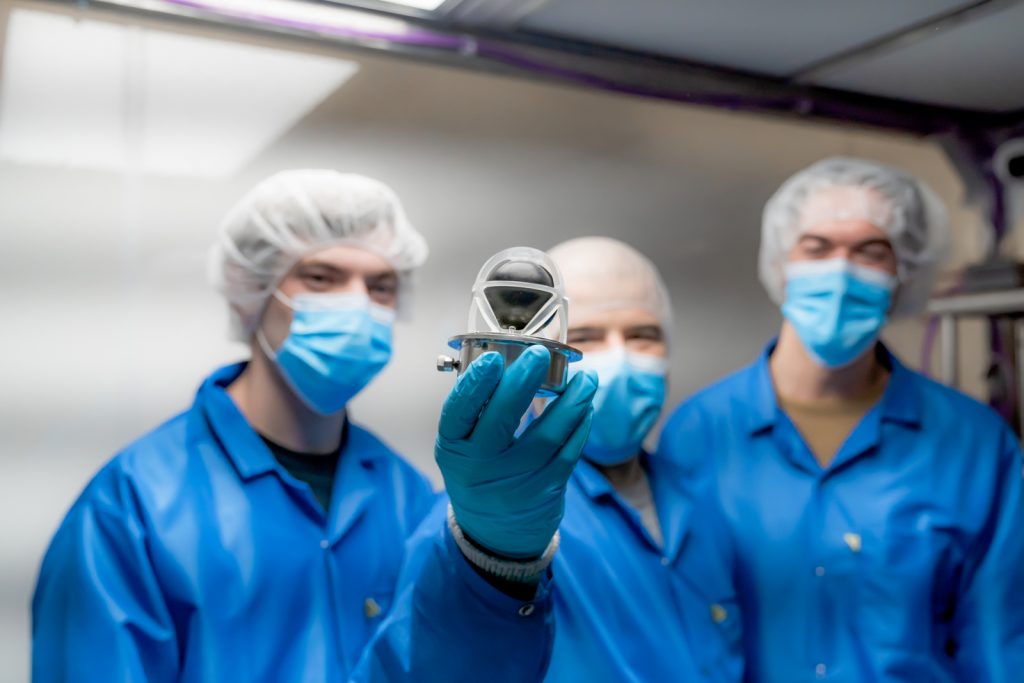 The device will transmit the readings back to a ground station at McMaster, where the team will study them and share them with the wider research community.
Their findings will shape scientists' understanding of the effects of space radiation, which, in turn, will help build radiation modelling tools for future deep space missions.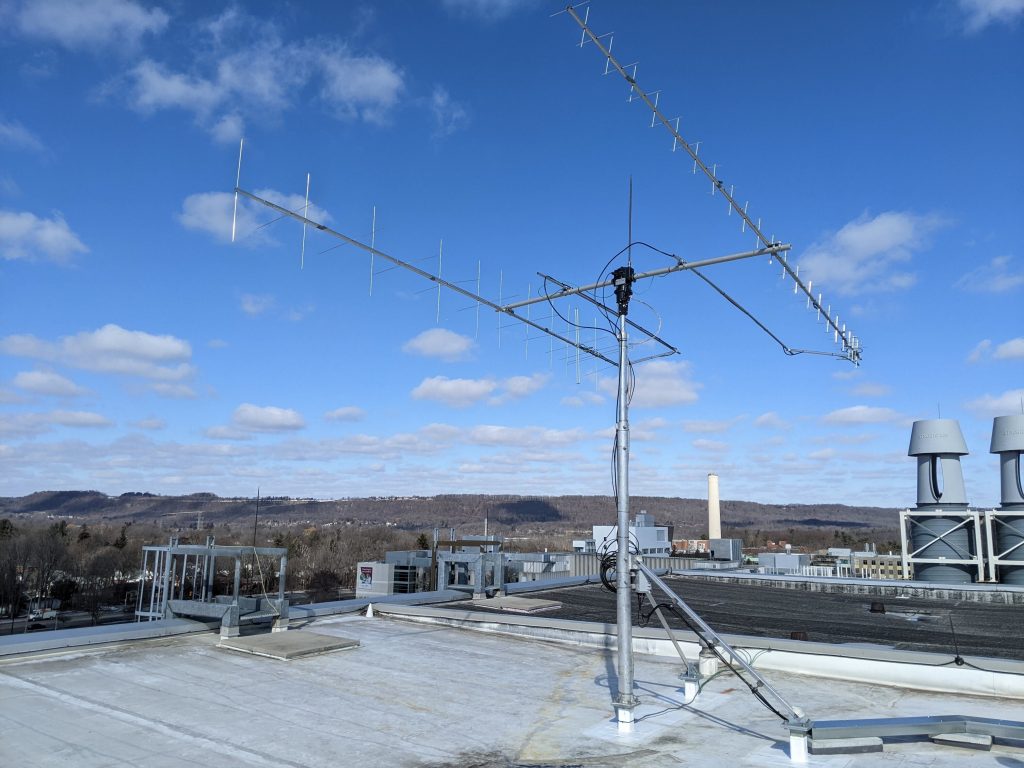 The potential impact of these measurements on space exploration is incredible, says Ginter.
"Given that radiation is a big safety concern, the collective findings of the research could revolutionize the way we protect astronauts."
Do you want to build a satellite?
But how, exactly, does one go about building a satellite?
Hard work, communication and technical know-how go a long way, the team says. So does a healthy dose of caffeine.
The construction of NEUDOSE, Hanu explains, began with the mission concept development stage, a planning process that culminated in a visit from the Canadian Space Agency.
From here, the team drew up detailed mockups before small prototypes were developed to ensure their high-level concepts worked in practice.
Next, the various components of the satellite were built in earnest and tested to ensure they worked as planned.
At the same time, Byun explains, the research team also had to figure out how to get the satellite to communicate with McMaster's ground station.
"That was kind of challenging," recalls Byun. "But eventually we did it, with a very tight timeline."
Finally, seven years of planning and building and refining led to the most crucial stage of the process: The flight readiness review, which culminated in the finished satellite being handed off to the CSA at the end of November.
"If you told me five years ago when we started all of this that at some point we would get here, it'd be incredibly difficult to believe," says Hanu.
Building the satellite was just one challenge, though.
Getting it to space is a whole other one.
In March, members of the NEUDOSE team will watch as the satellite they built together gets launched into space aboard a Falcon 9 rocket.
It will spend one or two months aboard the ISS before the astronauts deploy it into low Earth orbit.
Once the satellite is deployed and measurements begin being transmitted back to the McMaster ground station, eight years of hard work and dedication will finally have paid off for Hanu and his team.
And, according to Hanu, that's when the most exciting phase of the mission begins: the operation of the satellite.
"We want our instrument to become the default Canadian radiation instrument for future missions to the Moon and eventually deep space," says Hanu. "Right now, this is a technology demonstration mission, but eventually NEUDOSE will be a standard radiation instrument."