New collection sheds light on the golden age of pulp fiction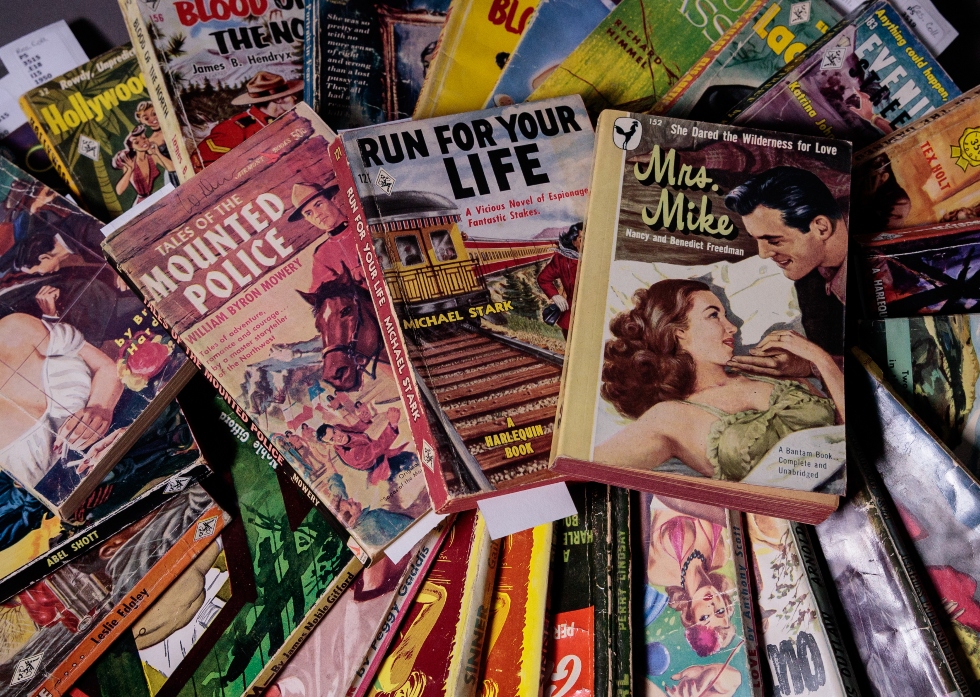 In the 1930s, 40s and 50s, pulp fiction paperbacks became a pop-culture phenomenon. Now, a collection of more than 900 novels recently donated to McMaster University Library is offering insight into the colourful and often racy genre that brought popular reading to the masses.
---
BY Erica Balch
July 8, 2019
Your Deal, My Lovely. Death Be My Destiny. In Passion's Fiery Pit.
While they may not be familiar to readers today, these titles and tens of thousands like them were among the top-selling novels of the 1930s, 40s and 50s.
Known as "pulp-fiction," for the low-grade quality of the paper they were printed on, these colourful paperbacks became a pop culture phenomenon, enticing readers with racy cover-art, sensationalistic titles and story lines, and a low price tag – around 25 cents a pop – making them both irresistible and, for the first time, affordable to mass audiences.
Unlike more highbrow, hard cover literature, readers didn't have to go to book stores to buy them – pulp fiction novels could be found everywhere, from drug stores and lunch counters to bus stations and news-stands, becoming so popular that by the mid 1940s, more than 100 million of these paperbacks were being purchased throughout the Unites States and Britain each year.
In Canada too, pulp fiction was a booming business and it wasn't long before Canadian authors and publishers – Harlequin perhaps the best known among them – were cranking out paperbacks in nearly every conceivable genre, from romance and whodunits to hard-boiled detective stories and science fiction, among many others.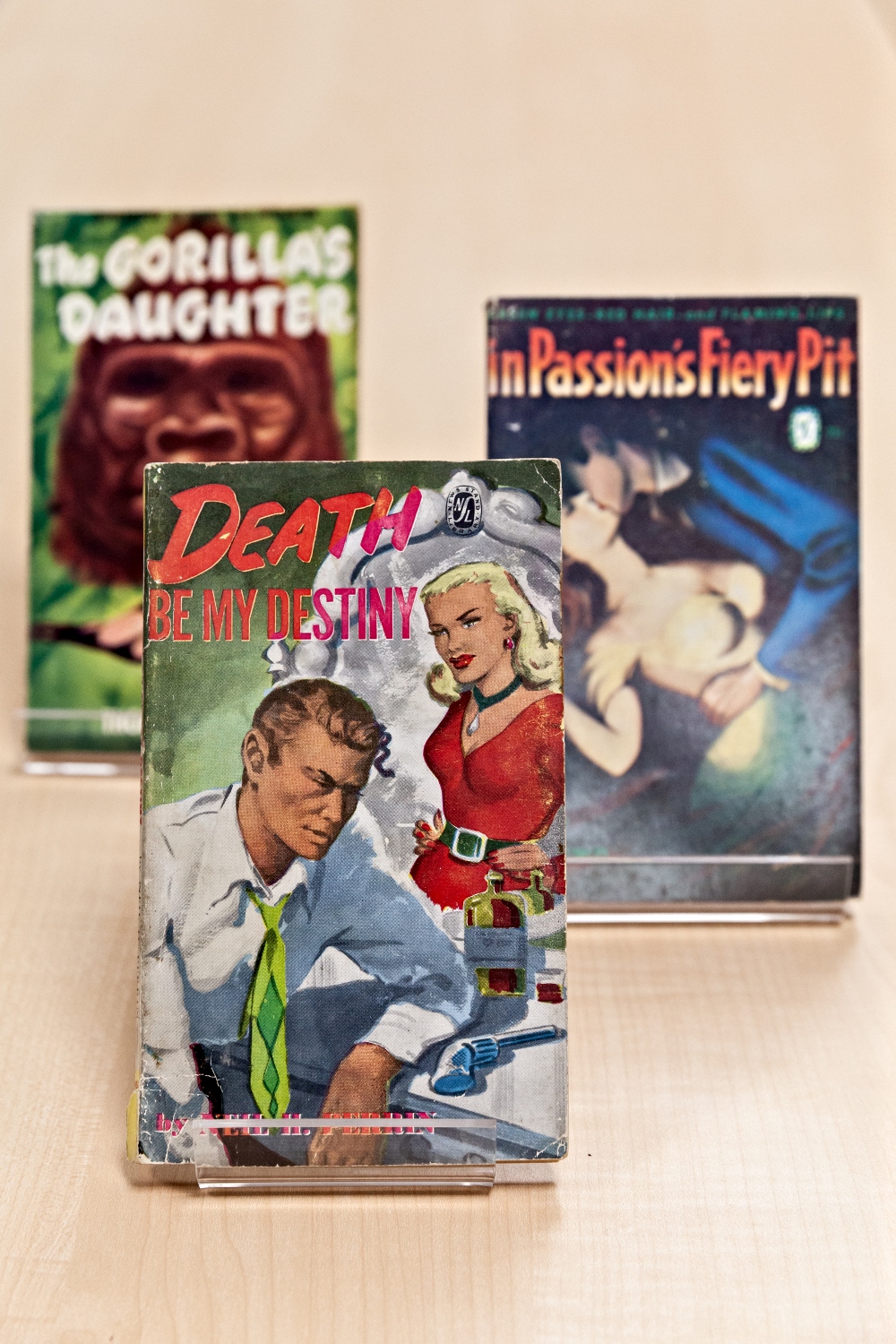 Now, more than 900 paperbacks produced by Canadian authors and publishers during the golden age of pulp fiction can be found in the William Ready Division of Archives and Research Collections, part of a unique collection recently donated to McMaster University Library by acclaimed poet, publisher and bookseller, Nelson Ball.
"These novels represent a look into the leisure reading of their time. People could easily pick up and carry these books while travelling, or in convenient places close to home, perhaps just as a guilty-pleasure," says Wade Wyckoff, McMaster's associate university librarian, collections, who explains that despite the wide availability of pulp fiction throughout the mid-20thcentury, fewer of these books remain than some of their contemporaries.
"Because they were printed on low quality paper, were inexpensive, and were intended to be disposable, fewer copies have survived," he says.
"To have them assembled into a collection by someone as knowledgeable as Nelson is exciting – they are a wonderful addition to the Canadian literature collection that we've built here in Archives and Research Collections."
The collection, carefully curated by Ball, includes novels printed in Canada, by both Canadian and non-Canadian authors, and novels by Canadian authors published abroad, from the 1930s to the late 1970s. At its heart are books published by News Stand Library, Harlequin and White Circle, the three largest Canadian pulp fiction publishers of the period.
The collection is made up of books from a multitude of genres including romance novels – many of which are far tamer than their cover art would suggest – mysteries, adventure, some non-fiction, and even literary fiction by authors such as Farley Mowat and Hugh MacLennan re-packaged with dramatic cover art to appeal to larger audiences.
Wyckoff says the themes and subject matter of the stories, along with their distinctive art work help shed light on how popular culture was shifting throughout the 1930s, 40s and 50s.
"I think there's still a fascination, particularly with these gritty novels or the romance novels which were risqué for their time period, partly because they're fun to read, but also because they tell us a lot about society at the time," says Wyckoff.
"You can really see how attitudes and norms were evolving through this set of novels."
Authors range from obscure, one-time writers to well-known pulp fiction authors such as Tedd Steele, a comic book author and illustrator who wrote under multiple pseudonyms including the pen name Jack Benedict; Danny Halperin, who wrote under the pseudonym Neil H. Perrin and went on to become an editor at a large UK newspaper; Joy Brown, who later had a number of her books published in the United States and become better known by her married name Joy Carroll; and prolific pulp fiction author Thomas P. Kelley.
The collection even includes works by international authors including best-selling British Canadian author, Arthur Hailey, two-time Governor General's Award winner Margaret Laurence, and Montreal-born Mordecai Richler, among others.
Wyckoff says that while many of the stories produced by these and other pulp fiction authors may never be considered classics, they nonetheless occupy an important place in Canadian literary scholarship.
"It's good to have these Canadian authors and publishers represented in a Canadian research library," says Wyckoff.
"These novels will help us to support a broader research agenda for Canadian authors and publishers, as well opening paths into romance novels and other genres encompassed by pulp fiction. Also, in some cases, the books in this collection are the only known copies, allowing us to preserve works that are now quite rare."
The pulp fiction collection joins the Library's extensive Canadian literature collection, which includes the archives of celebrated Canadian writers Farley Mowat, Margaret Laurence, Pierre Berton, Stuart McLean, Austin Clarke, Matt Cohen, Terry Fallis, and Peter C. Newman, as well as Canadian publishers McClelland & Stewart, Key Porter Books, Macmillan Canada and Clarke Irwin.
The  McMaster community and the public can explore the Canadian Pulp Fiction collection by visiting the William Ready Division of Archives and Research Collections, located in the lower level of Mills Library.