New McMaster lab will design tech to support nuclear innovations and increase recycling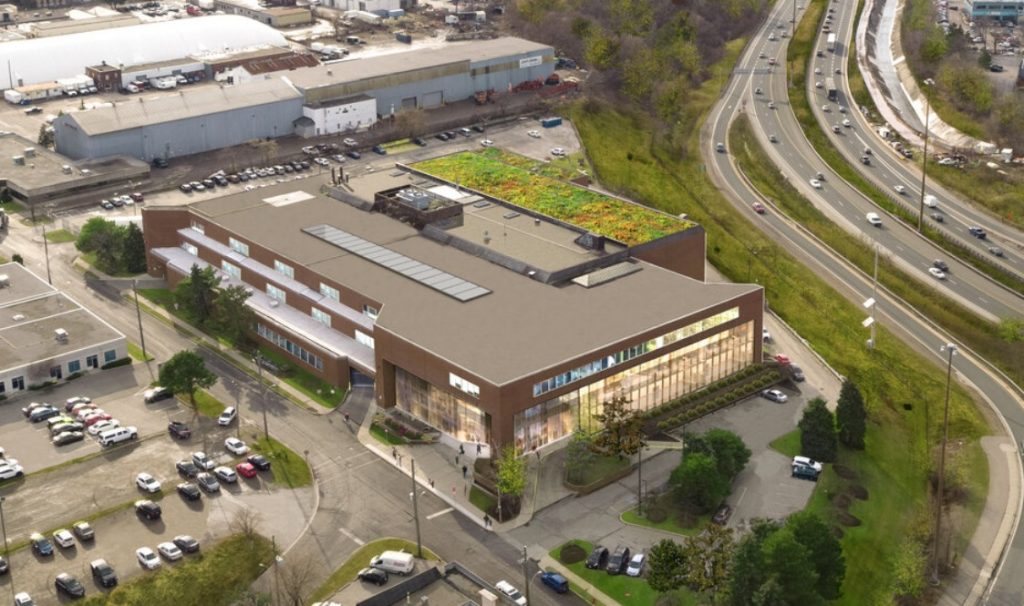 A two-year research collaboration between McMaster and Laurentis Energy Partners to advance nuclear energy innovations and identify long-term materials handling solutions will be based out of a custom facility at the McMaster Innovation Park's 44 Frid St. facility. (MIP photo)
---
July 13, 2020
With nearly 60 percent of Ontario's power coming from nuclear, it's important for the industry to continue to find additional ways to reduce its environmental footprint.
A new research collaboration between McMaster University and Laurentis Energy Partners – a wholly owned subsidiary of Ontario Power Generation (OPG) – is designed to advance nuclear energy innovations and identify long-term solutions on how materials are handled in the industry.
In this case, the materials — byproducts of day-to-day operations — are considered low-level waste, consisting of items used in generating stations, such as worker garments, shoe covers and gloves, mops and rags used in cleaning, small tools, and materials such as paper, wood and concrete.
Currently, such materials are sorted by hand to determine what can be safely recycled and what needs to be processed by incineration or compaction to reduce the environmental footprint. It's a low-tech, time-consuming and labour-intensive method of sorting, but it's the standard practice at OPG's Western Waste Management Facility and in other waste-sorting facilities around the world.
And it's why Laurentis has turned to McMaster and its experts in the nuclear field to develop new methods and technologies to optimize the sorting process, says Jason Van Wart, vice president of Laurentis Energy Partners.
"Laurentis is proud to partner in this initiative with McMaster University, which has an international research reputation in the nuclear sector."
"We are confident this collaboration will uncover better ways to minimize the volume of byproducts, and divert more materials to re-use and recycling," Van Wart says.
"Our research will be conducted on a commercial scale, with the potential to support the clean-energy industry not only in Canada, but around the world."
The two-year project will be housed in a custom-designed new research laboratory at McMaster Innovation Park's 44 Frid Street facility. The lab will house state-of-the-art equipment and will bring together 30 new Laurentis employees and McMaster experts to advance nuclear technology innovations.
One project, for example, led by physics professor Soo Hyun Byun, will look at optimizing radiation detection methods for characterizing the materials, using gamma and beta imaging systems to model the sorting activities.
Other potential projects will focus on automation technologies and machine learning tools to characterize and sort materials.
Karen Mossman, McMaster's vice-president of research, says the initiative creates opportunities for McMaster faculty, students and staff to apply and expand their expertise in nuclear technologies, while meeting the demands of industry.
"McMaster is a national leader in all things nuclear and we're recognized globally for our track record of excellence in nuclear research, training and safety," she says.
"This partnership with Laurentis allows our researchers to respond to real-time industry problems, contribute to the long-term solutions and define best practices for the nuclear sector."
Mossman adds that McMaster is committed to solving environmental challenges both at home and around the world, and this project has the potential to advance innovations across the clean tech sector.
Ty Shattuck, MIP's CEO says he's thrilled to be welcoming Laurentis Energy Partners to the Park.
"This is another step in MIP's journey to encourage collaboration between industry and academia to solve real world problems," he says.
"We've had great success in fostering relationships and we're keen to continue doing that across the sectors to create innovation and economic development opportunities for Hamilton and the region."
The new lab will open later this summer.