New national network links percussionists from coast to coast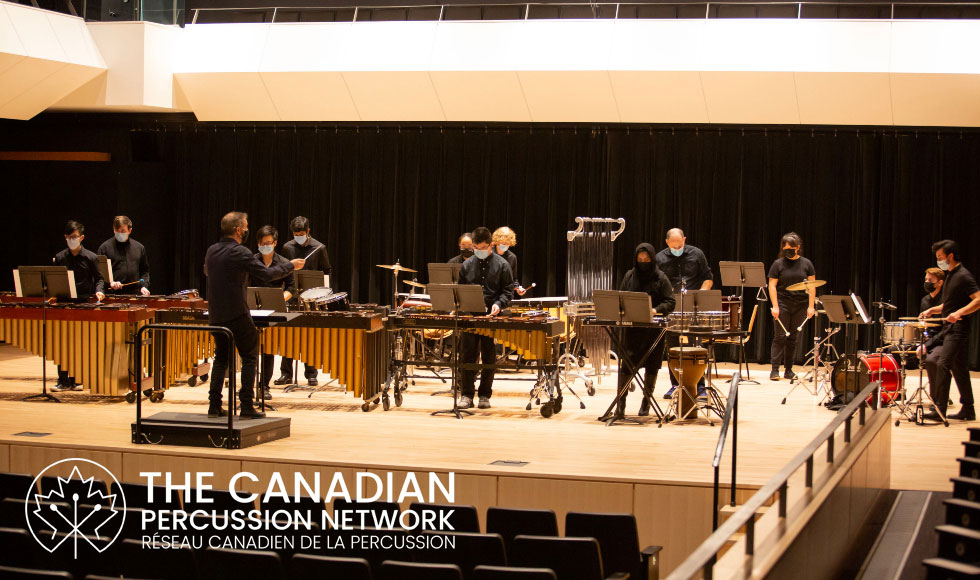 The McMaster University Percussion Ensemble (Photo by Colin Czerneda/McMaster University)
---
BY Sara Laux
September 13, 2023
If you're a violinist, it's pretty easy to travel: make sure your violin is securely in its case, pick it up, and off you go.
But what if you're a percussionist? It's a whole lot harder to get a timpani in a taxi – and there's not a lot of music out there for solo triangle or other smaller percussion instruments.
Add in the fact that a lot of percussion conventions, concerts and festivals happen outside of Canada, and you get a population of musicians from coast to coast whose options for networking and professional development have been circumscribed by their cymbals.
Michael Schutz, a professor of music cognition and percussion and conductor of the McMaster University Percussion Ensemble in the School of the Arts, hopes that establishing a new national network of percussionists will help alleviate this sense of isolation and create opportunities for knowledge exchange, mentorship, performance and research.
To do this, he's partnering with Fabrice Marandola, a professor of percussion at McGill University, to connect percussion educators from across the country.
Supported by a Social Sciences and Humanities Research Council (SSHRC) Partnership Development Grant, the Canadian Percussion Network (CPN) involves a partnership between four universities (McMaster, McGill, Windsor, and Acadia), three prominent Canadian percussion ensembles (TorQ, Architek and Sixtrum) and the two largest Canadian chapters of the Percussive Arts Society (Quebec and Ontario), as well as several leading percussionists.
"The CPN will offer insight and experiences for Canadians interested in all areas of percussion: performance, research, education, composition and health," explains Schutz, who is the principal investigator on the project.
"Through in-person and virtual events, especially in areas where travel in or out is cost-prohibitive for students and others, we are hoping to encourage a sense of connection among Canadian percussionists, who also have similar challenges but deal with them in isolation."
In the second year of the project, regional in-person events at Acadia University in Wolfville, Nova Scotia, and the University of Manitoba in Winnipeg will bring percussion programming to areas of the country where it can be expensive to travel to larger centres.
Larger in-person events at McGill in year one and McMaster in year three, offered in conjunction with the Quebec and Ontario chapters of the Percussive Arts Society, will bring together percussionists to perform and discuss the latest research findings related to percussion education.
"This network creates tangible connections," says Victoria Sparks, CPN board member and instructor and the University of Manitoba. "Through online events, I've already been able to participate in discussions, workshops, and meetings with colleagues from across the country to exchange ideas for pedagogy and performance. Our in-person event in 2025 will offer unique opportunities for Manitoba residents, and a chance to share our diverse and exciting percussion scene with percussionists residing in the Atlantic provinces to the West Coast!"
Percussionist John Beck, past president of the Percussive Arts Society, notes that CPN is "unique among music organizations and educational institutions. It reaches across borders of geography, performance genres and scientific research to connect people both virtually and in person to advance the percussive arts in traditional and innovative new ways."
SSHRC Partnership Development Grants are designed to encourage research partnerships between postsecondary institutions and other organizations in the public, private and not-for-profit sectors. Schutz's project is among 15 projects at McMaster that recently received more than $2.2 million in SSHRC Insight Grants and Partnership Development Grants.
"Along with making valuable connections, we're hoping to highlight work related to the project's three insight goals, which have been identified by OPAS and QPAS [Ontario and Quebec Percussive Arts Societies] as critical," says Schutz, who also directs the Music Acoustics Perception Learning (MAPLE) Lab in McMaster's Faculty of Humanities. "These include better education regarding injury prevention in percussionists, increasing our understanding of percussive sounds, and documenting Canada's leadership in percussion ensemble repertoire and our efforts to diversify the canon."
For more information, including recordings of performances from recent events and archives of all virtual meetings, go to the Canadian Percussion Network's website.