New partnership builds pipeline for highly trained students mastering radiopharmaceuticals research for cancer treatment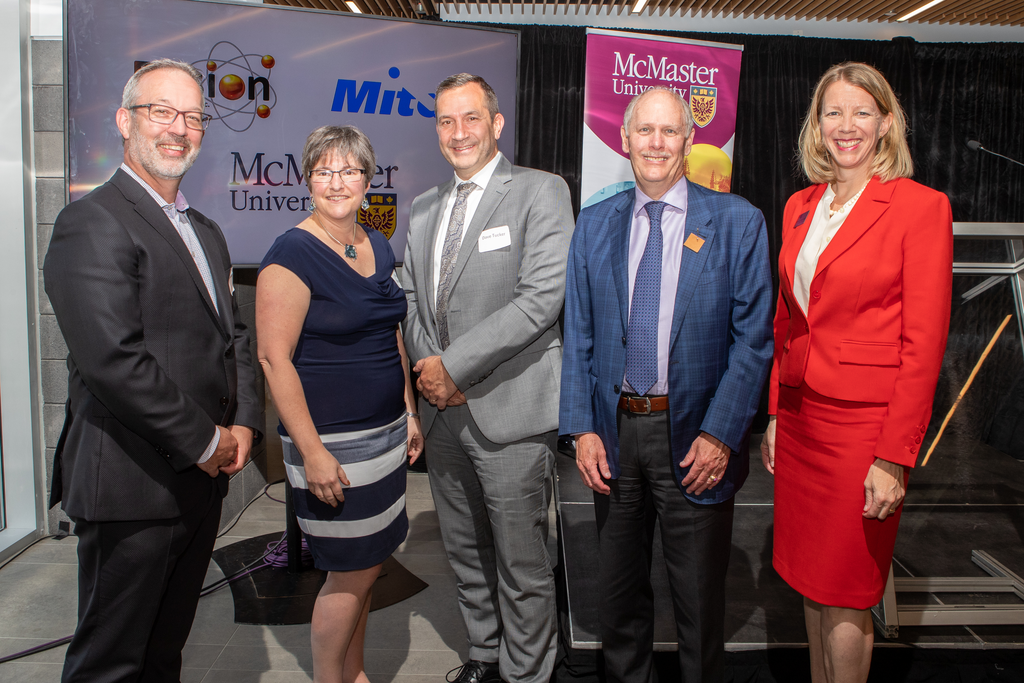 John Valliant, Fusion Pharmaceuticals CEO and McMaster professor; Karen Mossman, vice-president, research; Dave Tucker, assistant vice-president research, nuclear; David Farrar, president and vice-chancellor; and Maureen MacDonald, dean, Faculty of Science at the partnership launch event on June 21, 2022. (Photo by Georgia Kirkos/McMaster University)
---
June 22, 2022
A new five-year partnership between McMaster University, Mitacs and Canadian biotech company Fusion Pharmaceuticals has created a unique training ground for graduate students pursuing leading-edge experience using radiopharmaceuticals for cancer detection and treatment.
McMaster's Faculty of Science launched the Fusion Pharmaceuticals Training Program, led by Professor Sam Sadeghi, with students working in the renovated state-of-the-art $22-million facilities at the Nuclear Research Building and at Fusion's leading-edge R&D facilities in Hamilton.
The program focuses on using the expertise, specialty labs and instrumentation available at McMaster and Fusion to train graduate students in the development, testing and use of radiopharmaceuticals to identify and treat cancers.
Radiopharmaceuticals, injected intravenously, take radiation therapy to the next level with a precision medicine approach that delivers "smart bombs" directly to cancer cells. This personalized and innovative approach is designed to fill areas of high unmet need in cancer treatment and ensure the right drug is given to the right patient.
Fusion Pharmaceuticals, led by Chief Executive Officer John Valliant, a McMaster professor and company founder, created the initiative. Mitacs, a national organization designed to support student internship programs and build collaborative relationships between industry leaders, universities and communities, invested equally through its Accelerate program to support it.
"Our field of radiopharmaceuticals is experiencing a resurgence of interest right now, driven by the opportunity to harness the power of radiation to kill cancer cells," said Fusion CEO John Valliant, Ph.D. "We are excited to enter this partnership with McMaster, which will not only advance radiopharmaceutical research benefitting cancer patients but will foster a pipeline of scientists who are creative thinkers and problem solvers and who will get to experience our field from both the academic and industry perspective. In addition, we hope it will fuel students' entrepreneurial spirit and desire to create Canada's next great biotechnology companies."
"Mitacs is proud to partner with Fusion and McMaster University to drive research in targeted radiation therapy," said Mitacs CEO John Hepburn. "Targeted radiation therapy has the potential to synergize with immune therapies – but the key to realizing that potential is to have scientists who are trained cross-functionally in radiation science, cancer biology, and immunology. Through this important partnership we can provide the hands-on training needed to achieve this critical cross-functionality and support medical innovation in Canada."
The new training program is an important step in advancing the depth and breadth of the biotech sector in Hamilton.
"We are grateful for the generous and forward-looking investments from Fusion Pharmaceuticals and Mitacs," said McMaster President David Farrar. "This fantastic support is a real vote of confidence in Hamilton's future as a hub for the biotech industry and the development of radiopharmaceuticals. It also positions our students to become innovators and play a crucial role in building the ecosystem."
Knowing the training provides transferable skills and could ultimately help cancer patients was a key motivator for trainee Pamela Penawou, a master's student in chemistry.
"We're learning how to work with cells, learning how to do imaging, learning chemistry, radio chemistry, biology," said Penawou. "It gives us well-rounded training and prepares us for academia and industry. It gives us an edge.
"I wanted to know that something I was doing would make an impact. A lot of what we do goes straight to clinical trials and helps people. That was a huge driving factor for me. This partnership and extra funding also help make sure what we are doing can be scaled upwards, go towards commercialization. It helps us see where we are going and where we are going to make a difference."
Faculty of Science Dean Maureen MacDonald said the new training program is an example of McMaster's distinctive approach.
"What I see in this space related to radio chemistry and radio pharmaceuticals all the way to patient involvement is that we have such good people involved, who are so interested in seeing how they can reach out to the students and generate transformational moments. They are looking to make sure that the students have opportunities across the full range. The students can see it across all their interests and the potential career, personal and professional opportunities."