New polling from McMaster researcher: majority of Canadians already started wearing masks ahead of official recommendation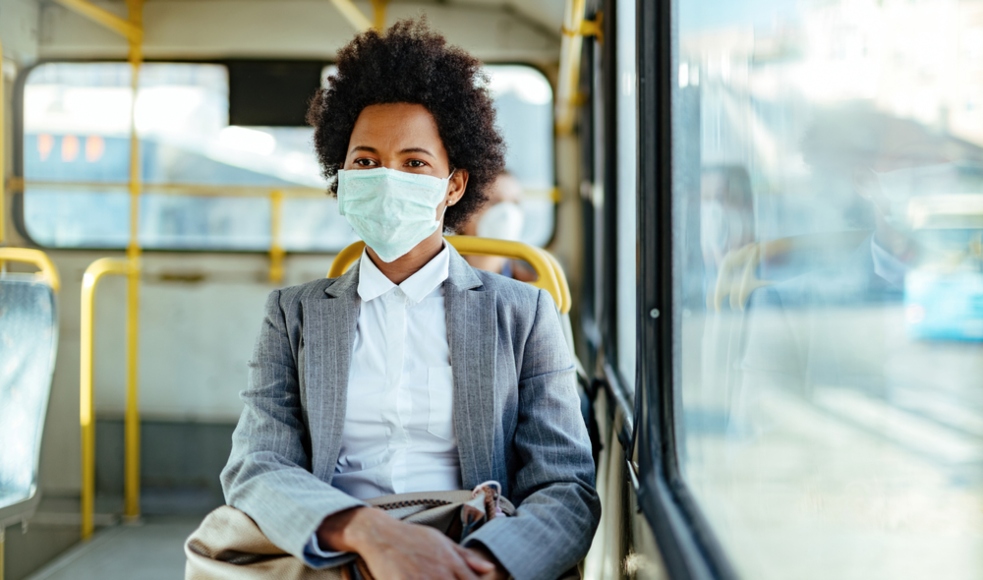 Image by Shutterstock
---
BY Wade Hemsworth
May 21, 2020
A majority of Canadians were already using masks to stop the spread of COVID-19 before the Public Health Agency of Canada (PHAC) made its official recommendation to wear them in public, according to new public-opinion research by McMaster political scientist Clifton van der Linden.
The information, gathered by van der Linden's McMaster-based Vox Pop Labs, shows that 58 per cent of Canadians were already using masks before Chief Public Health Officer Dr. Theresa Tam announced the policy change May 20.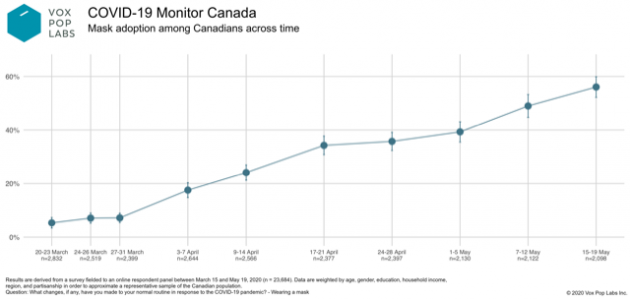 That number has risen sharply since Vox Pop Labs began surveying Canadians in mid-March, at which time only 4 per cent of respondents reported using masks.
"Of all the behaviours we are tracking, mask usage is the biggest change we've seen since the onset of the pandemic," says van der Linden. "Canadians haven't waited for the formal recommendation from public health officials. The rise in mask wearing dates back to the reversal on earlier guidance that actively discouraged their use."
Vox Pop Labs' COVID-19 Monitor is an ongoing weekly survey that first went into the field at the onset of restrictive measures in Canada, and offers a rigorous, real-time analysis of how Canadians' pandemic-related behaviours are changing. More than 25,000 Canadians have participated in the survey since it was launched in mid-March.
The polling showed a sharp spike in the uptake of masks in the period of April 3 to 7, van der Linden says, which aligned with announcements from the US Surgeon General, PHAC and the World Health Organization endorsing mask-wearing, after previously recommending against mask-wearing in public, to preserve masks for health-care workers and emergency responders.
Van der Linden said he expects to see a further increase in the uptake of mask-wearing as a result of Wednesday's PHAC recommendation.
Results from the COVID-19 Monitor also suggest that public-health concerns over mask-wearing leading to a breakdown of compliance with other measures such as social distancing do not appear to be supported by the evidence to date.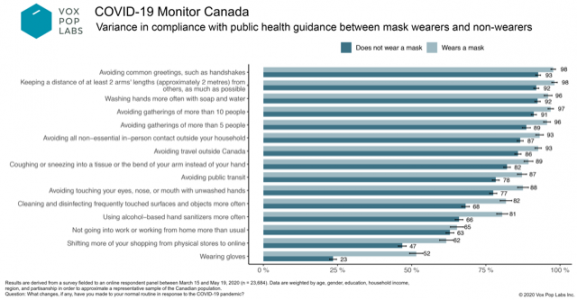 Instead, the polling shows that as Canadians have been taking up mask-wearing, they have also continued to use other protective measures.
"What's interesting is that people who have taken up wearing masks are more compliant across the board with other preventive measures such as physical distancing than those who do not yet wear masks," van der Linden says. "This is contrary to the earlier expectation that mask wearing would result in people being more lax about other preventive measures."
A notable exception to national trends is Quebec, where people did not take up masks as readily in April and have yet to catch up to the rest of Canada.
Quebecers, van der Linden says, tend to take their lead from the province, rather than the federal government. It was not until more recently that Premier Francois Legault has come to recommend masks for Quebecers.
Since then, the rate of usage is also up in the province, but Quebecers have yet to close the gap, van der Linden says. The incidence of COVID-19 has been most serious in Quebec, and the correlation with mask usage is worth further investigation, van der Linden says.