McMaster welcomes new Canada Excellence Research Chair in biosensing and molecular diagnostics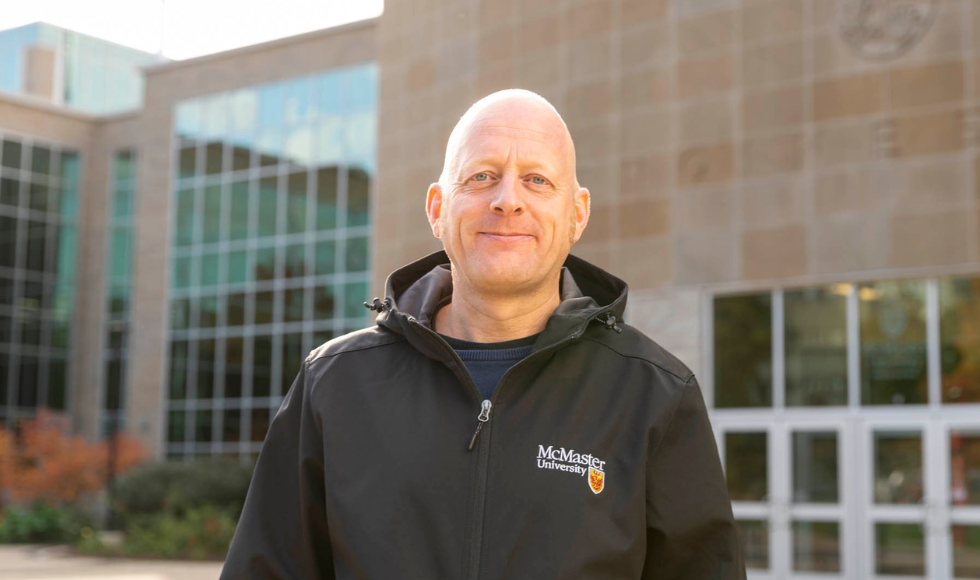 BY Daniella Fiorentino
November 16, 2023
World-renowned biosensing expert, Niko Hildebrandt, has joined McMaster University's Faculty of Engineering as the Canada Excellence Research Chair (CERC) in Nano-Optical Biosensing and Molecular Diagnostics.
The $8 million award will allow Hildebrandt to build a multidisciplinary research team at McMaster focused on developing breakthrough biosensing and bioimaging methods with applications in clinical diagnostics, environmental protection and food safety.
Biosensing technologies like Förster resonance energy transfer (FRET) enable scientists to analyze complex biological interactions at the nanoscale, explains Hildebrandt, who joins McMaster from Université de Rouen Normandie in France and is one of the world's leading scientists in FRET.
"FRET allows us to detect the transfer of energy between two light-sensitive molecules — a donor and an acceptor — located mere nanometres apart. Using fluorescence spectroscopy, we can measure the distance between this donor-acceptor pair and study their behaviours," he says.
"This technique can help us better understand how molecules and nanoparticles interact within various living and non-living systems — from diseases in the body to materials and toxins present in water, soil, air and even food."
With a focus on molecular diagnostics, Hildebrandt aims to develop and commercialize new diagnostic biosensors that can help clinicians detect diseases like cancer earlier.
"FRET can be used to identify various biomarkers for cancer and other diseases in the human body, making it a powerful tool for diagnosing diseases and monitoring the efficacy of treatments," he says.
In addition to his leading-edge research contributions, Hildebrandt has a track record of excellence in global research collaborations.
He'll lead a multidisciplinary team of McMaster researchers, as well as national and international partners from academia, health care and industry, to translate new biosensing methods into innovative, affordable and accessible devices for use in research labs and clinics around the world.
"McMaster is home to so many incredible thinkers across the disciplines — from materials research and advanced manufacturing to infectious disease research and electron microscopy. I'm looking forward to building a diverse team of collaborators so we can bridge our expertise and develop improved solutions in biosensing," he says.
Hildebrandt is one of 34 researchers at universities across the country to be named a Canada Excellence Research Chair in the most recent round of the program.
Heather Sheardown, Dean of the Faculty of Engineering, says Hildebrandt's CERC program will build upon McMaster's decades of international leadership in health, bio-innovation and micro-nano systems.
"Niko's expertise in biosensing and molecular diagnostics, combined with that of our multidisciplinary research leaders, will make McMaster a hub for innovation in nano-bio research and provide unique training opportunities for students across Canada in engineering and the sciences," she says.
McMaster's Vice-President, Research (Acting), Andy Knights, congratulates Hildebrandt on the prestigious award and thanks CERC for their continued investment in McMaster's researchers.
"We are honoured to welcome Niko to McMaster, where he will work alongside our exceptional faculty and students to advance research and innovation in this impactful field. His program will be unique in Canada and will enable experts to translate their work into products and discoveries that enhance the health and well-being of Canadians and position Canada as a global leader in biosensing and diagnostics," says Knights.
Launched in 2008, the CERC program supports Canadian universities in their efforts to build on Canada's growing reputation as an international leader in research and innovation. McMaster is also home to CERC@MARC — one of the world's leading academic research programs in transportation electrification and smart mobility, led by Ali Emadi.