Non-invasive monitoring and diagnostic framework present a breakthrough in cardiological treatment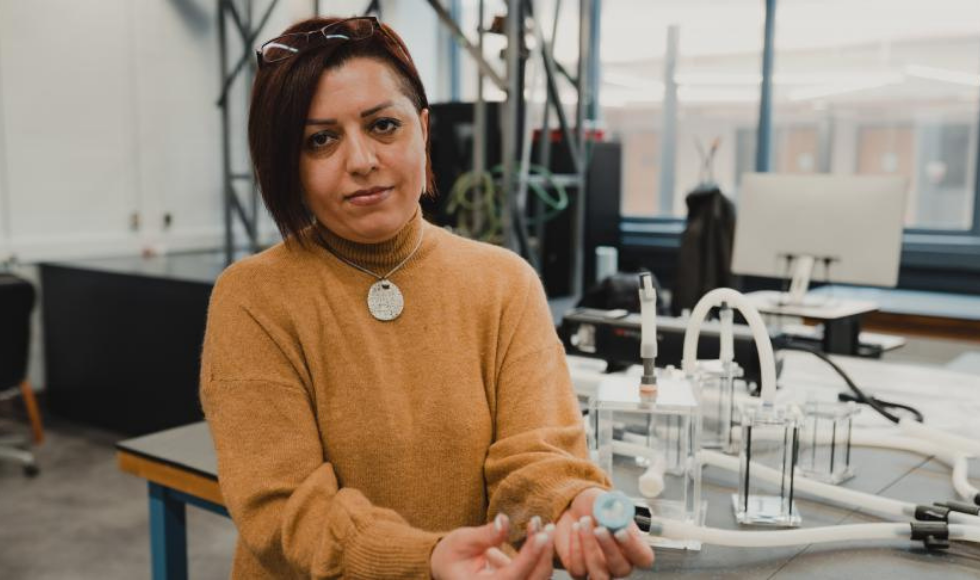 Zahra Motamed is an assistant professor in the department of mechanical engineering.
---
February 11, 2022
A research team led by Zahra Motamed, professor with the Faculty of Engineering, has developed a non-invasive monitoring and diagnostic framework which doctors say will help individualize and improve future treatment for patients with cardiovascular disease.
While successful treatments of cardiovascular disease have drastically improved in past decades, one in four deaths in Canada is a result of cardiovascular disease. This is partially due to challenges with individualized diagnosis and treatment.
A breakthrough, non-invasive diagnostic framework developed by Faculty of Engineering professor Zahra Motamed and her research team tackles this issue. Her results suggest this framework could contribute to various technologies, providing cardiologists with new tools to improve their patients' lives on an individualized basis.
"This diagnostic framework could open doors to new wearable devices for patient monitoring, a module that increases the effectiveness of doppler echocardiography machines, and improved diagnostic devices for ambulatory care and intensive care units," Motamed said.
The results have been published in several journals , including Nature Scientific Reports, Journal of American Heart Association, Journal of the American College of Cardiology, International Journal of Mechanical Sciences, Scientific Report,  Frontiers in Bioengineering and Biotechnology and Nature Scientific Reports (editorial choice).
Motamed explained that although quantification of blood flow is useful in early diagnosis of cardiovascular disease, there are still gaps in fluid dynamics methods. While those methods could be used as engines of new diagnostic tools, they aren't well developed as of yet.
Motamed's lab aims to develop patient-specific diagnostic tools for cardiovascular diseases that pose no risk to the patients, which is crucial given their regular follow-ups.
"The diagnostic frameworks we have developed is an innovative, patient-specific, non-invasive diagnostic and monitoring tool to calculate both local and global hemodynamics – blood fluid dynamics. This tool provides a breakdown of the global function of the heart and how the disease is affecting heart performance," she said.

"This helps cardiologists predict the effectiveness of treatments for patients and improve planning for future treatment."
Figure 1. Simulation of the heart in patients with valvular disease and transcatheter aortic valve replacement.
The information these models and tools will be able to provide are not currently accessible in clinics, representing a great improvement over current capabilities for diagnosing and managing cardiovascular disease.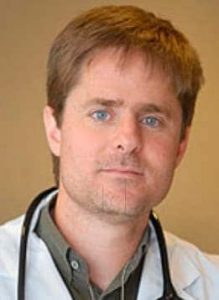 The cutting-edge research, he said, will help clinicians select the most appropriate therapies for each person, minimizing risk and improving outcomes for patients. Javier Ganame, Motamed's lab clinical collaborator (local), is a cardiologist at St. Joseph's Healthcare and Hamilton Health Sciences, as well as an associate professor in the Department of Medicine at McMaster University.
The success of this research, he said, was aided by the cross-departmental work and multi-team approach of building upon each other's expertise. "Understanding hemodynamics allows the scientist and clinicians to treat their patients better. The tools developed by the team allow us to understand what is going wrong in our patients with a high degree of accuracy.  We hope to use these modelling algorithms more broadly and integrate this information with patient-specific findings from diagnostic imaging methods such as echocardiography, computed tomography and magnetic resonance imaging."
"From the clinician-scientist point of view, I find the collaboration with the engineering team led by Professor Motamed highly stimulating and fruitful. Our different backgrounds enrich the discussions and lead to broadening our knowledge in fields outside of our main areas of expertise."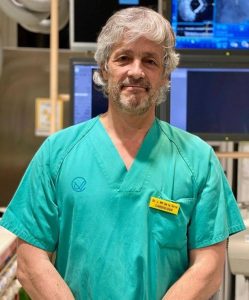 International lab collaborator Jose M. de la Torre Hernandez, an interventional cardiologist and Chief of Interventional Cardiology at Hospital Universitario Marqués de Valdecilla, Spain, stressed the importance of not only improving the prognosis of patients to increase likelihood of survival, but also improving their quality of life. Controlling symptoms, he said, allows patients – particularly in an aging population – to live better.
"The research aims to facilitate the evaluation of the cardiovascular system in an integrated and individualized way, contemplating mixed dysfunctions (of several valves for example) and –  what is very important – in a non-invasive way. This reduces complications, costs and allows a closer follow-up. In short, it is one more step in the individualization of the pathophysiological assessment and its therapeutic management."
Figure 2. Patient-specific image-based computational framework for patients with cardiovascular disease.
Motamed thanked Ganame and de la Torre Hernandez and their teams, as well as the great collaboration with the following:
Jonathon Leipsic (Canada Research Chair in Advanced Cardiopulmonary Imaging at St. Paul's Hospital, UBC) and his team at the University of British Columbia/St. Paul's Hospital;
Julio Garcia (Professor at the Department of Radiology and Cardiac Sciences of University of Calgary); and
Professor Maureen MacDonald (Dean of Science at McMaster University) and her team.
She also thanked several researchers in her lab for their tremendous dedication, including Seyedvahid Khodaei, Benjamin Tomka, Reza Sadeghi, Melissa Baiocchi, Shirley Barsoum, Alison Henstock and Nadav Gasner.