OptimEyes is improving the downsides to traditional eye drops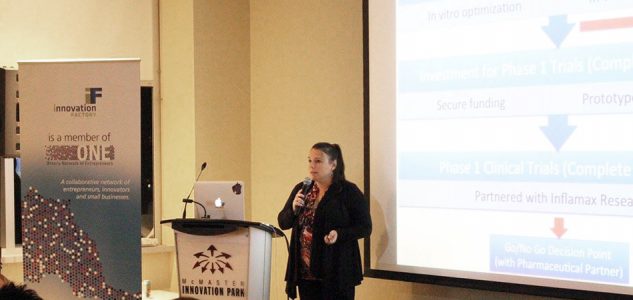 Frances Lasowski won second place at Innovation Factory's ELEV8 Pitch Night, a community event that hears 5-minute presentations from up-and-coming innovators.
---
BY Sarah Janes
March 8, 2017
In celebration of International Women's Day McMaster is featuring tech companies run by women who operate at The Forge, Hamilton's startup incubator and McMaster University's entrepreneurship initiative.
Meet Frances Lasowski, Business Development Engineer for 20/20 OptimEyes
Q. Overview of 20/20 OptimEyes
Our company came out of work done as part of the 20/20 network, a federally funded research grant that Heather Sheardown secured. We have a technology right now that is a better eye drop. Targeting dry eye disease (DED) but there's a lot of other potential applications down the road. It sticks to the surface of the eye but instead of multiple drops a day (which can be difficult for elderly patients) they only have to use it twice a week. We are testing with an already existing drug out on the market. We didn't create a new drug, just a new way of delivering it onto the eye.
Q. What impact will this have?
Dry eye disease causes continuous discomfort and pain throughout the day. This compromises vision which leads to limits of time spent outdoors, reduces productivity at work, etc. Treatment on the market can take three months to work, if at all. A person is instructed to take drops for three months before possibly getting improvement, and on top of it all, the drops have a burning sensation. OptimEyes works faster and has a water-based formula. OptimEyes aims to improve the downsides to using traditional eye drops. It's challenging for patients to continuously use a prescription that does not promise a solution and causes additional discomfort, our product will see a higher compliance rate.
Q. What motivated the launch of OptimEyes?
I'm a chemical engineer by training and completing a PhD with Heather in ocular drug delivery. OptimEyes came out of a Masters student project. Part of what Heather has been trying to do, and what interested me in working with her, is trying to stay on the application side, which is why I went into engineering. I wanted to help somebody as opposed to adding to theoretical know-how. We work on these drug-delivery systems ultimately to get them into people and help people. What we've found is typically anything that comes out of our lab is deemed too early by pharmaceutical companies. So they think it has potential but it's too early for them to take it. They want more data.
We were not able to acquire more data until we decided to be our own business. We've picked this as being the most promising technology that has that industrial application that we can give a company and say 'Here, you really want this'. We've spent a lot of time talking with potential customers and pharmaceutical companies telling them about this technology to get them interested in acquiring it.
Q. Benefits or challenges of being your own boss?
Part of the challenge we're finding now is that there's no manual for doing this. Unlike a traditional job where you go in and are told what to do and doing it – we go in and do what we think we're supposed to be doing and finding out later whether that was good or not. We constantly adjust on the fly and we learn a lot, but it's certainly a challenge without someone saying how something should be done. Fortunately we've had a lot of really good mentors who are willing to give back. People are willing to share their experiences, the ways they overcame hurdles, and giving us heads up to stages down the road that will be important.
Q. Advice for other women or about starting your own business?
We started our company because in the process of applying for grants we were receiving the feedback that we didn't have enough experience. One of our mentors plainly said to us, 'Well why don't you start a company and get that experience?'
The challenge was not being sure if that was what people did. It doesn't cost much to incorporate as a company and you can behave as a company and get investors. Instead of worrying about not having experience we were told to just get the experience. Regardless of our hesitation, it seemed a viable pathway. It's important to speak with people and if you think it's a good pathway just jump in – because it's never going to seem like a great time. My parents still don't think I have a real job and tell me to get one.
Throughout this process I've been impressed with our mentors, some of whom Heather had as contacts through previous grants, who are industry experts in our field. I've been amazed by the support through The Forge and Innovation Factory and getting answers to any range of questions we have. It saves time and we're able to pass on that knowledge later. We're also lucky at the University to have the McMaster Industry Liaison Office (MILO) to help with grant applications.
Q. Future plans?
We're currently fundraising to raise a million dollars. If someone had told me 'here's what your future holds' I would have said 'that's not my style'. At the moment we're finishing up pre-clinical packages and hoping to fundraise enough money to go into clinical trials by the end of the year.