People skills will define the next generation of doctors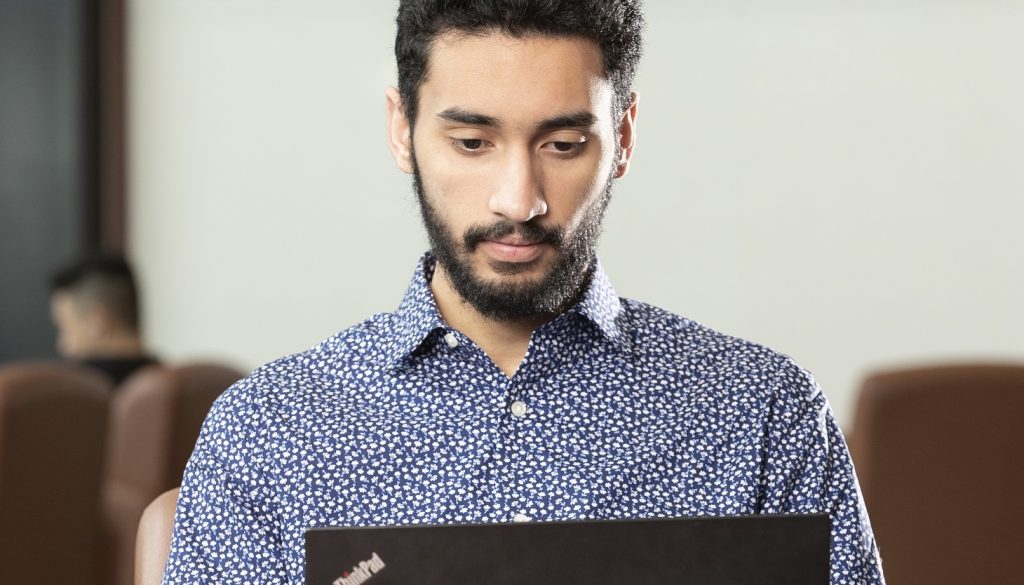 Increasingly, candidates for health professional programs are doing the CASPer online situational judgement test as part of their application.
---
February 5, 2019
Canadian medical students have always been chosen for their smarts; but thanks to innovations developed at McMaster University, they are also being selected for their ability to communicate, demonstrate empathy and willingness to collaborate.
Two admissions tests which assess the medical school candidate's people skills, and now are used widely by Canadian and American medical schools, came from researchers of McMaster's Michael G. DeGroote School of Medicine. These tests are CASPer, formally called the Computer-Based Assessment for Sampling Personal Characteristics, and the Multiple Mini Interview, known in the educational industry as MMI.
Research has shown these admission tools have improved the evidence-based approach to the admission process, allowing a defensible way to select future doctors based upon their people skills.
"Medical schools have thousands of applicants with the required academic qualifications for admission, traditionally relying on criteria such as grade-point average, biographical essay and panel interviews to select students," said Alan Neville, vice-dean of health professional education for McMaster's Faculty of Health Sciences.
"However, the CASPer and the MMI admission tools have helped us better assess the attitudes and skills such as how to communicate with people, problem-solve and work well within health-care teams, qualities that predict who will become excellent doctors."
CASPer is a form of online situational judgement test that applicants complete from anywhere they can get an internet connection. The test presents applicants with a series of hypothetical scenarios and asks them to type out a response to what they would do if they were in that particular situation.
CASPer is composed of 12 sections with three questions in each section. Applicants have to provide their response within the five-minute time limit per section. Eight stations are video-based scenarios and four are word-based scenarios. The video-based scenarios are all situational judgement tests whereas the four word-based scenarios are primarily situational judgement tests with some behavioural descriptor questions.
The test allows admission offices to gauge non-academic skills like professionalism, communication, ethics, empathy, collaboration, and motivation.
CASPer was co-created by Harold Reiter and Kelly Dore at McMaster in 2005.
Reiter is a professor of the Department of Oncology at McMaster and a radiation oncologist at Hamilton Heath Sciences. He was chair of admissions to the Michael G. DeGroote School of Medicine at McMaster University for nine years and assistant dean and director of McMaster's Program for Educational Research and Development (PERD) for four years.
Dore is a McMaster assistant professor in the Department of Medicine in the Division of Innovation and Education, as well as the Department of Obstetrics and Gynecology. Dore is also a scientist in McMaster's Education Research Innovation and Theory Program (MERIT, which was formerly PERD). She is also the creator and inaugural director of the Masters of Health Science Education Program, an online MSc program for health professionals.
The development of CASPer was supported by Geoff Norman, now professor emeritus of health research methods, evidence, and impact and past director of PERD; and Kevin Eva, a then faculty member in health research methods, evidence and impact.
"Based on conclusions of a literature review by Shiphra Ginsburg, we determined we wanted to focus not so much on what the decision was, but rather why the decision was made," said Reiter. "We wanted to know why they would do it, which led us to create a constructed response situational judgement test for sampling personal characteristics."
When other schools expressed interest in using CASPer, Dore and Reiter, together with McMaster University's Industry Liaison Office (MILO) and Innovation Factory commercialized CASPer. The company, Altus Assessments Inc., is based in Toronto, with employees from Hamilton and Toronto. Worldwide, Altus develops and distributes CASPer.
"When we identified a gap in the way we selected applicants, we knew we needed to develop something not only that was evidence-based, but something that created a more equitable process," said Dore.
"While we're proud of what we've created, we're always working hard to ensure CASPer is both strong in helping predict professionalism and people skills, as well as reducing barriers faced by groups underrepresented in medicine."
CASPer is currently in use at more than 130 schools around the world. More than 75 per cent of all applicants to Canadian and American medical schools take CASPer, as well as 60 per cent of applicants to medical residency training in Canada. It is increasingly being used for the selection of medical residents, as well as students for health sciences programs such as nursing, midwifery, physiotherapy, occupational therapy, physicians' assistants, optometry, pharmacy, dentistry and veterinary medicine.
"The use of CASPer has really exploded," said Reiter. "In this 12-month period, more than 100,000 people worldwide will have taken CASPer."
A few years prior to CASPer, the MMI at was pioneered at McMaster in 2002 by Reiter, Norman, Eva and Jack Rosenfeld, professor emeritus in pathology and molecular medicine.
The MMI is an interview format that uses many short independent assessments, typically in a timed circuit, to obtain an aggregate score of each candidate's skills. These include people skills, such as professionalism and ethics, collaboration, and communication, among others.
It was tested, then introduced at McMaster's medical school in 2004. Today, MMI is used at nearly all medical schools in Canada, and in one-quarter of all medical schools in the United States.
"The addition of the MMI and CASPer to grades and standardized tests like MCAT has met our desire that there should be multiple measures of cognitive competency and personal competency and that those measures have demonstrated accountability, feasibility, acceptability and predictable validity," said Reiter.
The MMI is commercialized through ProFitHR which provides solutions to customize and implement the MMI system for human resources departments. Rosenfeld is the COO and director of ProFitHR based at McMaster Innovation Park in Hamilton.
Reiter credited the Faculty's dean and vice-president, administration team, and admissions team for their support to help make CASPer and MMI the tools they are today.
He added he is often asked about how to prepare for CASPer. He said his response is always the same.
"There's only one way I know of in terms of how to improve one's chances," he said. "That is to change one's nature and to demonstrate better values.
"To do well on CASPer, one needs to habituate one's self to do acts of love and kindness, which changes the internal persona and that's person's nature," he said.
"So, when one is asked on short notice to respond to a situation, which is what happens in medicine, what comes out is what comes naturally. Someone who has habituated themselves to doing acts of love and kindness is going to get a better score.
"If all those people striving to do well in CASPer work on themselves to become better human beings, it would foster a kinder and more thoughtful society."