Pitch perfect: MIRA trainees tell it all in three minutes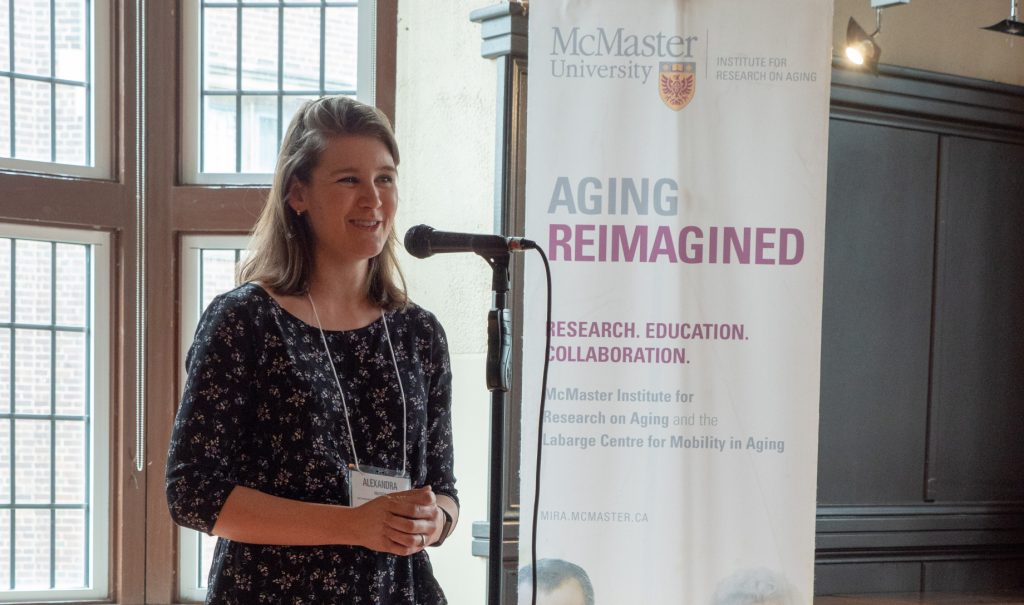 Health Sciences PhD candidate Alexandra Mayhew was picked as audience choice for the best of the "Pitch your project" presentations at an event for MIRA's trainee network. Photo by Mitchell Bonaccorso for MIRA
---
BY Sonia Verma
April 17, 2019
"The bathtub is evil. It's a recipe for disaster."
No, that's not the beginning of a manifesto questioning the need for personal hygiene. It's the title of postdoc Tara Kajaks' presentation at the McMaster Institute for Research on Aging Pitch Your Project event.
Kajaks' research explores ways to make aging in place safer, both for older adults and for their family members who often take on the role of full-time caregivers and pay a high cost in terms of their own health.
Kajaks, the 2018 AGE-WELL-MIRA postdoctoral fellow, was one of 14 members of MIRA's Trainee Network presenting at the Pitch your Project event.
Each had exactly 180 seconds to explain their research and its impact.
Like the Three-Minute Thesis contest that inspired it, the event helps grad students and research fellows learn to present their work confidently, in an easily understood way, while staying focused and using every second to their advantage. Unlike the 3MT, it's not a competition.
Health sciences PhD candidate Alexandra Mayhew, who was voted the crowd's favourite, is using the Canadian Longitudinal Study on Aging as a baseline to define and study skeletal muscle mass loss in aging adults.
"How can we fix sarcopenia if we can't even agree on what it is?" she asked during her presentation, which highlighted how her research would provide a definitive answer on the vaguely defined degenerative disease.
From Mayhew's work to linguistics postdoc Aki-Juhani Kyröläinen's research on using language markers to gauge older adults' cognitive changes, from business postdoc Rasmi Kokash's work exploring the interplay between entrepreneurship and aging, to engineer Kevin Zhao's use of smart-home technology to monitor mobility, the projects reflected the MIRA trainees' breadth of expertise.
In fact, the students created the trainee network, providing an umbrella organization that allows more than 100 graduate students, postdoctoral fellows and undergraduate researchers who are interested in studying aging to learn from each other.
"The trainee network offers us a real chance to do interdisciplinary work, which doesn't happen often enough in other places," says Kajaks, adding that the network gives the trainees an opportunity to learn from people in different disciplines and from different faculties.
"What they do, the different methodologies they use, and how one person's work in one field can help another person's research in a whole other field — this is all going to stand us in good stead."
As well, the network exposes the trainees to experiences and opportunities that they might not have encountered in their own field of study, "and a lot of us have complementary interests," Kajaks says.
"It's a chance to connect and build relationships that will help you at every stage of your research career — here and elsewhere."
The McMaster Institute for Research on Aging (MIRA) aims to optimize the longevity of Canada's aging population through research, education, and collaboration. Interdisciplinary teams work alongside older adults and key stakeholders to find ways that will help Canadians spend more years living well. MIRA also acts as an entry point to some of McMaster's existing research platforms in aging, including the Labarge Centre for Mobility in Aging and the McMaster Optimal Aging Portal. For more information, go to http://mira.mcmaster.ca/