Powering a new paradigm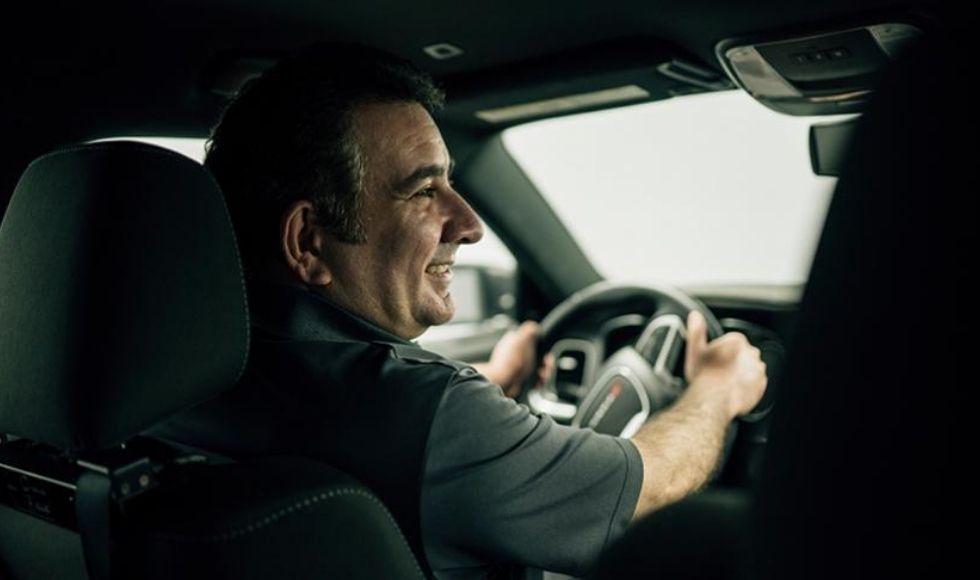 McMaster Engineering's Ali Emadi founded a company named Enedym to commercialize technologies born out of his research into transportation electrification, with the goal of supplying the world's need for lower cost and more sustainable electric motors.
---
BY Kim Arnott, Faculty of Engineering
July 23, 2021
Ali Emadi's focus has always been on real problems: the urgent, on-the-ground issues facing the planet.
It was this passion that spawned his ambitious transportation electrification research program and brought him to McMaster a decade ago as a Canada Excellence Research Chair.
It's also led to the development of next generation electric motors and a disruptive design process that Emadi believes offer the world a quicker, cheaper and greener route to electrification across a range of industries.
That ambition got a $15 million boost recently, with a second round of investment in Enedym Inc., a company founded by Emadi and Berker Bilgin to commercialize technologies born out of their research into transportation electrification.
The funding will accelerate Enedym's entry into the massive global electric motor business, with an initial focus on automotive, micromobility, wind farm and industrial applications.
Over 20 years, Emadi has built his career on improving the sustainability of transportation.
"We need to electrify cars, buses, trucks, motorcycles, scooters – even aerospace – everything that moves," says the McMaster professor and Canada Research Chair in Transportation Electrification and Smart Mobility.
But his vision for Enedym is even bigger: to save the planet, one electric motor market at a time.
From washing machines and vacuum cleaners to robots and industrial drives, electric motors power nearly everything we know. About 15 million electric motors are manufactured globally every day, and roughly half of the world's electricity is used to power them.
In such a massive market, even small efficiency gains have the potential for huge benefits, Emadi says.
"Our motor technologies are next generation. They are adjustable speed drives that can be controlled and programmed. They are smart and they are highly efficient."

The backstory
In 2010, McMaster successfully landed $10 million in federal funding to create a Canada Excellence Research Chair in Hybrid Powertrain and bring Emadi to Hamilton.
As head of the Electric Power and Power Electronics Centre and Grainger Laboratories at the Illinois Institute of Technology in Chicago, Emadi was leading a world-class team of researchers working on transportation electrification. He had also founded spin-off Hybrid Electric Vehicle Technologies, Inc. to commercialize some of that work.
With Canada's automotive companies facing the need to move toward electrification, funding for the CERC program recognized the need to undertake research, train engineers and commercialize technologies that would help the industry stay competitive.
"McMaster committed to building a world-class automotive electrification and smart mobility program with multiple angles – research, education, innovation and entrepreneurship and commercialization – and that's what convinced me to come to Hamilton," says Emadi.
Adding Emadi and the CERC program to McMaster's existing strengths in automotive materials, software and advanced manufacturing put the university on the cutting edge of transportation research.
"It was a perfect match. McMaster had everything else but my core field of power electronics and electric motors," he adds.
Shortly after his 2011 arrival, McMaster received an $11.5 million grant from the Federal Economic Development Agency for Southern Ontario (FedDev Ontario) to build the McMaster Automotive Resource Centre (MARC).
Bringing together four leading McMaster research groups to share the space, the $26 million, 80,000 square-foot facility has enjoyed exceptional success in encouraging interdisciplinary efforts.
In 2013, Emadi's team moved into MARC's brand-new CERC research laboratories and state-of-the-art test facilities. Berker Bilgin, who earned his PhD studying switched reluctance motor design under co-supervision of Emadi in Chicago, headed the group as chief engineer.
Now McMaster's Assistant Professor of Electrical and Computer Engineering and Enedym's VP of engineering, Bilgin says the last decade's work spent helping industry solve thorny electrification issues has been invaluable.
"Through those industry projects, we observed the demand but also came to understand the challenges and shortcomings of the existing technology," he says.
Enedym's technology
Formed in 2015, Enedym began operating out of McMaster Innovation Park in 2018 under a license agreement with the university.
The company has ownership of more than 50 patents, pending patent applications and related inventions developed by Emadi and his research group.
With a focus on switched reluctance motor (SRM) technologies, Enedym offers electric drive solutions with simpler construction, lower cost, higher efficiency and a more stable supply chain.
Many traditional electric propulsion motors rely on permanent magnets that require expensive rare earth metals sourced predominantly from China. Enedym motors eliminate those magnets, dropping the potential cost by as much as 40 per cent.
Other advantages of SRM technology include high efficiency at high-speeds, fault tolerant operation, and the suitability to operate in harsh environments and at high temperature conditions.
"Our motors are not just for automotive and transportation," said Emadi. "We have developed game changing IP, innovative engineering processes, and software tools to meet demands across multiple industries."
Support from the McMaster Industry Liaison Office, as well as Karen Mossman, the university's vice-president, research, has helped Enedym connect with key partners and build momentum, he adds.
The success of Emadi's team in developing and commercializing disruptive technology has been outstanding, says John Preston, associate dean of research, innovation and external relations for the Faculty of Engineering.
"Enedym's electric motor solutions are smart, green and forward-thinking. They demonstrate the clear value in investing in world-class facilities and research."
A round of seed funding in 2019 brought local investors to the Enedym vision.
"It was really important for us that the first round of investment be from our region," said Emadi. "The Paletta family invested in us and have been very helpful from the beginning." He adds that the company has also benefited from the strong support of Gowling WLG law firm in Hamilton.
Emadi says he's proud to be bringing investment to a city with a history as an electric pioneer and sees Enedym as a future source of good jobs for the region.
"We want to contribute to the comeback of Hamilton as The Electric City," he says.
Enedym's latest round of investors includes P&A Paletta Giving Inc., TRIO Capital Group Inc., Napino Group, KWG Capital Inc., Pathfinder Asset Management Limited, and others.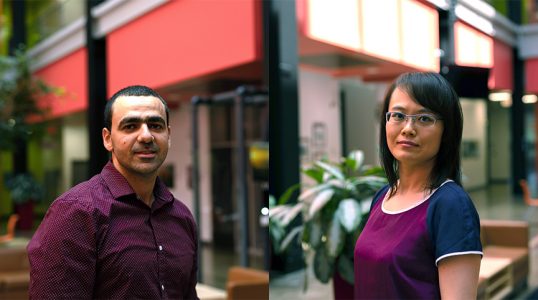 The people
Over the last two years, Enedym has hired 18 McMaster engineering graduates.
Two key players, Ehab Sayed and Jing Guo worked on Emadi's CERC teams as post-doctoral research fellows after completing PhD studies at McMaster.
As principal engineer at Enedym, Ehab Sayed says he's excited by the opportunity to work in an innovative and multidisciplinary company, as well as contribute to the development of SRM technology.
"By eliminating the need for rare-earth magnets, SRMs reduce the cost of the final motor and pave the road further toward electrification and clean energy," he said.
Like Emadi, the Enedym team is motivated by the desire to find solutions to today's immediate and real challenges.
"What we have developed at Enedym is needed for sustainability," says Bilgin. "It is a must. The market for electric motors is growing every single day."

"The combination of demand and the technology we've developed will turn Enedym into a strong company with global presence."