Primary care teams use oximeters to monitor COVID-19 patients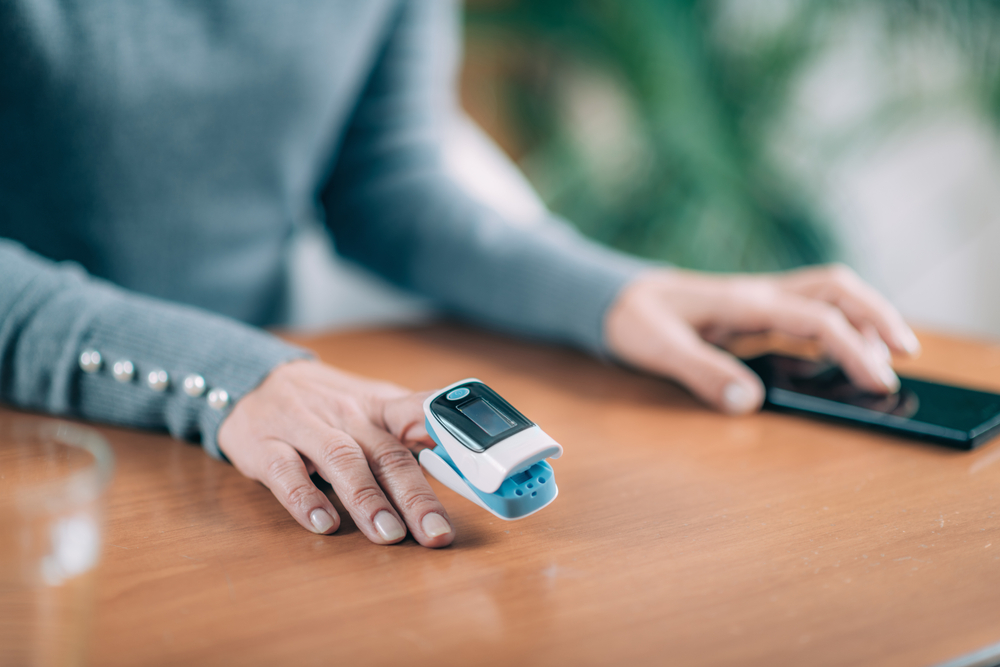 Patients use an oximeter to measure and report their blood oxygen saturation level.
---
BY Fram Dinshaw, Faculty of Health Sciences
June 29, 2021
For Elise Thomsen, it began with a searing headache behind the eyes. Three hours later, she received a phone call from her son's daycare, warning of a COVID-19 outbreak, and Thomsen knew she had it.
"It started like a bad flu. After 10 days I thought I was better, then it came back with a vengeance, and I started coughing really badly. I was gasping for breath and losing my sense of smell. Then I went to the emergency room," said a now-recovered Thomsen, who lives in London with her young son.
"My mom in Michigan thought I was dying, and she couldn't get across the border. She was sobbing when I finally got hold of her, I must have looked terrible on the video call."
But the oximeter came to her rescue, a guide of sorts through the breathlessness and coughing fits.
Thomsen was one of more than 10,000 Ontarians who have had the benefit of an innovative model for family physicians and teams to provide the best care and monitoring for primary care patients with COVID-19.
Patients receive home oximeters to monitor their symptoms as part of a program developed by McMaster experts that has already saved dozens of lives.
The team developed a free, open access clinical pathway with electronic medical record (EMR) templates, which was piloted in practice by clinicians at the McMaster Family Health Team (MFHT) and made available to the wider Hamilton family medicine community with pulse oximeters for high-risk patients.
The pathway has since been adopted by Ontario Health as the standard of care, called COVID@Home Monitoring for Primary Care. It is supporting primary care cross Ontario and beyond with clinical pathways and tools, including oxygen saturation monitors supplied by the Ministry of Health. All of the resources are available at HFAM.ca, which has had more than 10,000 users.
First piloted in December 2020, the monitoring program aims to help the majority of COVID-19 patients who can be treated at home. Its goal is providing a clinical care pathway that alleviates the demand on the hospital system and supports early detection and transfer for those who need hospital care
With the program patients who are at higher risk of more serious COVID illness are called each day by a member of their family practice team to monitor symptoms and vital signs. Patients use the oximeter to measure and report their blood oxygen saturation level.
Medical assistance is tailored to help individual patients, ranging from advice to increase their fluid intake to an emergency room admission, should their blood oxygen level suddenly crash. For some patients that has meant immediate transfer at a time they were unaware their oxygen was dropping. Patients and families are given clear instructions for what to do if "red flag" oxygen levels of symptoms develop, as well as what to do to safely improve breathing and symptoms.
The program may also be used when a patient returns home from hospital with COVID-19, as in Thomsen's case.
"We know patients and they know us," said Derelie Mangin, professor of family medicine at McMaster and lead for the project. "Patients have said they appreciate being able to receive care in their own home and felt very reassured by the follow-up and management by their primary care team who know them,"
"Being cared for by the team that knows you and feels familiar goes a long way to reduce the anxiety associated with COVID-19. We know less than 10% of patients develop serious illness and need care in the community. The key thing is providing excellent home care for COVID-19 patients, avoiding emergency room attendance where it is not necessary, detecting early and facilitating rapid transfer to the emergency room when it is."
Hamilton family doctor Meghan Davis says oximeters are an excellent tool for combatting COVID variants, which can quickly overwhelm patients.
Her patient Candy Vicente would agree. After her husband tested positive in early May, he collapsed as his oxygen levels nosedived.
They both ended up in hospital for six days in May, while their three children tested positive and suffered only mild symptoms.
Both Vicente and her husband received oximeters after being discharged. They are still recovering while their children do the housework, from mowing the grass to laundry.
"It's an amazing feeling, the joy and happiness of beating something like that and having the faith and the strength to get through it, I feel fantastic," said Vicente.
"The oximeter gave me peace of mind knowing I could check my own oxygen levels while I was home."
Elaine Sagodi, another patient of Davis, had no idea that 92 was the critical blood oxygen level in COVID-19 patients before she received her oximeter.
She went to hospital for treatment when her level fell below this, avoiding a possibly severe infection with prompt treatment.
"Without the oximeter I would never have known, so it was a godsend. Another day's delay would have been really bad," said Sagodi.
She is now recovering at home, but still has shortness of breath when climbing stairs. Nevertheless, Sagodi is hoping to return to her long walks and treadmill exercises soon, thanks in part to her oximeter.
"The oximeter has a predictive value, often the readings go down prior to them feeling really unwell, so we can in essence catch COVID-19 worsening before the physical symptoms such as severe shortness of breath and cough progress," said Davis, assistant clinical professor of McMaster's Department of Family Medicine.
"This is exactly how it worked for Candy and Elaine. Oximeters are helpful to the patients who I care about, through a really difficult pandemic and a scary time."
But the challenges remain immense, both for individual patients and the entire system.
David Price, professor and chair of the Department of Family Medicine, noticed a disturbing pattern of patients infected by COVID-19 improving and then crashing throughout the third wave.
Thomsen, for example, experienced this three times before recovering. However, some patients can deteriorate in a matter of hours.
"That is the kind of speed this disease can kill young and healthy people. I'm convinced home oximeter monitoring has saved two of McMaster family health team's patients already," said Price.
Thomsen remained under close medical supervision for weeks and, echoing Vicente, felt the oximeter came in handy.
"It will help them monitor my symptoms and let them spot problems before they get worse. The doctors also thought I had a somewhat unique case, so they interviewed and documented my case so they can help others," said Thomsen.
To help COVID-19 patients, over 10,000 oximeters have already been distributed to 600 family medicine practices across Ontario, said Price. He points out that at just $35-40 per oximeter, the monitoring system is both cheap and effective.
Price approached Ontario Health to pitch the idea of extending the Hamilton model before the third wave hit, saying 10,000 oximeters would be an ideal number, winning the government's agreement to help distribute them.
This McMaster-led initiative received no funding and was developed as it filled a clear need for primary care and patients.
"We have felt all along the weight of our responsibility and worry, and I feel a huge sense of relief each time we ripple it out to a larger group," said Mangin.
For Mangin, the efforts made during COVID support primary care's finest hour in this pandemic: "I am just thrilled to see primary care rising to the challenges thrown up by the pandemic and especially during this third wave: "COVID-19 and primary care? We've got this."