Professor's startup acquired by U.S. firm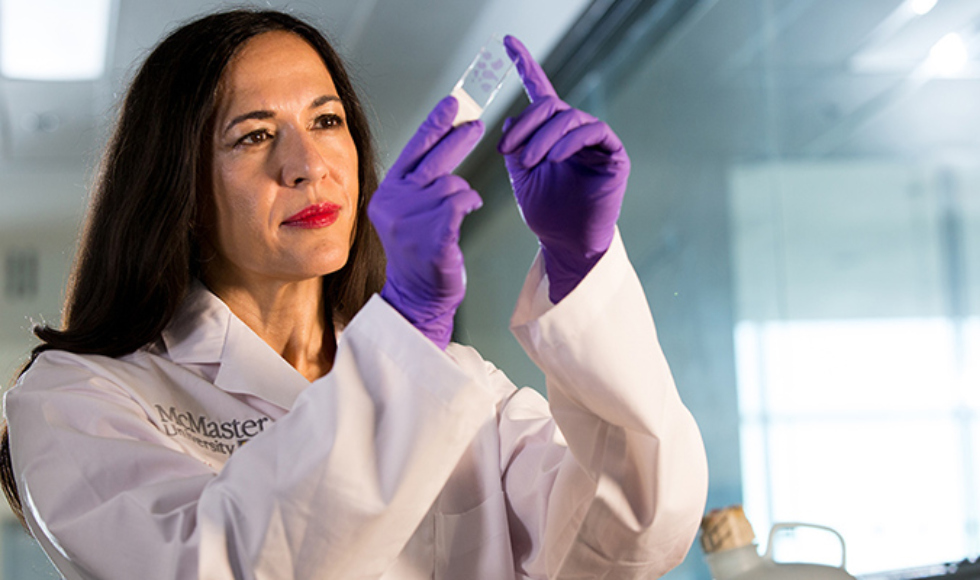 BY Lori Dillon
June 26, 2020
McMaster start-up Empirica Therapeutics has been acquired by Philadelphia-based Century Therapeutics, a leader in curative cell therapies for cancer. Now known as Century Therapeutics Canada, the new subsidiary will be based at McMaster Innovation Park.
Empirica was co-founded in 2018 by Sheila Singh, professor in the Department of Surgery at McMaster, and Jason Moffat, professor at University of Toronto's Donnelly Centre.
Its focus is on developing immunotherapies for aggressive and treatment-resistant forms of cancer, including glioblastoma (GBM) and brain metastasis. Using powerful integrative multi-omics platform, combined with unique patient-derived, therapy-adapted models of recurrent GBM, they've discovered and validated novel brain tumor targets.
Singh, who holds the Canada Research Chair in Human Cancer Stem Cell Biology and served as Empirica's CEO, said the acquisition means great promise for advancing treatments for GBM patients.
"We look forward to combining our unique patient-based cancer models with Century's platform to create promising treatments for the patients who need them most," she said.
Century is working to harness the power of stem cells to develop curative cell therapy products for cancer that overcome the limitations of first-generation cell therapies. The company's CEO, Lalo Flores, acknowledged Empirica's deep expertise and unique capabilities that will accelerate their efforts to develop iPSC derived immune effector cell products designed to treat and possibly cure brain cancer.
"GBM is a particularly aggressive, often treatment-resistant form of adult brain cancer with an average survival time of under two years. Together, we are in a stronger position to develop potentially curative cell therapies for this devastating disease," he said.
Karen Mossman, McMaster's vice-president of research, called the speed at which Empirica grew "truly remarkable."
"It's been only two years since Empirica was incorporated, but thanks to Sheila's first-class science and strong business acumen, the company quickly garnered the attention of the global biotech sector," she said.
And while this is a business transaction, Singh is reminded of Empirica's founding roots – the academic discoveries that originated from a Terry Fox Research Institute New Frontiers award that, under her leadership, brought together multidisciplinary scientists from several Canadian universities to establish an innovative target discovery pipeline for the development of new immunotherapies for recurrent GBM.
Singh also credits the fundamental and pivotal assistance provided by supporters and investors including the McMaster Industry Liaison Office (MILO), the Centre for Commercialization of Antibodies and Biologics (CCAB), the Centre for Commercialization of Regenerative Medicine (CCRM) and the Ontario Bioscience Innovation Organization (OBIO), not only through financial support but important connections to relevant business networks and partners.
"They all have a mandate to offer early support to Canadian biotech start-ups, and I hope that Empirica has now fulfilled its mandate in taking these next steps with the creation of Century Therapeutics Canada," said Singh.
And she hopes to encourage other university researchers to take full advantage of this start-up support ecosystem and to take a risk.
"As a neurosurgeon, professionally, I live in a world full of risk; perhaps it's where my determination comes from," said Singh, noting that personally, she's a little more risk adverse.
"But to advance one's research – and to place it in the hands of those who can make the biggest difference to a person, to a community, and to the world – I encourage my colleagues across the disciplines to face risk head on."
With respect to what lies ahead, Singh emphasized there's much work to be done and she and her colleagues are motivated by this latest development.
"Our team is excited to become part of Century Therapeutics, whose iPSC-derived allogeneic cell therapies show immense potential for treating solid as well as hematologic malignancies."