Providing better care for patients – long after they've left the operating room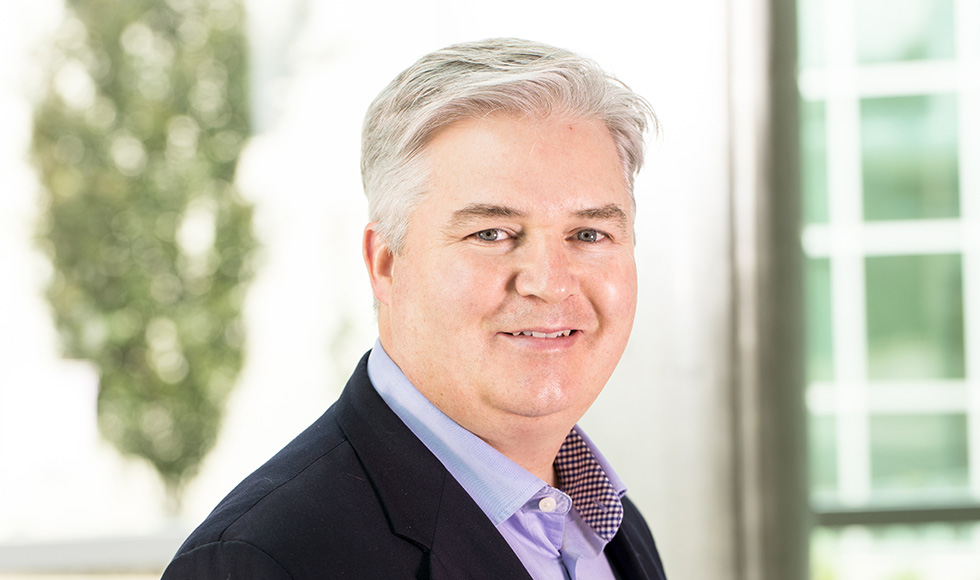 BY Tina Depko
March 9, 2018
The impact a doctor can have on patients inspired P.J. Devereaux from an early age.
Growing up on Cape Breton Island, with a mother who was a nurse and Dr. C. Lamont MacMillan's Memoirs of a Cape Breton Doctor on his bedside table, he was motivated by their stories and wanted to help others through medicine.
"I always planned to be a doctor and go back to Cape Breton Island," Devereaux recalls.
"The book I read as a kid by Dr. MacMillan, who was a country doctor in Cape Breton, talked about helping people all over the island and having people pay him with chickens. That was what I wanted to do."
He set off to fulfill his dream by attending medical school at McMaster University, where mentor David Sackett fostered a newfound interest in research as a way to help others.
"As a doctor, I would be able to help thousands of patients, but research has the potential to help millions of patients," says Devereaux.
"It was that potential that really excited me in terms of doing something that mattered at a global level."
During his residency, Devereaux recognized a gap in substantial evidence-based research on perioperative cardiovascular issues in non-cardiac surgery patients.
"Researchers hadn't sorted out how to accurately predict the risk, how to monitor for medical events and how to better manage the complications that happen," he says.
"We effectively went to the desert and built an oasis because there was nothing there."
Following his residency, Devereaux returned to McMaster in 2000 to complete a PhD in clinical epidemiology with supervisors and mentors Gordon Guyatt and Salim Yusuf. During his PhD, Devereaux was a co-principal investigator of the POISE-1 Trial, the world's largest cardiac randomized controlled trial in patients undergoing non-cardiac surgery.
Today, Devereaux is a professor and University Scholar in the Department of Health Research Methods, Evidence, and Impact, as well as a joint member in the cardiology division of the Department of Medicine of McMaster's Michael G. DeGroote School of Medicine. He holds a Tier 1 Canada Research Chair in Perioperative Medicine.
He is the director of the Division of Cardiology at McMaster University. He is also the scientific leader of the perioperative medicine and surgical research group at the Population Health Research Institute of McMaster University and Hamilton Health Sciences.
Devereaux is the principal investigator (PI) of the VISION Study that evaluated major vascular complications in a representative sample of 40,000 patients undergoing non-cardiac surgery in 27 centres in 14 countries. He is also the PI of the POISE-2 Trial that evaluated the effects of a high blood-pressure medication called clonidine versus a placebo and Aspirin versus a placebo in a 10,000 patient trial among those undergoing non-cardiac surgery.
"These studies have led to major guideline changes, because we established the fact that if you don't measure troponin – which are heart markers in the blood – after surgery you will miss 90 per cent of the important injuries or heart attacks that happen after surgery," he notes.
"The asymptomatic patients are equally problematic as the symptomatic patients in terms of impact on 30-day mortality. This was fundamental to changing the way we practice medicine and allowing us to avoid missing serious complications.
"Before this, no one measured the markers and the patient would go home, experience heart failure and die, but people wouldn't know why."
Devereaux is looking to further improve perioperative medicine.
"I believe we can cut the international mortality rate in half from two per cent to one per cent, and I believe we can also cut in half the current six per cent of people who need to be readmitted to hospital within 30 days of the initial surgery," he says.
"How we will do this is by using remote, automated, continuous, non-invasive monitors when people are leaving the OR, as well as in the home setting. We will also have teams of physicians who are focused on perioperative care, similar to anaesthetists."
Guyatt, a long-time mentor and professor with the Department of Health Research Methods, Evidence, and Impact at McMaster, says Devereaux is a brilliant, resourceful and determined researcher whose impact is widespread.
"Dr. P.J. Devereaux is leading the world in the area of modifying risk of adverse events after non-cardiac surgery," says Guyatt, who himself is a member of the Canadian Medical Hall of Fame.
"His conduct of an observational study of 40,000 patients, and a number of large randomized trials, has already revolutionized the management of higher risk patients undergoing non-cardiac surgery.  It is certain that Dr. Devereaux will continue to make practice-changing contributions to the great benefit of this very large group of patients."
While he will always be a Maritimer at heart, Devereaux says Hamilton is an ideal place to ensure his research can help as many people as possible.
"To do large international studies, there is no place like Hamilton in Canada," he says.
"It is the critical mass of people here who are passionate and driven about research, as well as mentorship. There is also a 'can do' culture here that supports research that matters. Every challenge is an opportunity waiting for a solution."