Redefining aging research in Canada and around the world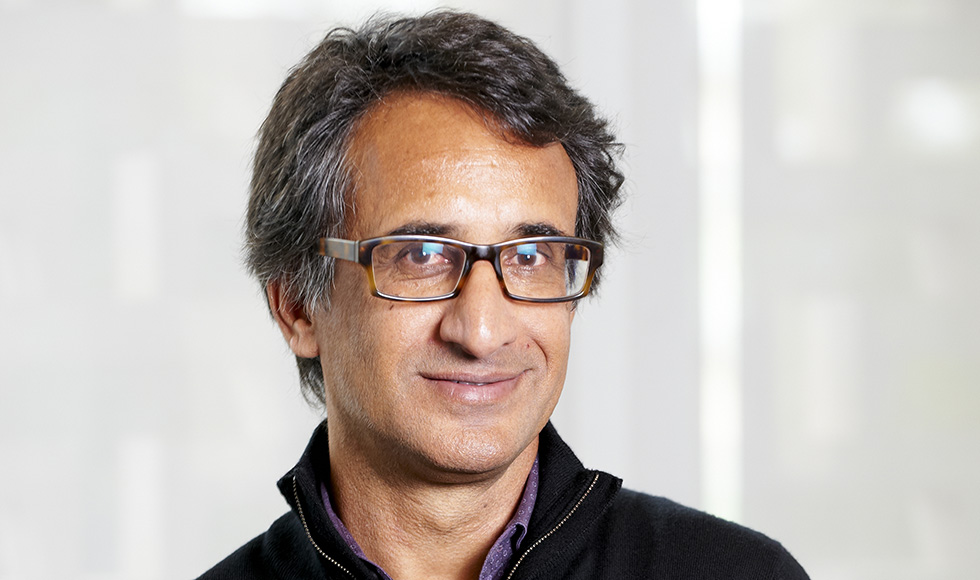 BY Tina Depko
January 26, 2018
Living long is not the ultimate goal. Living well is the ultimate goal.
That is the mantra of Parminder Raina, scientific director of the McMaster Institute for Research on Aging, more commonly known by its acronym, MIRA.
MIRA is an innovative institute based at McMaster University that brings together interprofessional teams with the older adult community, their families, health-care providers and other key stakeholders. The goal is to foster research that creates practical solutions promoting aging in place.
"The fact we are living longer is one of the remarkable achievements of medicine and public health," says Raina, professor in the Department of Health Research Methods, Evidence, and Impact.
"The question is, what's the quality of those later years?"
Medicine and aging has always fascinated Raina, who was raised in India. Surrounded by family members who were physicians, the conversation around the dinner table centred on health. This family interest resulted in Raina's different perspective on life.
"From a very young age, I wondered why my grandparents on my mom's side didn't live as long as the grandparents on my father's side," he says. "Family on my father's side all have tremendous longevity and that intrigued me."
Raina came to Canada at the age of 19, completing a bachelor of science degree and then a PhD. In the late 1990s, he embarked on a postdoctoral fellowship with Dr. Larry Chambers, now professor emeritus of the Department of Health Research Methods, Evidence, and Impact at McMaster University.
In 2001, he became part of the lead investigative team with the Canadian Longitudinal Study on Aging (CLSA).
The Canada-wide study of more than 50,000 men and women looks at health and aging over a 20-year period. People between the ages of 45 and 85 were recruited between 2010 and 2015 to take part. Researchers analysing the data are working to find ways to help people live long and live well, as well as an understanding why some people age well, while others do not.
Read: It's time to treat aging as an asset, not a burden
"There is nothing like this anywhere in the world," Raina says of what he calls his greatest research accomplishment to date.
"I think around the globe it is going to redefine how aging research is done. We are already seeing other countries that are interested in launching their own longitudinal studies reach out."
Raina's expertise in the field continues to earn recognition. He holds the Raymond and Margaret Labarge Chair in Research and Knowledge Application for Optimal Aging and Canada Research Chair in Geroscience from the Canadian Institutes of Health Research.
Raina says aging research is critically important at this time in Canada's history, pointing to the latest national census that showed, for the first time, that there are more people over the age of 65 than children below the age of 15.
As well, the fastest growing age groups in Canada are the baby boomers and the 80-plus group, he adds.
He notes the research being done at McMaster, specifically at MIRA and related centres like the Labarge Centre for Mobility in Aging, will contribute impactful answers to questions around aging in the national and international context.
"There is a huge gap that exists in Canada and internationally from a scientific point of view in understanding what it is to age with disease, what it is to age without disease, what it is to age in a good environment or a bad environment," he says.
"Working together in an interdisciplinary environment, McMaster is becoming the Canadian and international leader on research in aging. We will create corrections at the individual level and public policy level for aging populations not only in Canada, but around the globe."
Raina says there are exciting research results coming from the CLSA and MIRA in the next five to 10 years.
While focusing on making people's lives better, he hopes to break down stereotypes and combat ageism.
"There is this notion that older people are dependent on society and have a lot of needs, but hopefully, through this work, we can change the narrative," he says.
"We want people to understand that it isn't bad to age. Older people contribute a tremendous amount to our communities and these communities wouldn't function as well without them."