Researchers developing tech to reduce greenhouse gas emissions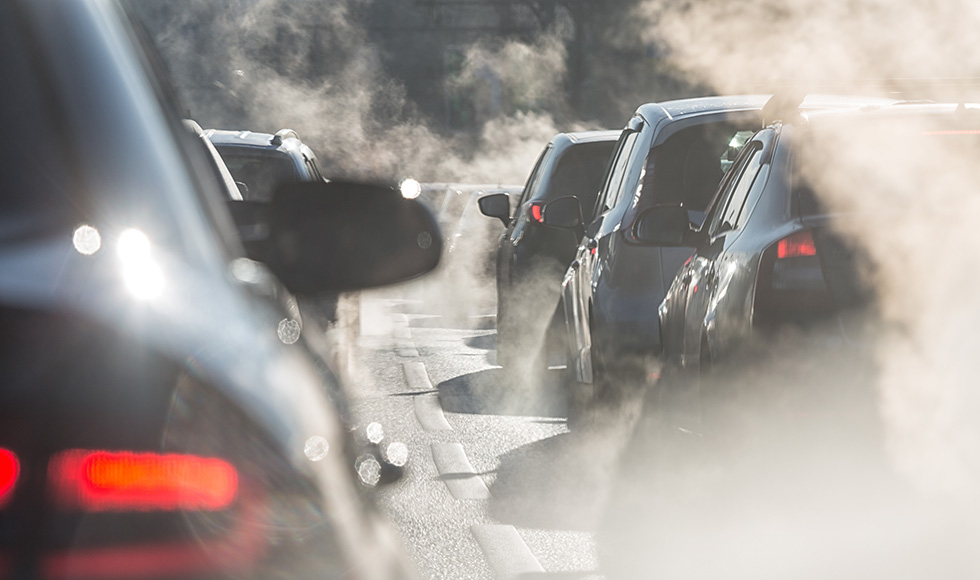 December 11, 2017
Jim Cotton and Ali Emadi earned grants from the Natural Sciences and Engineering Research Council of Canada (NSERC) and the Ministry of Research and Innovation and Science (MRIS) through the TargetGHG program administered by Ontario Centres of Excellence (OCE) to address Ontario's 2020-2030 greenhouse gas emission (GHG) targets.
"Supporting the efforts of large industries in their quest to reduce their greenhouse gas emissions is an important part of our government's Climate Change Action Plan," said Reza Moridi, Minister of Research, Innovation and Science. "With the help of our province's innovative cleantech companies, the TargetGHG program will help build a prosperous, low carbon economy and create a cleaner, more sustainable future for Ontario."
"Taking steps to reduce the impacts of greenhouse gases and air pollution on our climate and environment is a key priority in Canada," said Dr. Marc Fortin, Vice-President, Research Partnerships, Natural Sciences and Engineering Research Council of Canada. "NSERC is proud to partner with Ontario Centres of Excellence to connect Canada's top researchers and companies to develop innovative clean technologies that will advance environmental sustainability in Canada and improve the health and quality of life of Canadians."
The $2.7M in funding that Cotton received through government and industry partnerships will support his leading energy system research that combines thermal and electrical energy technologies to harvest waste heat, improve energy efficiency and reduce GHG emissions. The system powers, heats and cools areas in communities with intense energy demands such as big block stores and condominium complexes.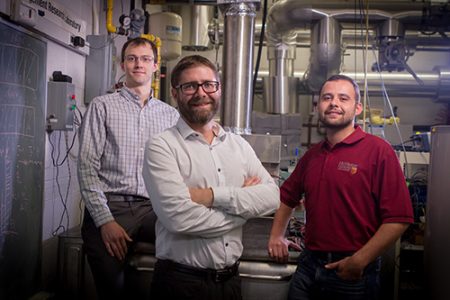 "This technology will improve the ways in which Ontario communities manage electrical and thermal energy grids," said Cotton, Associate Director, McMaster Institute of Energy Studies and Professor, Department of Mechanical Engineering. "Communities will be able to site, design, optimize and control these more efficient systems."
The systems store waste heat in the summer and combine it with smart electrification of heating with heat pumps and thermal storage techniques. By integrating thermal and electrical energy, the amount of natural gas normally needed to heat and power buildings is reduced, which in turn, decreases GHG emissions.
Working with Carleton University and 17 energy industry partners on the project, including HCE Energy Inc., GridSmartCity, GeoSource Energy Inc., S2E Technologies Inc. and Siemens Canada Limited, Cotton and his research team will also develop predictive controls that use weather and energy market forecasts with previous performance data to optimize the system.
Emadi, a Canada Excellence Research Chair in Hybrid Powertrain, is internationally recognized for his expertise in transportation electrification and smart mobility. Emadi, who received $2.5M from NSERC, OCE and industry partner Sevcon, will develop advanced motor control technologies for emerging and existing electric vehicles. Emadi and his research team will work with industry partner Sevcon to reduce emissions, improve motor testing technologies and accelerate the time-to-market for new electrification solutions.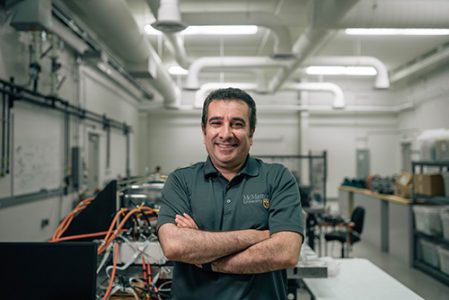 "Electric, hybrid electric and plug-in hybrid electric vehicles are of critical importance in helping society significantly reduce its GHG emissions," explained Emadi, professor, Electrical & Computer Engineering and Mechanical Engineering. "Such electrified vehicles need advanced electric motors and controllers."
"This award demonstrates that our researchers are leaders in developing smart energy systems and electric vehicles," said John Preston, Associate Dean, Research and External Relations, Faculty of Engineering. "We continue to push the boundaries of discovery to make Canada, and the world, a better place to live."