Researchers focus expertise on $9M of COVID-19 research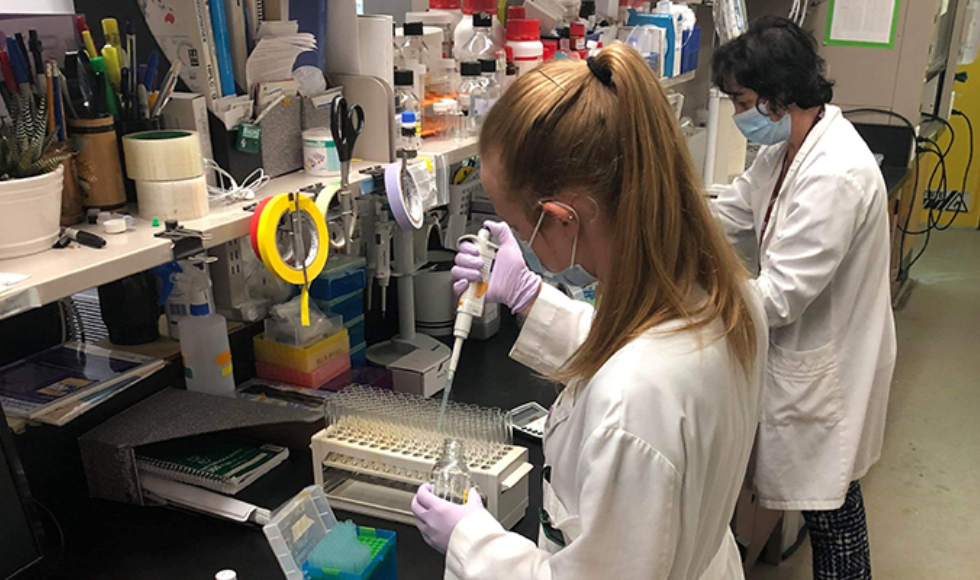 Haley Zubyk, left, and Kalinka Koteva at work in the Wright lab at McMaster. Photo by Haley Zubyk
---
BY Tina Depko, Faculty of Health Sciences
June 11, 2020
Researchers in the Faculty of Health Sciences, who quickly turned their focus to the need for immediate research on the pandemic, have collected almost $9 million of support for 33 COVID-19 studies.
Support has come from all sectors including tri-council, federal and provincial governments, foundations, private companies, and philanthropists, including Charles and Margaret Juravinski.
A wide range of research, spanning from basic research to clinical trials, is reflected in this funding.
"When the COVID-19 pandemic began in March, our scientists turned their expertise to the situation," said Paul O'Byrne, dean and vice-president of McMaster's Faculty of Health Sciences.
"Our researchers are developing guidelines for best practices in containing the infection, monitoring the virus as it spreads through the population, enhancing diagnostic capacity, developing novel antivirals, evaluating novel therapeutics and measuring the impact of the crisis on health care, both at the level of the patients and the caregivers."
Some of the projects that received funding are:
McMaster researchers were awarded funding for five pandemic studies in the recent announcement by the Ontario government of COVID-19 Rapid Research Fund projects. The university's largest grant, for $1.2 million, is for the major national study led by Donald Arnold (Medicine/ McMaster Centre for Transfusion Research), on the use of blood, known as convalescent plasma, from recovered pandemic patients for the treatment of those currently fighting the virus.
Gerry Wright (Biochemistry and Biomedical Sciences/Michael G. DeGroote Institute for Infectious Disease Research) received support from the Canadian Institutes of Health Research (CIHR) for a therapeutics project focused on targeting genetic and chemical vulnerabilities of novel coronavirus SARS-CoV-2.
Karen Mossman's (Pathology and Molecular Medicine) project focused on transmission dynamics and animal host project that focuses on SARS-CoV-2 pathogenesis in human and bat cells, and development of in vitro and in vivo infection models, was supported by the CIHR.
Dawn Bowdish (Pathology and Molecular Medicine) and Michael Surette (Medicine) received research funding from The W. Garfield Weston Foundation to support their work to identify COVID-19 infection rates and to understand why some people are more susceptible to the virus. Read the story here.
Jeremy Hirota (Medicine) and PJ Devereaux (Population Health Research Institute) were both named winners of the COVID-19 Open Innovation Challenge by Hoffmann-La Roche Limited (Roche Canada). Hirota's project focuses on an optimized COVID-19 diagnostic test incorporating host responses for predicting disease course and health-care needs. Devereaux is undertaking a trial zeroing in on understanding if virtual care with remote automated monitoring technology will reduce the need for subsequent acute-hospital care among adults discharged home after undergoing non-elective surgery.
A team led by Guillaume Pare (Pathology and Molecular Medicine) obtained a grant from Roche Canada for analysis of biological samples for the Anti-Coronavirus Therapies to prevent progression of COVID-19 (ACT) randomized trial which aims to discover blood biomarkers of response to treatment as well as biomarkers predicting adverse outcomes in COVID-19 patients.
Thanks to the Juravinski Research Institute and the gift from Charles and Margaret Juravinski, leading experts from Hamilton Health Sciences, McMaster University and St. Joseph's Healthcare Hamilton have funding to support eight collaborative research projects, most related to COVID-19.
Holger Schünemann (Health Research Methods, Evidence, and Impact), with Derek Chu (HEI, Medicine), led a systematic review and meta-analysis of direct evidence on COVID-19 and indirect evidence on related coronaviruses causative of Severe Acute Respiratory Syndrome (SARS) and Middle East Respiratory Syndrome (MERS). The work was commissioned by the World Health Organization.
Jonathan Bramson, vice-dean, research for the Faculty of Health Sciences, says McMaster scientists are doing quite well in the fight against COVID-19.
"This pandemic has reminded Canadians of the importance of investing in health sciences research," said Bramson.
"Here at the Faculty of Health Sciences, we are grateful for all the support we have received for COVID-19 related work. Our researchers are committed to unlocking the mysteries of this virus and finding solutions to the many health challenges this pandemic has presented to us."