Researchers reveal problems with public health tweets during the first months of the pandemic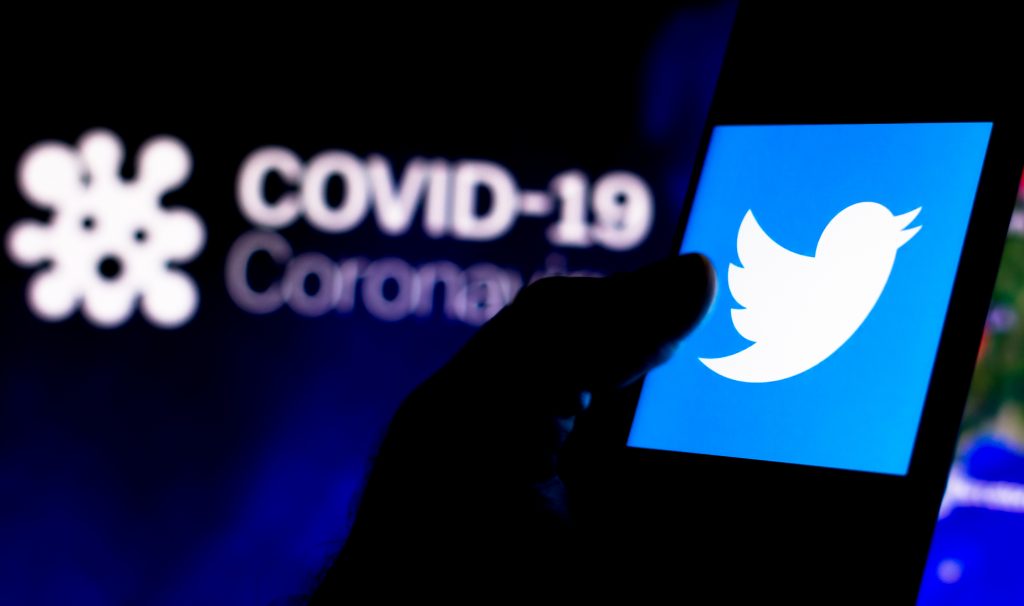 An analysis of thousands of tweets from the first months of the pandemic shows Canadian public health agencies at all levels struggled to deliver messages that were consistent, clear, and relevant to the communities they served. (Shutterstock image)
---
May 10, 2021
An analysis of thousands of tweets from the first months of the pandemic shows Canadian public health agencies at all levels – local, provincial, and federal—struggled to deliver messages that were consistent, clear, and relevant to the communities they served.
The findings by researchers at McMaster and the universities of Waterloo and Toronto, published online in the journal Health & Place, covered the six months beginning Jan. 1, 2020 – the day China reported its first outbreak to the World Health Organization.
The researchers studied nearly 7,000 tweets authored by public health agencies and officials across Canada.
A record number of people turned to Twitter for information as the global crisis spread.  In the first three months of the pandemic, the platform reported a 24-per-cent increase in daily users, compared to the same period in the previous years. Some 15 million Canadians use Twitter each month.
The researchers found public health agencies focused first on sharing expert information, then shifted to encouraging preventive measures such as staying at home and social distancing. But in many cases, their tweets failed to reflect local circumstances and disease transmission levels, which varied widely across different populations and regions.
The analysis also revealed a lack of messages to acknowledge uncertainties and public concerns or address the spread of misinformation, with only 2 per cent of tweets aimed at debunking myths.
During a public health crisis, communicating risks while acknowledging uncertainty is important for building trust and promoting the adoption of public health measures, the researchers say.
"It has been critical for public health officials, who are often considered trusted experts, to provide quick and clear information on disease transmission, what constitutes safe and risky behaviour and what community supports are available to slow the spread of the virus," says Catherine Slavik, lead author of the study and a graduate student in the School of Earth, Environment and Society at McMaster.  She conducted the work under the supervision of Niko Yiannakoulias.
"Tweets that focus on community efforts to fight the pandemic, highlighting nurses as local heroes, for example, are really important for building institutional trust, for establishing human connections between the community and local officials who are there to serve them," she says.
"We were surprised public health officials did not put more emphasis on messages showcasing people coming together or local programs helping to keep us safe."
Slavik points to some regions which did well at highlighting community-based initiatives, including public health agencies and personnel in British Columbia. The province fared well early in the pandemic compared to others.
The analysis also revealed a divide between urban and rural public health accounts. While urban communities had much higher rates of transmission of COVID-19, their accounts focused on sharing information rather than promoting preventive measures and actions that could have driven community transmission down.
Conversely, researchers found rural community accounts directed behavioural change when the community would have benefited from receiving more information about evolving risks.
"The prevalence of COVID-19 has changed over time within and across geographies. We didn't always see the risk communication from public health accounts match the changing circumstances," says Connor Darlington, a PhD student in the department of Geography and Environmental Management at the University of Waterloo, who conducted the data analysis.
"I think that is one of the areas for improvement: catering messaging and risk communication information to the community based on the local COVID-19 situation," he says.
Researchers found that while some local public health units in Ontario and elsewhere delivered appropriate messaging related to their circumstances, the accounts did not have large numbers of followers.
"The most important lesson from this work is that there is a real need for local accounts.  We need them to be in tune with the local population on information, messaging, and what residents find helpful," Slavik says.
"But there is also a need for these accounts to engage with local residents and build that online following so that people know where they can go to find the information most relevant to their community."