School or soccer? Both of the above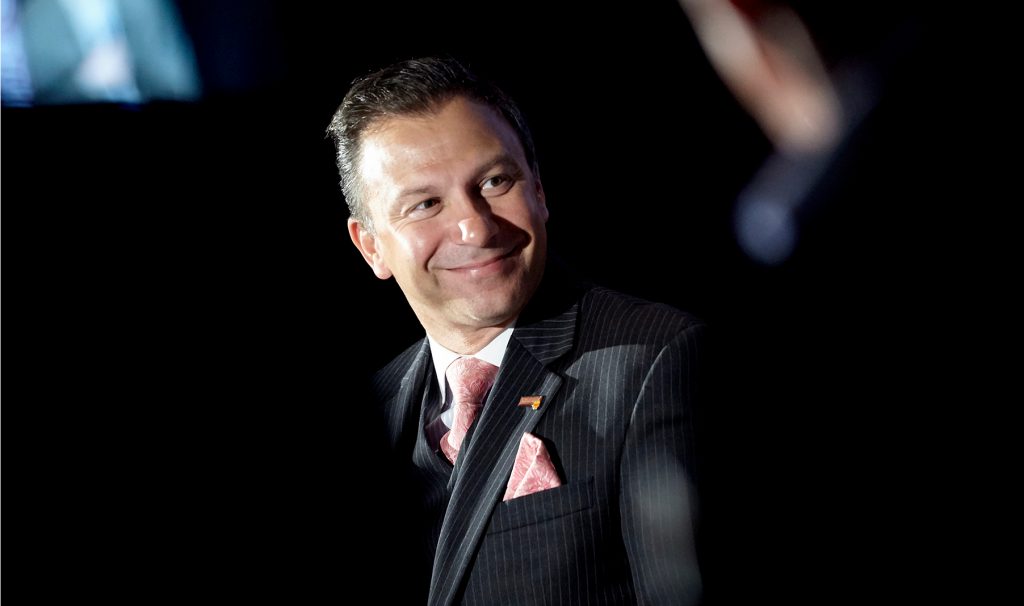 "Learning takes place when students push their limits and end up embracing new skills, doing things that they even didn't know they could," says Nick Bontis.
---
BY Sonia Verma
October 19, 2018
The first time Nick Bontis visited McMaster was more than 20 years ago. He was doing his PhD at the University of Western Ontario, and came here to present a paper at a conference on intellectual capital.
Or wait, was it when he came here to compete as a varsity athlete?
"I'll have to look it up," says Bontis, chair of strategic management for the DeGroote School of Business, and one of the most cited authors in the world on the subject of intellectual capital.
He's also the vice-president of Canada Soccer, the sport's governing body, which won its bid to co-host the 2026 FIFA Men's World Cup.
To him, the two things — sports and academics — can't be separated from one another.
"I've always seen a tremendous overlap between the two," says Bontis, who has worked at McMaster for 20 years — since he finished his PhD, in fact. "It was true when I was an athlete and a student, and it's true now: My ability as a coach supports my ability as a teacher, and vice versa. They reinforce one another."
Bontis is being inducted this month into the Western Mustangs Sports Hall of Fame, in recognition of his athletic accomplishments — he was on the Mustangs' track and field and soccer teams — as well as his lifelong support of sports.
"The one thing that I think that sports has taught me is how to lose, and how to learn from losing," he says.
"There's always some sort of roadblock that's put ahead of us. And athletes are very good at trying to do whatever they can to overcome those obstacles."
In the class and on the pitch, Bontis says he demands the best from learners in his care, showing them they can achieve more than they thought they were capable of.
"Once you help an athlete get to 110 per cent, guess what, you don't have to do it again," he says. "Because now they know what they're capable of. And it's the same for students. Learning takes place when students push their limits and end up embracing new skills, doing things that they didn't even know they could."
Bontis holds himself to the same high standards as his students, committing his full attention to every one of the multiple projects on his plate: teaching, research, coaching, or developing new programs to give the younger generation more opportunities — in both soccer and academics.
At Canada Soccer, Bontis led the drive to create the Canadian Premier League, a men's professional league. "Back when I was playing soccer, the only option after varsity in Canada was to play semi-pro, and it didn't matter how talented you were, you couldn't make a living that way," he says.
"Now I get to build the infrastructure of soccer in this country that my generation did not benefit from."
The seven-club CPL will play its first games in 2019, including some at Tim Hortons Field in Hamilton, where the new hometown Forge FC will play.
"That's the other thing: I get to provide the younger generation of players something to aspire to," he says. "So if they're good enough and strong enough, they can fulfil a dream of playing professional soccer in their own hometown."
And as the director of DeGroote's new Blended Learning part-time MBA program, Bontis has built a program that smoothly combines online learning with classroom work.
"Blended learning is the future of education, there's no question," he says.
"Here at the business school, the No. 1 thing that we're trying to do is educate and prepare our leaders for tomorrow — help them learn to communicate, work together and think critically. And so many of the jobs that our first-year students will be competing for when they graduate don't even exist today."
A large part of preparing students for the future lies in tapping into McMaster's wealth of research and its instructors' knowledge base — also known as its intellectual capital.
"It's important for me to make sure that I migrate as much of our research intensity into the classroom as possible," Bontis says. "In many cases, you have to translate highly conceptual topics into something students can use when they get out into the work force."
And Bontis' quest to translate his research doesn't stop at the classroom door. He's a popular speaker and consultant who frequently coaches organizations on how to best use their intellectual capital to run their teams and boost productivity.
"I study how we harness our intellectual capital at three levels: the individual, the team or group, and the organization as a whole," he explains.
Bontis wants to focus his future research on maximizing intellectual capital at an organizational level.
"In Canada, on average, we spent about $750 a year on learning and development per full-time worker," he says, comparing that to the insurance sector in Sweden, where the average figure is $4,000.
"Why do Swedish companies invest more heavily in their human capital than we do in Canada?" he asks. "I think we need to benchmark learning and development ratios for Canadian businesses, and I'm very interested in doing it."