Science grad: "I like knowing that I'm doing something that may have an impact on people's lives"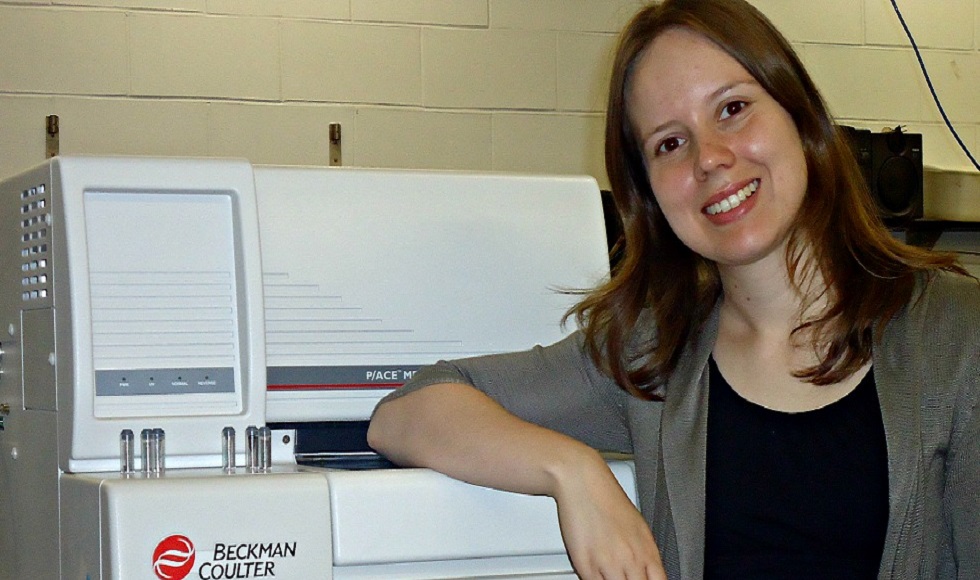 Originally from Brazil, Adriana Nori de Macedo is graduating this week from the Chemical Biology graduate program. While at McMaster, her research helped to improve screening for preventable and genetic diseases – screening that could one day help transform the lives of people around the world. She is pictured here with the instrument she used to perform most of her experiments.
---
BY Erica Balch
June 15, 2017
Adriana Nori de Macedo first came to McMaster from Brazil in 2012 as a PhD student seeking to study abroad.
In the five years she spent at McMaster, she left an indelible mark, making important research contributions to help improve screening for preventable and genetic diseases – improvements that could one day transform the lives of people around the world.
"I like knowing that I'm doing something that may have an impact on people's lives," says Macedo, who graduates this week with a PhD from the Chemical Biology graduate program. "It's a big motivation for me to do the best research that I can."
Macedo came to McMaster from São Paulo, Brazil, where she went to university, completing her Master's degree in analytical chemistry. When the time came to start working on her PhD, she set her sights on studying abroad.
"I decided that I wanted to have an international experience, to learn about university education in another country and improve my English," she says. "I thought I would be a professor in the future, so I also felt like it would be a good opportunity for me to make more connections and learn more about research and education in a developed country."
Looking for the right opportunity to pursue her research interests, Macedo sought advice from one of her professors, and was ultimately put in touch with Philip Britz-McKibbin, a professor in McMaster's Department of Chemistry and Chemical Biology.
"Dr. Britz-McKibbon was coming to Brazil a few months later for a conference," she recalls. "We had the chance to meet in person – he was very friendly and very welcoming. That's when I decided I wanted to come to McMaster with him as my supervisor."
Before long, she arrived in Hamilton and was working with Britz-McKibbin and his research group, applying her expertise in bioanalytical chemistry to multiple interdisciplinary research projects with potentially far-reaching implications for global public health.
Collaborating with epidemiologists at the Population Health Research Institute (PHRI), Macedo played a pivotal role in helping to develop a simpler, and more cost-effective method of analyzing iodine levels in urine to screen for iodine deficiency, the most common cause of preventable intellectual disabilities in children and which can also lead to hypothyroidism, increased risk of cardiovascular disease, depression, as well as some types of cancers.
She also worked with a multidisciplinary team that included clinicians at McMaster and Sick Kids, identifying compounds in infants' sweat that could help improve the test used to screen for Cystic Fibrosis in newborns. Though her research results are preliminary, her findings could help improve the test and lead to earlier diagnosis of the disease.
"Usually babies who are diagnosed earlier in life have fewer hospitalizations and infections, especially during childhood, so they have better outcomes in general," she says. "For parents, and the anxiety that comes with not knowing whether their child has a disease or not, I think this would be a great step."
In addition to her research contributions, Macedo also honed her skills as a teaching assistant, a role she says she enjoyed. She designed a new experiment for an undergraduate chemistry lab course that tied in with her research on iodine nutrition. The experiment demonstrated the importance of continuously monitoring iodine levels in populations and helped students understand how analytical chemistry can impact public health decisions.
Macedo recently returned to Brazil.  She a now postdoctoral scholar at the University of São Paulo, and is continuing to conduct health-related research and work toward her goal of becoming a university professor.
She has taken what she learned at McMaster home with her and says that her time here helped her grow both personally and professionally.
"I'm grateful that I went to Canada, that I went to McMaster," she says. "I had a great experience."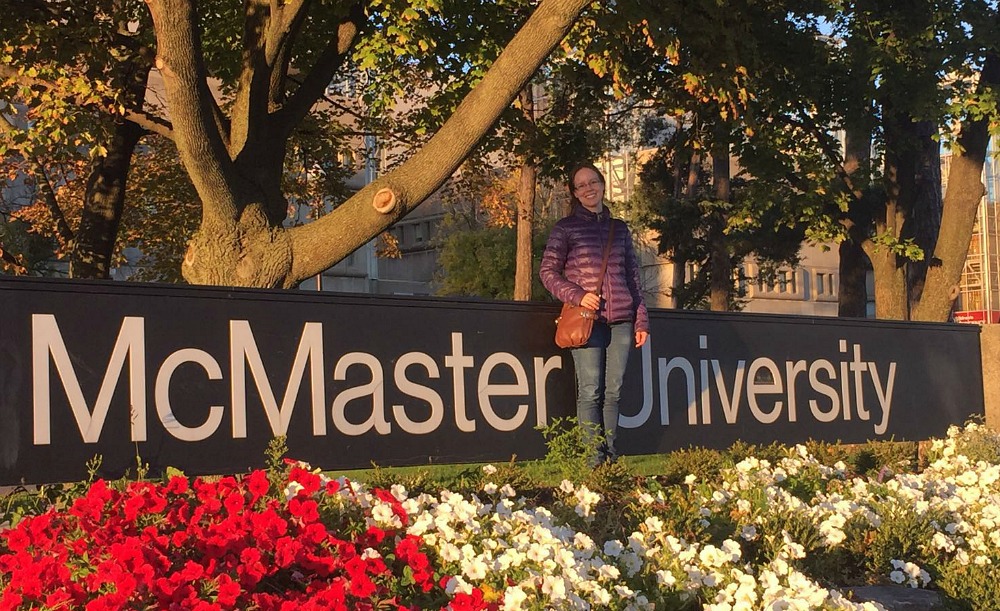 Adriana Nori de Macedo poses with the McMaster sign at the university's Main Street West entrance.