Scientists discover how caffeine protects against cardiovascular disease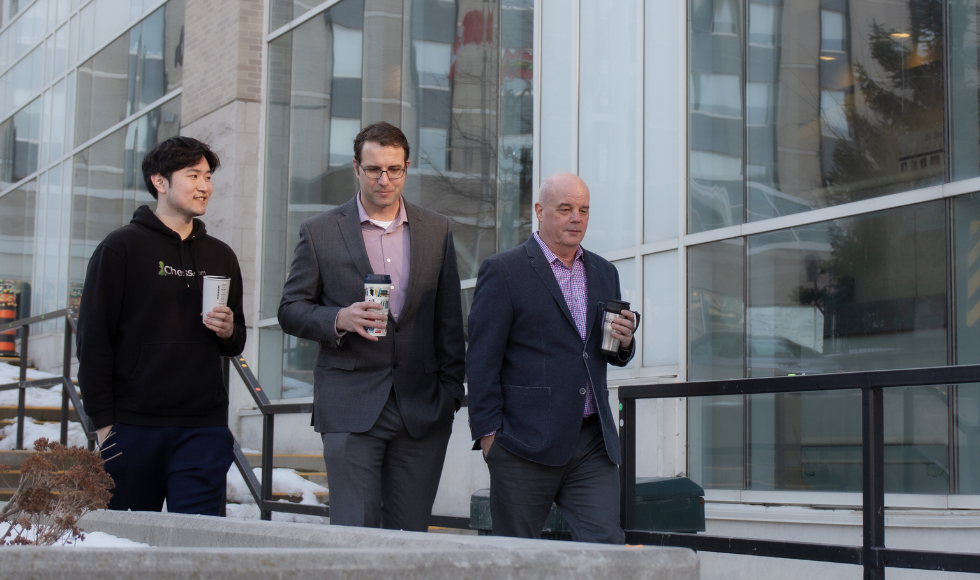 Authors of the Nature Communications study included, from left to right, graduate student Jae Hyun Byun, associate professor Jakob Magolan and professor Rick Austin. Photo: Mike Beattie, St. Joe's Hamilton
---
February 10, 2022
Coffee and tea lovers can enjoy their caffeine, as McMaster University scientists have identified how caffeine can help fight cardiovascular disease.
Researchers say that just two to three average-sized cups of coffee per day contains enough caffeine to trigger a cascade effect, which reduces the levels of low-density lipoprotein (LDL) or 'bad' cholesterol. High bloodstream levels of LDL cholesterol are associated with an increased risk of cardiovascular disease.
Senior author Richard Austin said that regular caffeine consumption is linked to reduced blood levels of the PCSK9 protein, which increases the liver's ability to remove excess LDL cholesterol from the bloodstream.
"Coffee and tea drinkers have another important health reason to rejoice – minus the sugar," said Austin, professor in the department of medicine at McMaster and a member of the Hamilton Centre for Kidney Research at The Research Institute of St. Joe's Hamilton.
"These findings now provide the underlying mechanism by which caffeine and its derivatives can mitigate the levels of blood PCSK9 and thereby reduce the risk of cardiovascular disease."
The study was published in the journal Nature Communications.
Caffeine and its derivatives can also block the activation of a protein called SREBP2, which in turn reduces the levels of PCSK9 into the bloodstream.
"Given that SREBP2 is implicated in a host of cardiometabolic diseases, such as diabetes and fatty liver disease, mitigating its function has far reaching implications," said Austin.
This molecular domino effect is similar to another phenomenon previously described by Austin and study co-author Paul Lebeau. In 2020, they discovered how a rare genetic variant in the PCSK9 gene that reduces its release from the liver led to lower cholesterol levels and longer lifespans for those carrying it.
Austin said recent population-level studies have shown that coffee and tea drinkers have a reduced risk of death from cardiovascular disease, but a biochemical explanation of this phenomenon has previously eluded researchers.
"These findings have wide ranging implications as they connect this widely consumed, biologically active compound to cholesterol metabolism at a molecular level," said study co-author Guillaume Paré, professor in McMaster's department of pathology and molecular medicine.
"This discovery was completely unexpected and shows that ordinary food and drink have many more complex effects than we think."
Together with co-author and medicinal chemist Jakob Magolan, the team has developed new caffeine derivatives that potently lower blood PCSK9 levels, potentially leading to new LDL cholesterol treatments.
"We are excited to be pursuing this new class of medicines – or nutraceuticals – for the potential treatment and prevention of cardiovascular disease," said Magolan, associate professor in the department of biochemistry and biomedical sciences at McMaster.
Researchers are also exploring additional health benefits of caffeine and its derivatives beyond those observed in the present study.
"It is exciting to see yet another potential clinical benefit from caffeine," said Mark Tarnopolsky, division head of neuromuscular and neurometabolic disorders at McMaster's department of pediatrics.
The study was co-led by Austin and Lebeau, from the Hamilton Centre for Kidney Research at The Research Institute of St. Joe's Hamilton.
Austin and Lebeau's team included researchers from several McMaster University departments, as well as the Libin Cardiovascular Institute of Alberta at the University of Calgary and the Clinical Research Institute of Montreal, affiliated with the University of Montreal.