Shamir Mehta takes up new Douglas Holder cardiology chair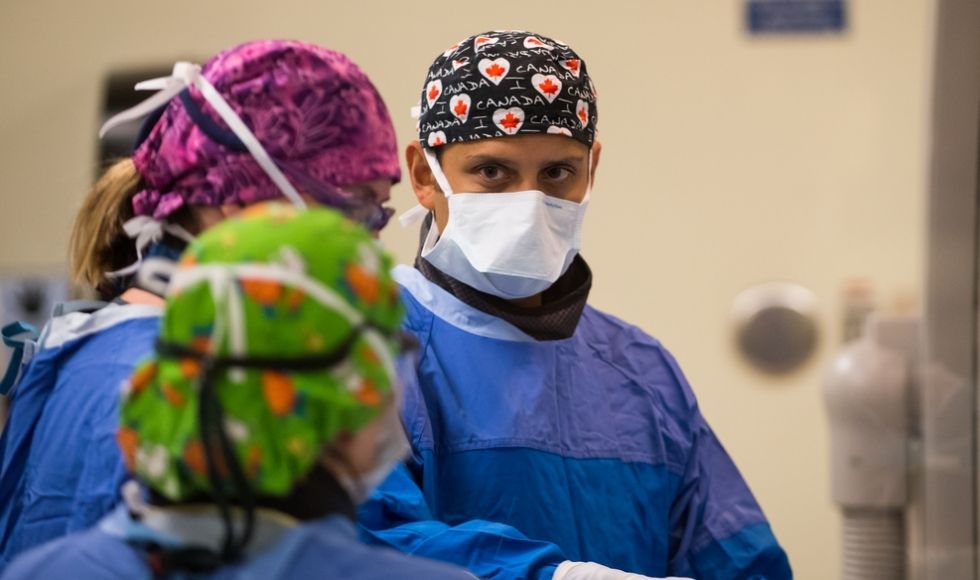 Cardiac specialist and professor of medicine Shamir Mehta has been named the inaugural Douglas Holder/PHRI Chair in Interventional Cardiology.
---
September 23, 2021
A new research chair has been created honouring Douglas Holder, a Hamilton pioneer in interventional cardiology, and the first chair holder is one of his protégés.
Shamir Mehta, professor of medicine, is the inaugural Douglas Holder/PHRI Chair in Interventional Cardiology and he will use the position to continue his ground-breaking research into new coronary disease treatments.
The $2 million position has been endowed with $1 million from PHRI, the Population Health Research Institute of McMaster, and Hamilton Health Sciences, with a match from the university's department of medicine.
Mehta, a senior scientist for PHRI and director of interventional cardiology at HHS, honed his trade under Holder.
Holder joined McMaster's faculty in 1976, and held both university and leadership roles at Hamilton General Hospital through to his retirement in 2012. He initiated the percutaneous transluminal coronary angioplasty, or PTCA, program in Hamilton in 1982.
"Dr. Holder has had a tremendous impact in supporting and developing my career, as well as the careers of many of my colleagues," said Mehta. "He was a highly respected pioneer in interventional cardiology.
"He is a role model to many of us in Hamilton. Really, our collective success is because of Dr. Holder and the team he assembled."
Mehta joined McMaster as a research fellow in 1997. He was mentored in research by Salim Yusuf, Distinguished University Professor of medicine and PHRI executive director, and the two have collaborated on research projects for more than two decades.
Mehta joined McMaster's faculty in 2000, after receiving his medical training as an interventional cardiologist at the University of Toronto. His partnership with Holder began in the 1990s, and they worked closely together in developing angioplasty as a safe alternative to surgically removing coronary artery blockages.
"As interventional cardiologists, we are saving lives every time that we are on call. It is enormously gratifying that we can do so," Mehta said. "We have devised safe and effective treatments that were previously unheard of, and we can administer these new treatments in a safe and effective manner."
More recently, Mehta has proven the concept of complete revascularization reduces the risk of heart attack patients dying or having a repeat heart attack.
"Dr. Mehta has continued to do very good work and most importantly study the outcomes of interventional cardiology, which has changed practice,"  Holder said.
"Some people dabble in research and write papers for their own sake, but Dr. Mehta's work is always well-thought out and the questions he asks are always the important ones which he answers by conducting large definitive trials."
Paul O'Byrne, dean and vice-president of the Faculty of Health Sciences, welcomed the new position and its inaugural chair.
"Dr. Mehta is a remarkable individual who is conducting pioneering research into new treatments that will both save and greatly improve patients' quality of life," he said.
"The therapies he has devised for coronary artery disease will not only advance the field of interventional cardiology but is a fine example of McMaster University's reputation as a global leader in lifesaving medical discoveries."
Yusuf agrees. "Dr. Mehta is an absolutely first-class doctor and researcher, whose recently-devised treatment of complete revascularization is just one example of his outstanding research in the field of interventional cardiology," he says.
"Previously he led studies in showing that combination treatment with different types of antiplatelet agents and anti-coagulants were effective and safe in reducing death and complications in those with a heart attack.
"His ongoing research on new heart disease therapies will undoubtedly be game-changing for millions of people, both in Canada and around the world, at risk of potentially deadly cardiovascular events."
Mehta is a fine choice for the chair position named after a pioneer in cardiology in Hamilton, said Mark Crowther, professor and chair of the department of medicine.
"His appointment will help drive our department forward in its mission of developing life-saving therapies for cardiovascular disease, which now claims the lives of 19 million people worldwide every year," Crowther said.