Six new projects tackle mobility for older adults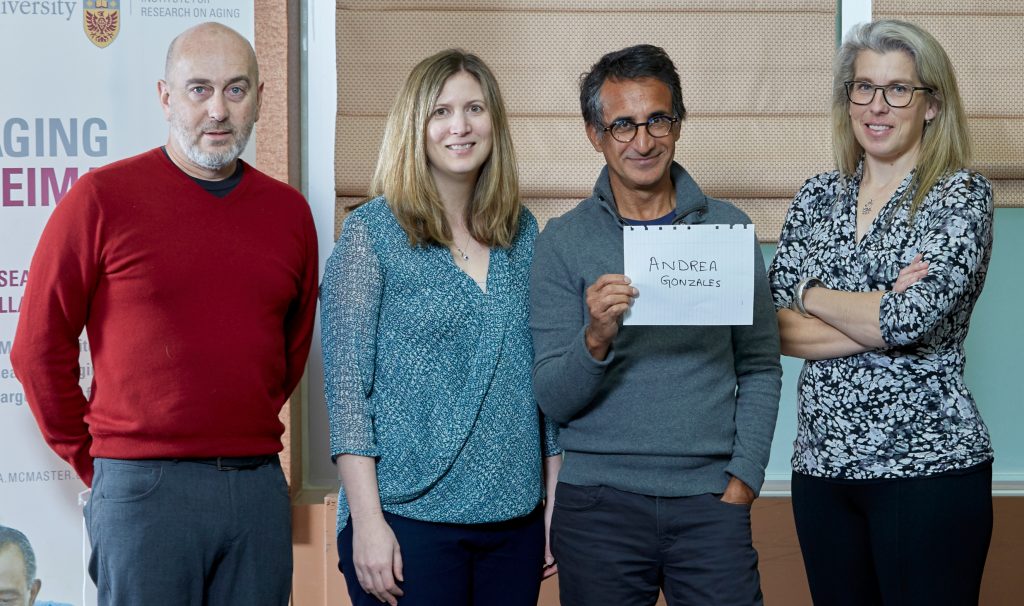 James Gillett, left, Marla Beauchamp, Parminder Raina and Brenda Vrkljan hold up the name of fellow researcher Andrea Gonzales after presenting their Catalyst grant-winning research proposals through the McMaster Institute for Research in Aging. Photo by Mike Lalich for MIRA
---
BY Sonia Verma
November 2, 2018
The McMaster Institute for Research on Aging has awarded 2018 Catalyst grants to six ambitious, interdisciplinary research proposals that aim to improve mobility for older adults.
Each collaborative project will include researchers from at least three of McMaster's six faculties. The grants are supported by the Labarge Centre for Mobility in Aging, which was created by a $15-million gift from university Chancellor Suzanne Labarge two years ago.
Mobility is a central theme in all six projects:
The great outdoors
Aging and Mobility in Nature is a collaboration with the Royal Botanical Gardens. Headed by James Gillett, associate dean of graduate studies and research in the Faculty of Social Sciences, the project will use the RBG's paths and trails as a living lab, tracking how older adults engage with and benefit from time spent on the RBG's outdoor trails and interpretive walks.
"We have hundreds if not thousands of older adults who could benefit from this," Gillett points out. "This is truly community-engaged research."
Understanding — and managing — chronic pain
"Pain is the primary limiter of mobility in aging adults," says Vickie Galea, from the School of Rehabilitative Science. She is working with David Harris Smith from the Faculty of Humanities on Managing Pain in Older Adults: A Virtual Learning Environment for Understanding the Physiology of Acute Pain and its Impact on Mobility. The Project will develop a virtual tool — including 3D avatars — to help medical practitioners develop high-quality learning resources to better understand their older patients' chronic and acute pain.
Students in the medical doctoral, occupational therapy and physiotherapy programs will use the technology in their clinical practice to better understand the effects and causes of chronic pain in their older patients.
Using the past to shape a better future
Addressing the alternate level of care issue facing older Canadians aims to tackle the problem that arises when older adults await discharge from hospitals or treatment. Sometimes the transition isn't immediately possible because there aren't any spots available nearby that can offer the level of care they need, so they remain in hospital.
Meanwhile their health — and consequently, their mobility — declines as they wait.
Patients stuck in that holding pattern are unable to leave and unwillingly end up occupying space in a hospital or treatment centre that someone else might need, points out lead researcher Manaf Zargoush from the DeGroote School of Business.
Zargoush proposes to analyze years of data from local health networks to better understand how the problem of unavailable locations that will alternate levels of care arises, with the ultimate goal of predicting when older adults might be close to needing an alternate level of care.
Life as a passenger
"Many urban centres were designed with cars in mind, and there isn't always a great understanding of older adults' needs when it comes to driving or switching to other modes of transportation," says Saiedeh Razavi, from the Faculty of Engineering.
Maintaining the Mobility of Older Canadians will examine what older adults expect and want when it comes to driving and making a transition to other modes of transportation.
Razavi's proposal includes a comprehensive survey of older adults in Hamilton that would highlight how some older adults perceive transportation, but also with an eye on ultimately helping to shape transit infrastructure and policy.
Fish oil for better muscle mass recovery
Being immobilized by illness or injury often leads to a loss of muscle mass and a reduced ability to control blood sugar levels in older adults. Supplementation with N-3 Polyunsaturated Fatty Acid-Enriched Fish Oil to Mitigate Skeletal Muscle Disuse Atrophy in Older Women, led by Stuart Phillips from kinesiology, would examine whether consuming fish oil supplements rich in omega acids improves muscle mass and blood sugar control after a period of immobility.
"We lose muscle mass as we age, and the process is accelerated in times of inactivity from illness or injury," says PhD student Jonathan MacLeod. "We hope to see whether supplementing with Omega 3 fatty acids will help older women recover from muscle mass loss from inactivity."
Studying health across generations
Born and Raised in Hamilton: Intergenerational and Life Course Program of Research aims to develop a program to recruit and study three or even four generations from the same family through systematic review.
"Like Mick Jagger — he has children, grandchildren and great-grandchildren," explains Parminder Raina, Canada Research Chair in Geroscience and scientific director of MIRA. "We understand the effects of early life on later life, but not how some traits transfer across the generations."
The catalyst project would help create a platform for research to study generations and possibly develop a longitudinal study of Hamilton-area families. Raina is collaborating on the proposal with Andrea Gonzales from psychiatry and behavioural neurosciences.