Songs in the key of health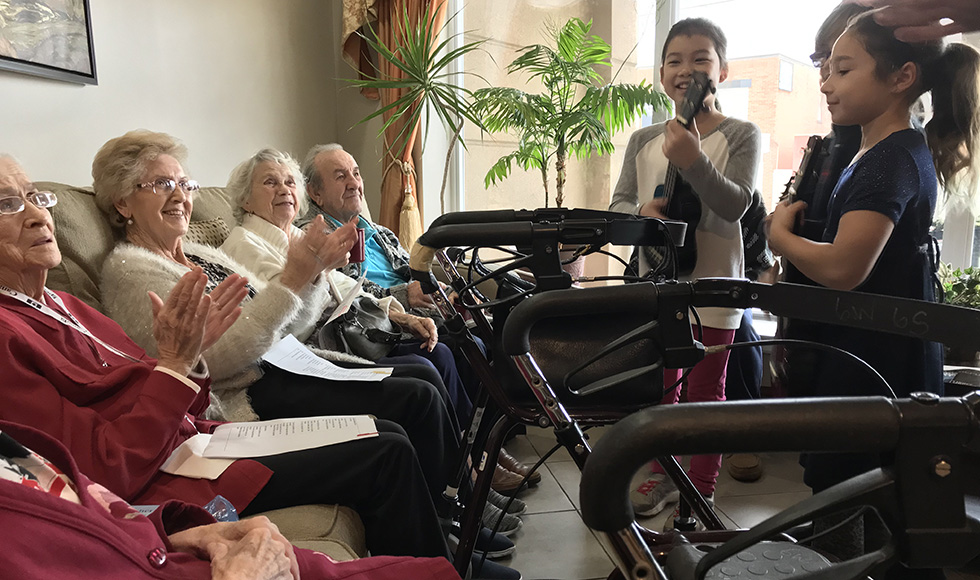 BY Tina Depko
January 22, 2018
This story was updated in January 2020.
A Health Sciences course at McMaster University is bringing generations of Hamiltonians together using the power of music.
Music, Health and the Community is an interdisciplinary course that provides students with hands-on community experience through an intergenerational music program in Hamilton.
The course is offered through the Bachelor of Health Sciences program, and is also open to Music students.
"One of the most compelling things written in a feedback form by students taking this class was that it was the best experience of their undergraduate degree," said Chelsea Mackinnon, course founder and instructor who is also a McMaster BHSc '15 alumna. "In class, we talk about the scientific evidence behind the many benefits of music, then we go into the community and put it into practice. That is very powerful."
The key themes of Music, Health and the Community are the aging population, intergenerational gaps, music and health sciences as an emerging field of study, as well as music education and community music.
Literature, lectures, workshops and assignments are one part of this course. Students are also assigned a local elementary school class and a neighbouring retirement home.
The university students help teach the young students new songs on the ukulele, work with seniors on an engagement program using music, then bring the two groups together for music making, conversation and friendship. This program has been named Fountains of Uke.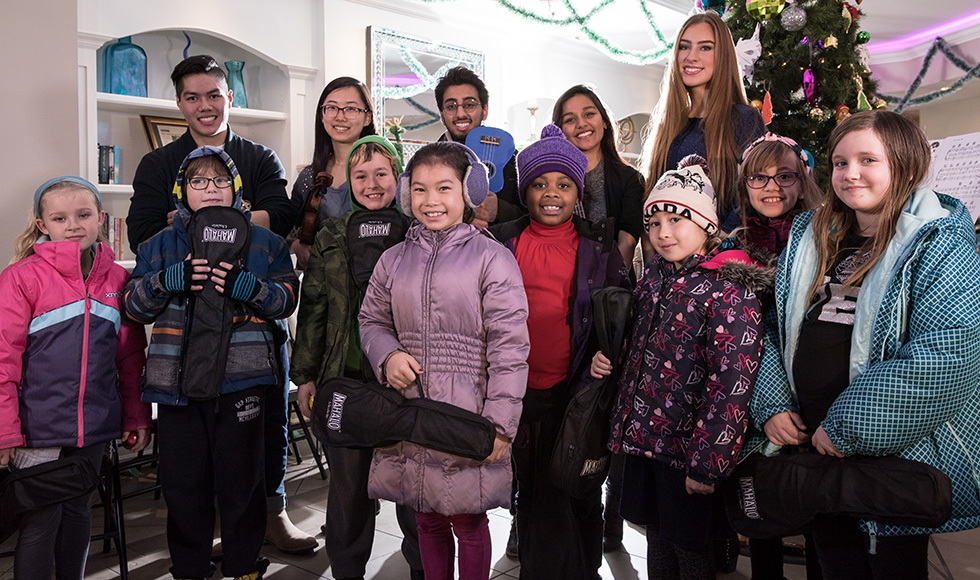 "I was always interested in music, but I didn't realize the impact it could have on the community," said Arbaaz Patel, a third-year BHSc student from Hamilton, who noted he now takes his ukulele everywhere he goes.
"The ability to go out into the community and work with students and seniors through music, and then see a tangible impact from that has been meaningful. This experience has changed my life in a way that I never thought it would."
Bill Norton, 94, lives in Abington Court Retirement Residence and is one of the Hamilton seniors who participated in the program led by Arbaaz and his fellow McMaster students. Norton said it is exciting to have the opportunity to make music and visit with students from A.M. Cunningham Elementary School.
"My favourite part is seeing the young people," Norton said. "I love the kids. They are just great."
The course, which started in fall 2016, has its roots in a fourth-year BHSc project that served as a prototype, of which Mackinnon was a member.
Mackinnon, a Hamilton native and trained musician, later pitched the idea of making the initiative a course in the BHSc program, bolstered by encouragement from Matthew Woolhouse, an associate professor of music cognition at McMaster.
Learn more about how Matthew Woolhouse is turning Parkinson's disease dance therapy into a game
"Our goal in the Bachelor of Health Sciences (Honours) program is to give students opportunities to develop a multifaceted, interdisciplinary perspective on health," said Stacey Ritz, assistant dean of the McMaster BHSc (Hons) program.
"This course has been a 'win-win-win-win' for everyone concerned, developing intergenerational connections in the community, while also deepening BHSc students' knowledge of important social and biological determinants of health while also giving them experiential opportunities for community engagement."
The course is so popular there's also a follow-up research-focused course available, which Mackinnon also leads.
Michael Coates, a McMaster fourth-year honours music student, took both courses. He said that as an aspiring music educator, they provided invaluable learning opportunities.
"My biggest takeaway from this program is the practical experience it provided me, as it allowed me to work with multiple age groups and explore what type of teacher I want to be," he said.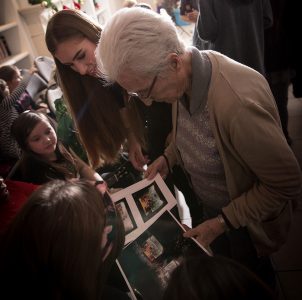 "It also gave me the opportunity to embrace the concept of challenge and new experiences in both the field and the coursework."
The Hamilton-Wentworth District School Board (HWDSB) is an important partner in the continued success of Music, Health and the Community, said Mackinnon. The program was in 14 public board schools and 16 retirement homes in the fall 2017 semester, stretching from Stoney Creek to Dundas, for the 2019/2020 academic year. A second instructor, Brad Haalboom, has also been added for the course.
"Education in the arts is essential to students' intellectual, social, physical and emotional growth and well-being," said Karen Wilkins, arts consultant for the school board and a lead supporter of the initiative.
"Through special programs with HWDSB community partners like McMaster University and the Fountains of Uke program we are supporting meaningful and unique learning opportunities in the arts (music) for our students and providing an even greater connection to members in their community. This program and partnership has been hugely successful for our students, our staff, McMaster students and the seniors in their communities, and has had a lasting impact on everyone involved."
As the courses start for another term this winter, Mackinnon said she hopes the connections are enduring.
"One of my overall goals for this course is that it creates long-term relationships between the schools and the seniors' homes," said Mackinnon. "Often, this does happen. Classes send Christmas cards to their senior friends and they go back for more performances.
"I hope Music, Health and the Community brings back that sense of community that I think often we lose in today's society."