Sport rehab clinic keeps athletes going faster, higher, stronger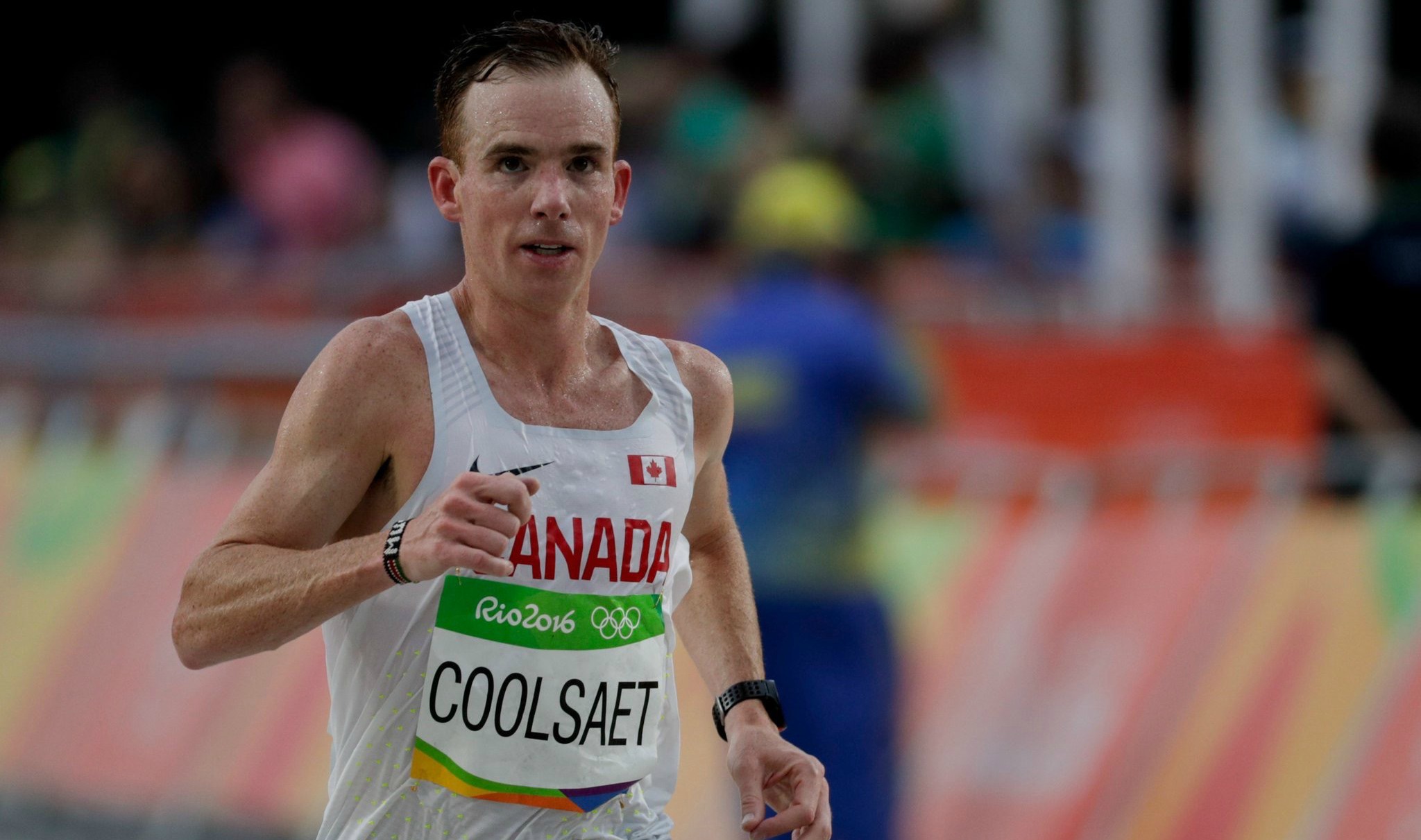 February 14, 2018
Back when he was thinking of training for his first marathon, runner Reid Coolsaet broke his foot. He went to see an orthopedic surgeon, who advised him to quit running. "He told me to find a new profession," Coolsaet recalls. "I left that appointment crying."
Coolsaet eventually saw a different doctor, who treated his foot and mapped out a plan for his recovery. He came to the David Braley Sport Medicine and Rehabilitation Centre at McMaster for physio and massage therapy.
Three years later, Coolsaet ran the marathon at the 2012 Olympic Games in London — the first time Canada had qualified for that event in 12 years. Four years after that, he competed at the Rio Games. Today, his personal best time in the marathon is 2:10:28, making him the second-fastest marathoner in Canadian history.
"Throughout the time leading up to London, I did have a few injuries that I would go into the clinic at McMaster to get looked at," Coolsaet says. "They were always able to figure out what was wrong and help me make a rehabilitation plan."
The staff and facilities at the sport medicine clinic at McMaster are a bit of a well-kept secret — it's one of a handful of sport rehab facilities in the country that can treat a high-performance Olympian or professional athlete.
World-class athletes, world-class care
The clinic boasts the region's only hydrotherapy pool — an in-ground, heated, salt-water pool with an underwater treadmill. The temperature, the salinity and natural buoyancy in water combines to allow patients to work on strength or range-of-motion exercises without worrying about impact or supporting their body weight.
Between the hydrotherapy, the Game Ready ice-and-compression unit, the multi-surface "return to play" room and cutting-edge diagnostics and ultrasound imaging, the clinic has helped its share of high-performance athletes come back from potentially career-ending injuries, says sport medicine physician David Robinson.
But as much as those things are key components of the facility's successes, it's the team of experts on site who set the clinic apart.
Robinson recalls treating world-ranked cyclist competitor Ruby West, who had persistent hip pain when she was 16 years old. "It was defying diagnosis," he says.
"No one could figure it out," West agrees. "The pain was prohibitive. I couldn't really compete in cyclo-cross any more."
So Robinson referred West to radiologist Dr. Meg Chiavaras, who uses ultrasound imaging to pinpoint trouble spots within millimetres. Chiavaras found a hematoma impinging on a nerve in West's hip, and treated it on the spot.
"Seeing her allowed me to get back into training and competition," West, now 18, says from Belgium, where she prepared for the Cyclo-cross World Championship.
"I honestly don't know what I would've done if I'd not seen her or had that treatment."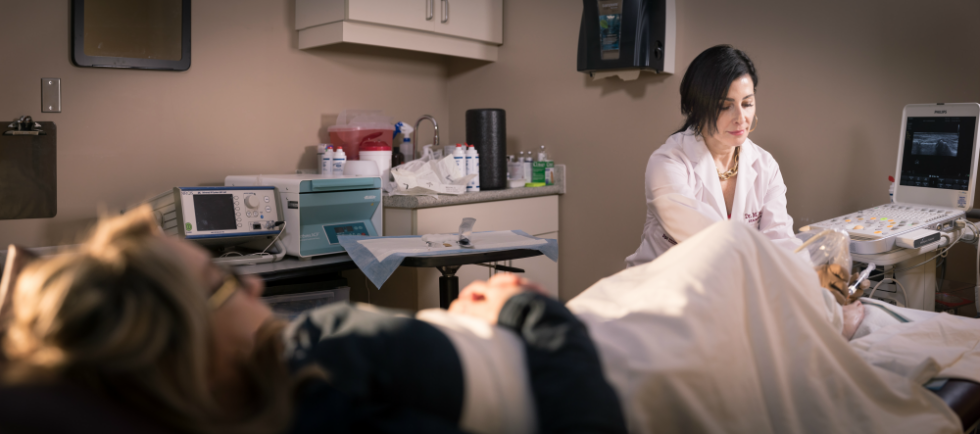 Hamilton resident Kim Hotrum, 47, says Chiavaras treated her with as much care and attention as any world-class athlete. Hotrum, a self-professed fitness fanatic and athlete who runs a home daycare, had inflammation and intense pain in one foot, to the point where she could no longer put weight on it. Chiavaras diagnosed the thickening and inflammation in her nerves and treated it on the spot.
"A lot of people develop similar problems," Hotrum says, "but they don't know they can come here. I walked out of there without pain for the first time in months. It was magic."
One-stop treatment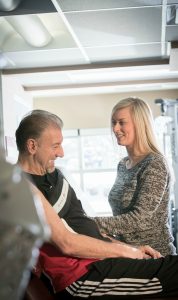 It helps that Chiavaras' treatment room is literally seconds from the physicians' offices, just down the hall. "Just by getting the right diagnosis, the imaging, the right people involved her in care right away, we solved a career-limiting issue," Robinson says about how quickly they treated West's injury.
For many athletes, having access to doctors, a radiologist, diagnostics, therapists and a range of high-tech sport rehab equipment all under one roof can be the crucial difference between healing and hurting, says clinic manager Gloria Keifer Preston.
The clinic's one-stop treatment options helped Steve Kalotinis, a 67-year-old Hamilton resident, turn a corner after years of increasing shoulder pain. "I could hardly move my arm. I couldn't brush my hair," he recalls. "and I was up all night with the pain just digging into me." He told sport medicine physician David Levy about it, "and 48 hours later I was talking to Dr. (Jay) Moro. He's an orthopedic surgeon, but he was right there. I didn't have to jump through hoops to see him."
After surgery to repair his shoulder, Kalotinis worked closely with Moro and the physiotherapists at the clinic. "I was there three times a week for months," says Kalotinis, a former varsity soccer player, who still plays hockey and referees soccer.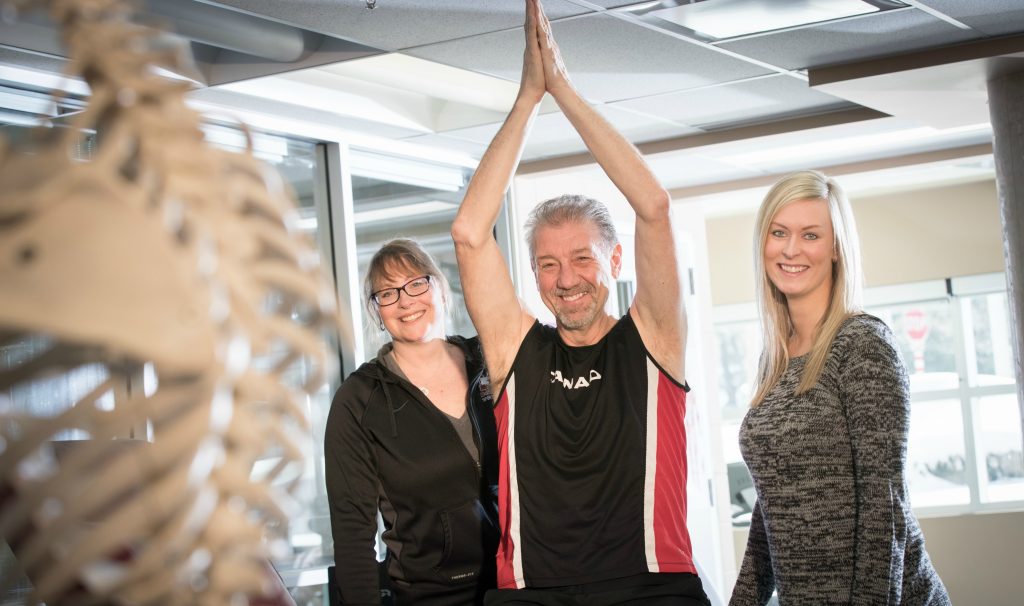 "I believe you only get out what you put in, so I put in everything I had," he says, proudly stretching his hands high above his head.
'Anyone who exercises is an athlete'
Even though the clinic can – and does – treat elite athletes who can devote entire days or weeks to injury rehab, Robinson says Kalotinis is not the only recreational athlete he's seen who is just as driven to recover as a pro. "It can be surprising, how intense people get about their rehab after an injury," he says. "They're very motivated."
The goal is always to help people to be as active as they want to be, and to let them stick with the activities they love, Robinson says.
"We don't subscribe to 'Why don't you quit, why don't you start acting your age'," he says. "I've had an 80-year-old man come in saying he's going climbing in eastern Europe in a few months and wants his knees to hold up. I've treated a master's champion in pickleball, who was just as intense about recovery as a pro athlete. We saw a world champion speed skater, she was 70-something years old and wasn't ready to stop competing in her age bracket. Those are important goals, and we want to help patients meet them."
On any given day, Robinson can go from seeing a professional athlete to a 12-year-old peewee hockey player. But a lot of people still aren't aware they have access to the same high-calibre treatment and care as world champions and Olympians.
"People invariably say, 'This is great, I didn't know I was allowed to come here, I thought it was just for real athletes,' " Robinson says. "But anyone who exercises is a real athlete. And we treat every athlete seriously.
"They see the same therapists as elite athletes, they get in the hydropool, they get the same level of imaging and care as high-performance athletes. There's nothing we hold back."