SSHRC-funded project to help ensure Indigenous communities are equal partners in research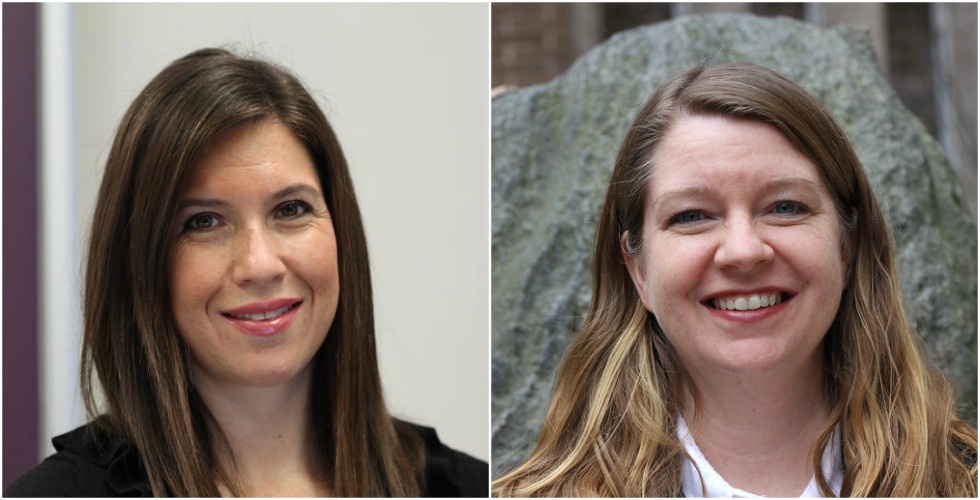 McMaster researchers (from left) Chelsea Gabel and Michelle Dion have been awarded SSHRC Knowledge Synthesis Grants to pursue research aimed at ensuring equal participation and involvement of Indigenous peoples in social science research.
---
March 22, 2017
Two McMaster researchers have been awarded funding from the federal government's Social Sciences and Humanities Research Council (SSHRC) for a project aimed at identifying the resources Indigenous peoples need to be equal partners and leaders in social science research within their own communities.
Michelle Dion, Associate Professor, Political Science and Chelsea Gabel, Assistant Professor, Health, Aging, and Society, have been awarded one of 28 Knowledge Synthesis Grants as part of SSHRC's Imagining Canada's Future initiative. The funding announcement was made by Honourable Kirsty Duncan, Minister of Science, in Ottawa.
The project, Indigenous futures: Research sovereignty in a changing social science landscape, will examine methodological trends and approaches used across social science disciplines to study Indigenous issues in Canada, and will look at the extent of participation in research by Indigenous scholars and communities. This information will be used to determine the resources needed to ensure equal participation and leadership of Indigenous peoples in shaping future social science research in their communities.
"The current Canadian government's commitment to evidence-based policy-making increases the urgency of ensuring that Indigenous peoples have the institutional, organizational, and human resources to actively critique, participate in, and lead social science research with clear policy implications," says Dion.
The project team, which will be led by Dion and Gabel, includes Claudia Diaz Rios (2016 Ph.D, Political Science, McMaster), Kelsey Leonard (PhD student, Political Science, McMaster), Sydney Oakes (Senior Policy Advisor, Chiefs of Ontario and 2015 MA in Political Science, McMaster), Marrissa Mathews (MA student, York University), and Ben Manshanden (MA student, McMaster).