Studying gut bacteria's impact on mood, mental health and more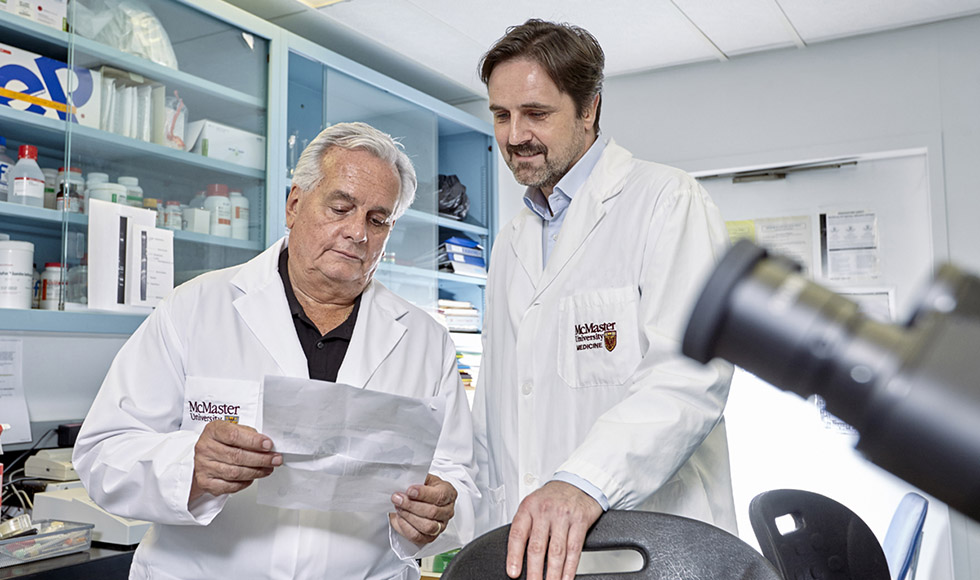 BY Tina Depko
March 9, 2018
Premysl Bercik had planned on becoming a cardiologist, but a chance research project altered the course of his career.
As the Czech-native was finishing his medical studies in his home country, he accepted an offer to study at the University of Lausanne in Switzerland.
What was originally a one-year research project on the enteric nervous system evolved into a five-year stay, shifting his focus from cardiology to gastroenterology.
"I was working on a very complex model of isolated intestine and it was then I got hooked on the digestive tract," he recalls.
"It was interesting to me that the intestine had autonomous function with respect to motility, secretion and absorption. I had never realized during my medical studies how important the enteric nervous system is to the body."
Bercik continues to draw inspiration from those early days in Lausanne and today, is a leading gastroenterologist and researcher. Since arriving at McMaster University in 1998, he and his mentor, Stephen Collins, have established a highly-productive research lab within McMaster's Farncombe Family Digestive Health Research Institute.
The Collins Bercik lab focuses on common categories of intestinal diseases that include functional disorders such as irritable bowel syndrome and inflammatory bowel disease. Recognizing the strong link between chronic intestinal diseases and mental health, the research extends to the brain and anxiety and depression.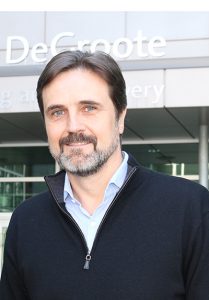 Bercik is an associate professor in the division of gastroenterology with the Department of Medicine at the Michael G. DeGroote School of Medicine at McMaster, and also a practicing gastroenterologist in Hamilton.
"It's amazing how much knowledge on microbiota we've acquired during the last few years, and how much more there is to learn," says Bercik. "In addition to chronic bowel diseases such as inflammatory bowel disease and celiac disease, gut bacteria have impact on metabolic diseases, and also on our mood and mental health. I want to get closer to understanding these relationships."
Dr. Stephen Collins, director of the Farncombe Institute, says Bercik's research is translational and covers the bench-to-bedside spectrum.
"The research led by Dr. Bercik is making a tangible difference in patients experiencing gastrointestinal issues," says Collins, Distinguished University Professor of the Department of Medicine at McMaster's Michael G. DeGroote School of Medicine.
"He has shown a tremendous commitment to the field as a researcher and clinician, and as such, has become a respected leader who is sought out internationally for his expertise. His attention to detail and his ability to ask the right questions that have important clinical implications contribute to his well-deserved international reputation and that of the Farncombe Institute."
Bercik says his well-regarded research is a team effort from the various students, postdoctoral fellows and staff members in his lab that is further complemented by members of the Farncombe Institute.
He adds McMaster's strength is its ability to bring researchers together who can look at the big picture when it comes to digestive health.
"McMaster is an ideal place to pursue this kind of research," he says. "I like the multidisciplinary approach we have in the Farncombe. We don't just look at the problem from only one angle; we have well-known experts in areas of physiology, immunology, microbiology, clinical gastroenterology and neuroscience. I am proud to work alongside these colleagues."
A key part of this team is his wife, Elena Verdu, who is herself a respected researcher and fellow associate professor in the division of gastroenterology. The Collins Bercik lab works in collaboration with Verdu's group in the Institute specifically on the spectrum of gluten related disorders.
As such, work is a key part of Bercik and Verdu's lives. Their offices are even next to each other in the Farncombe Institute.
"We do research and discuss research 24/7, whether it is here at the office or at home at the dinner table," he says.
As a gastroenterologist, Bercik says his patients inspire his research, and conversely, his research helps him advise his patients.
"I often speak with my patients about the studies we do, and it helps them understand their disease," he says.  "Although we don't have many effective drugs, we can at least show the path for a possible cure. What could be the best biomarkers? What could be good treatments? These are conversations I am able to have with them because of the work we are doing in the lab."
While Bercik admits he does think about what life would have been like as a cardiologist, he wouldn't have it any other way.
"I pose this question from time to time and after thinking about it, I wouldn't change anything," he says. "The microbiota-host interaction is a fascinating area. There are many unanswered questions and I think it will keep us busy for at least the next 10 to 15 years. It's also about the workplace, my friends and colleagues here. I am very blessed to be at McMaster."