Survey reveals huge gaps in LGBTQ+ support in Hamilton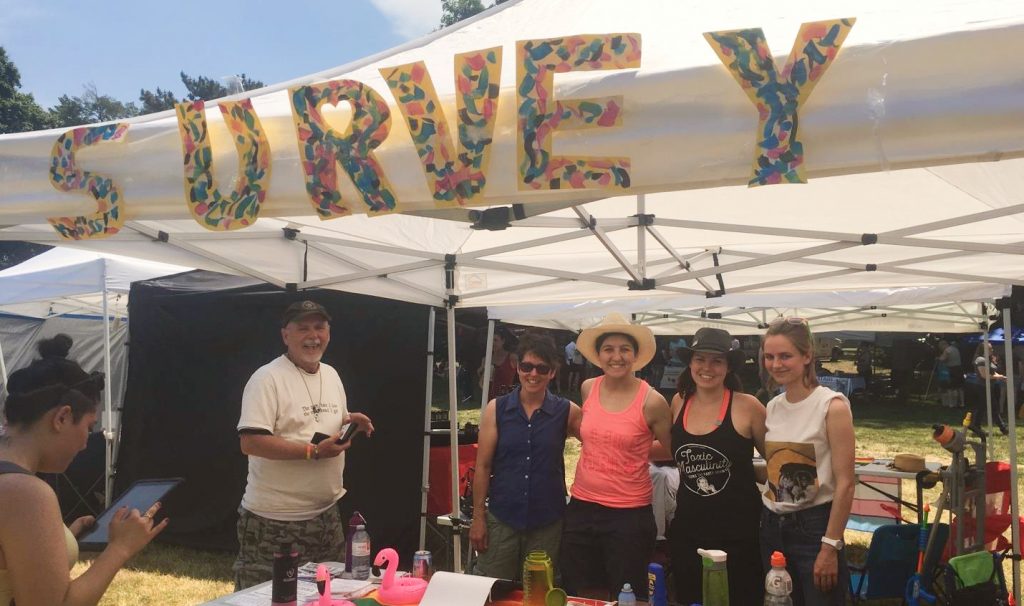 BY Sonia Verma
June 10, 2019
93 per cent of trans people in Hamilton feel unsafe.

More than 50 per cent of LGBTQ+ people here have faced harassment, violence or hate crimes.

46 per cent said they had considered harming themselves because of issues related to their sexuality or gender expression.

75 per cent said they have wanted support for mental health in the last 12 months, and 40 per cent said they couldn't seek support because of financial barriers.
McMaster researchers and students, partnering with the AIDS Network of Hamilton and community researchers who identify as LGBTQ+, are releasing the results of a large — and unusual — survey of LGBTQ+ people in and around the city.
The entire project, from its conception to its design to community outreach to the release of the results, has been led by community members.
"It's the most grassroots work I've ever done, and I've been doing community-engaged research for years," says Suzanne Mills, an associate professor of Labour Studies.
She got involved in the project as a community member from Day 1, and when it looked like it might founder, she used her research skills and academic resources to support and strengthen it.
Backyard beginnings
In fall 2016, the Steel Lounge closed. It was the last gay bar and restaurant to shut down in a city that had never had that many dedicated LGBTQ+ spaces to begin with.
"I happen to know some people who were involved in different organizations and LGBT services in Hamilton, and we got together in my backyard," Mills says. "Everyone was saying we needed to do something."
The group realized they needed an accurate snapshot of the city's queer people and their experiences: Did people want a social space? A service centre that offered physical and mental health support? Where did they feel safe, and what barriers did they face to safety, health and creating a feeling of community?
"So we thought, 'First let's actually do a proper study of the LGBTQ+ community to try to figure out who lives here and what they need.' "
They organized two town hall meetings, and a surprising number of people showed up, Mills remembers. Eventually, organizers realized a lot of people were there because they had no other way to meet queer people in a space where they wouldn't face harassment or violence.
At the meetings community members formed a research committee to design an online survey where LGBTQ+ people could describe their experiences and needs.
"It was an open committee," Mills says. "Anybody could join at any time, because we wanted to make sure that all kinds of different groups were included, and that no one should feel excluded."
"And we didn't have a leader — it was group-led."
The openness and collective leadership had its drawbacks — it took longer to make decisions, for one thing. Consensus was hard. As different people took charge of drafting different sections of the survey, it was a challenge to keep them all on track. Everyone working on it was a volunteer.
And no one had any funding.
Research with a real-world impact
Mills used her academic skills and resources to get a federal grant to boost the project. And a number of McMaster students joined the effort, some as part of their studies, and others just out of interest.
"I feel like Mac students have been always involved with this," Mills says.
A Social Sciences graduate student worked on the project one summer, helping to gather the different sections of the draft survey and consult with people in the community to make sure the questions were oplen and diverse enough.
A student in Health, Aging and Society worked on the ethics application.
When the draft survey was finalized, a student in the Faculty of Health Sciences offered to help Mills apply for a SSHRC Partnership Engage Grant.
"The thing about those grants is they are basically designed for community collaboration," Mills says. "I was able to use my McMaster resources, including my ability to get funding and resources but also my access to students and research expertise, to expand the scope and quality of the survey."
At Mills' request, Michelle Dion, an associate professor in Political Science, joined the project as a co-investigator to lead the analysis of the survey data.
And psychology student Daniel Thompson-Blum helped write the final report, Mapping the Void.
The grant also helped expand the reach of the survey. Organizers offered participants incentives, like the chance to win an iPad, when they set up a survey booth at Pride Hamilton 2018.
Altogether, the survey was open from June through September 2018. And the response surprised everyone.
Results
More than 900 people responded to the survey. Mills says a few things that especially stood out and were consistent through nearly all responses.
Most respondents felt a strong sense of connection to Hamilton. But at the same time, they didn't feel connected to an LGBTQ+ community here. "People feel lonely and disenfranchised. They want to belong to a community and it's not yet there."
There are immense barriers to mental health services and support. "Huge, huge, huge barriers," Mills says. She was surprised to learn that finances were an even bigger obstacle to mental-health services than social factors. "But for transgender people, a lack of knowledge among health-care providers continues to be a big issue."
Responses from transgender respondents included wanting doctors to "treat me as a person first. Take time to learn about trans-related needs before I come to see them."
"I don't expect general practitioners or healthcare providers who do not specialize in this field to know everything, but to know the basics and to listen to patients attentively and try to learn about more details when they come up," one respondent wrote.
Nearly everyone said they wanted spaces, services and events dedicated to building and strengthening community for LGBTQ+ people. These included bars and clubs as well as all-ages, alcohol-free venues such as art studios, cafes, gyms/fitness centres and bookstores.
"It is a sad situation when there is not a Gay Bar in the City of Hamilton, particularly with the fact we have over 500,000 people," one respondent wrote. Another said they wanted "a coffee shop — no alcohol, so minors can also come hang out, and gives a nice, reasonably quiet daytime space."
People still face discrimination in a variety of spaces, particularly outside — even walking down the street, people face or fear harassment.
Mills, Dion and their partners hope that their report, Mapping the Void, will help shape a better the future for LGBTQ+ people in Hamilton.
"There are so many different kinds of findings here that major institutions and organizations in the community have a responsibility to take into account," Mills says.
"When you know the needs of your community, you can start trying to serve those needs."
Mills, Dion, the AIDS Network, the Office of Community Engagement and the community researchers are discussing the survey and their findings Tuesday June 11.
Read the complete study on the McMaster Labour Studies website.