Symposium focuses on crisis of drug-resistant infections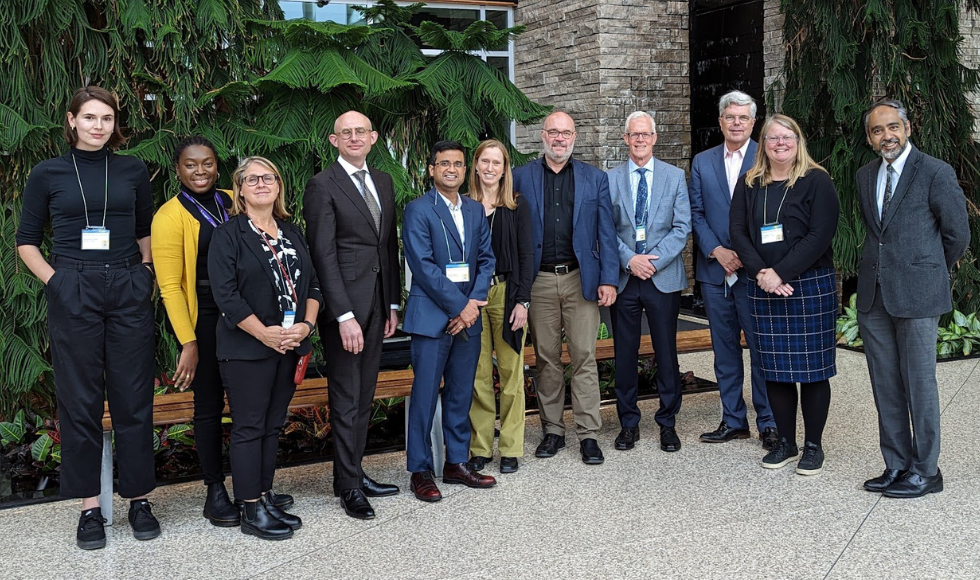 We need more than drug discovery and development — we need social scientists, policy makers, communicators, economists and more — to solve the problem of antimicrobial resistance, experts at the AMR symposium said.
---
BY Beth Gallagher, Canada's Global Nexus for Pandemics and Biological Threats
October 14, 2022
While researchers work to develop new antibiotics for drug-resistant infections, world-leading experts say the crisis of antimicrobial resistance (AMR) won't be solved by new drugs alone.
"The AMR problem is a complicated one … It is closely linked to the lack of basic needs in society," said Ayush Kumar, University of Manitoba professor of Microbiology and Medical Microbiology. "Until we address those basic needs, we won't have long-term solutions to this problem."
Kumar was one of four experts speaking at McMaster University's Global Nexus Symposium on Antimicrobial Resistance on Oct. 12.
The event was organized by Canada's Global Nexus for Pandemics and Biological Threats leaders Marie Elliot, professor and chair of the department of biology, and Eric Brown, Distinguished University Professor of biochemistry and biomedical sciences.
McMaster President David Farrar opened the symposium. "We need researchers from all disciplines to solve global threats like AMR," he said. "Infectious disease and health researchers want to welcome faculty and students outside of the health sciences (to help find solutions)."
The symposium highlighted the need for a multidisciplinary and cross-sector response to complex infectious disease threats such as AMR.
"The mission of Global Nexus is to lead in assembling coalitions of motivated scholars, community members, and students across disciplines to find solutions for challenges like this," said Global Nexus Lead Gerry Wright.
Kumar said we need to solve the long-standing problem of boiled water advisories in some Indigenous communities in Canada, where residents are still at huge risk for infectious diseases from contaminated drinking water. His research team found that water coming from household taps was contaminated by drug-resistant bacteria even if it had tested clean at the community water treatment plant.
What is AMR?
AMR occurs when infections stop responding to the medicines designed to treat them. In 2019, more people died from drug-resistant infections globally than of HIV/AIDS or malaria, a recent global survey showed.
The AMR death toll is rising rapidly the COVID-19 pandemic has made the crisis worse. A 2016 report, commissioned by the U.K. government, predicted 10 million people may die each year of antimicrobial-resistant infections by 2050.
How camps for refugees drive AMR
Systemic problems like poor sanitation, lack of medical care and overcrowded housing for people living in refugee camps are all issues that contribute to the problem of AMR globally, said Muhammad H. Zaman, Boston University professor of biomedical engineering.
"Informal settlements in urban areas and refugee camps have repeated outbreaks of terrible infectious diseases," he said. "Surveillance is not even on the radar," and refugees are often given poor-quality antibiotics that further contribute to AMR.
Zaman urged symposium participants to consider the social, environmental, and economic context of AMR. There is a correlation between the heavy metals found in bombs and antibiotic-resistant pathogens,  he noted. "Conflict takes a multidimensional toll on AMR … hospitals are destroyed, nurses and doctors killed."
Should antibiotics be more expensive?
Christine Årdal is a senior advisor at the Institute of Public Health in Norway. She told symposium participants that the economic realities of antibiotic production are a critical driver of AMR globally. Antibiotics designed to narrowly target bacteria are not as profitable as broad-spectrum drugs so there is less incentive for manufacturers to produce them. This leaves doctors with little choice but to prescribe broad-spectrum antibiotics, which contribute to AMR.
"Companies decided to stop marketing an important antibiotic because it's not profitable," she said.
We could, as a society, consider paying more for some antibiotics, according to Årdal, who noted a commonly used antibiotic in Norway costs less than a cup of coffee.
Another problem is countries can't search for a new manufacturer if there is a shortage of a particular drug because that information is considered confidential. "Supply chain transparency is something we need if we want to ensure … access to antibiotics."
Climate science models and AMR
Kevin Outterson is a law professor at Boston University and executive director of CARB-X, a global non-profit partnership accelerating antibacterial products to address AMR.
Outterson told participants that antibiotics are a resource that should be stewarded and maintained like public infrastructure such as roads and sewers. "Antibiotics are the most important drug class in human history … but nobody is planning for what to do when they give way to resistance. They are a global health asset that is not being tracked or financed."
We need science and data to better understand the global microbial ecosystem so we can create models like climate scientists have been using, Outterson said. "What we need to do is first map what we know and don't know in the microbial world.
"We still have millions of people around the world dying because they don't have access to medication," he said. Despite the obstacles, Outterson remains optimistic because the problem of AMR can be solved with the right investments and global strategy.
Canada's Global Nexus for Pandemics and Biological Threats is an innovation hub based at McMaster University where research, learning and community come together in new ways to ensure the world is better prepared for future pandemics and biological threats.
Read more about its AMR Task Force here.