Tackling the climate crisis and improving health by seeing the forest and the trees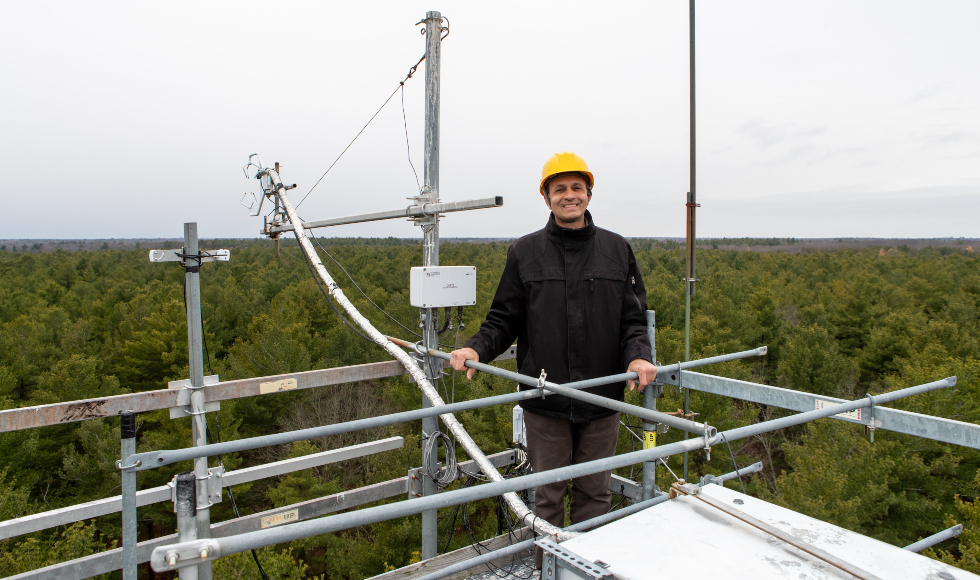 Photo by Georgia Kirkos
---
BY Ruth Adair
December 8, 2020
"Climate change doesn't have to be an insurmountable problem. The  COVID-19 pandemic has proven we can quickly shift to a different way of living and working that significantly lowers greenhouse gas emissions. The question now is: Are we willing to make lasting and sustainable changes?" 
Altaf Arain
Director, McMaster Centre for Climate Change
As a scientist, Altaf Arain immediately saw how the early days of COVID-19 turned the Earth into a giant lab for a real-world experiment on climate change. "The critical outcome was how this new way of living would affect the earth," says the McMaster School of Earth, Environment and Society professor.
The World Meteorological Organization highlights that, during the most intense period of the pandemic lockdowns, daily CO2 emissions may have been reduced by up to 17% globally. But long-term progress towards achieving Sustainable Development Goal 13 (actively combating climate change) depends on what individuals and policymakers do now, says Arain.
While his research on forest ecosystems, climate modelling and air pollution contributes directly to SDG 13, Arain says it will take more than good science to successfully shift course in the climate emergency. "Researchers, governments, grassroots organizations and the public must work together at the micro and macro levels to achieve real and lasting change."
---
More: Altaf Arain's work exemplifies McMaster's commitment to advancing the United Nations' Sustainable Development Goals (SDGs).
---
The way forward
In the first few months of the pandemic, many large, densely populated areas in Europe, Asia and North America temporarily shut down whole industries and severely limited transportation systems. Energy demand plummeted worldwide. So did greenhouse gas emissions. But the reality is that CO2 will continue to go up, unless action is taken.
"Every government in the world needs to consider their next steps – how to sustain the economy and ensure prosperity, of course, but also how to balance the urgent need to decrease greenhouse gas emissions and global warming. We have a short window of opportunity to steer the recovery towards the achievement of SDG 13."
Arain acknowledges that climate change is a multidimensional crisis; it can feel too overwhelming to take on, especially given the global calamity of COVID-19. That's why we need collective action – it's a realistic, effective way to drive meaningful change, he says. First, though, the scientific community must redouble its efforts on several fronts. It means reaching out to the public, educating tomorrow's climate scientists, and forging international research collaborations.
Bridging the gap and strengthening partnerships
"As climate scientists, we have a long way to go in building awareness of our findings," says Arain. "There are excellent studies coming out all the time. The key is translating that research into readily understandable information that will inspire actions."
Arain sees knowledge translation as an urgent need – one that aligns with SDG 13 targets to build capacity to address climate change and improving education and awareness.
At the McMaster Centre for Climate Change, Arain and his team have made community engagement a priority. The public is invited to seminars and forums on pivotal topics related to climate and the environment. Researchers attend relevant community events to lend their expertise. And there's an outreach program for university and high school students.
"In addition to sharing research that underlines the reality of climate change and its effects, we deliver the message that by working together, we can deal with the crisis of climate change," says Arain.
Educating the next generation of climate researchers is also key to the centre's mission. When it comes to collaboration within the scientific community, Arain believes the more interdisciplinary teaching and research on climate, the better. Much of his work involves researchers from multiple fields, and his prolific academic publishing (he was included on the 2018 list of the world's most cited science and social science researchers) helps attract new collaborators. "It's about striving to be a global researcher and a global citizen," he says.
"Researchers in health, economics, earth sciences and other specializations can all make some difference in their specific fields. But when we join forces with one vision, we can make a much bigger difference for the well-being of the planet."
Building climate knowledge and resilience in the field and lab
Arain's interest in the environment and forest ecosystems goes back to 2000, when he joined the faculty at McMaster. Recognizing that the planted and re-emerging forests in eastern North America and around the Great Lakes is an essential natural carbon sink – they absorb more carbon dioxide from the atmosphere than it releases – he decided to study the relative carbon uptake of different ages and species of trees. This research also examines the impacts of climate change and extreme weather events on the growth and health of these forests and their water budgets.
To do this, he established Turkey Point Observatory near southern Ontario's Lake Erie. It includes four towers equipped with monitoring tools that measure variables including energy, carbon dioxide and water fluxes, as well as radiation, temperature, precipitation, soil moisture, water table, tree height and diameter. With this data, Arain can determine the carbon uptake in different age and species of forests and which ones are most resilient in changing environmental conditions. "We use this knowledge in broader efforts towards forest ecosystem restoration, which supports SDG 13's aim of improving the adaptive capabilities of natural ecosystems."
Turkey Point Observatory is part of several national and international networks that monitor water and carbon levels in crucial ecosystems such as North American Carbon Program, Global Fluxnet and Global Water Futures. The data from the observatory also informs Arain's climate and hydrologic modelling research, which uses advanced technology to discern patterns and trends that help predict future climate change.
"This information is vital for policymakers to make evidence-based decisions, which echoes SDG 13's aim of integrating climate change measures into long-term strategies and national adaptation plans," he says.
Climate change and human health
Arain's research also investigates the effects of traffic-related air pollution on the environment and human health in Canada's urban centres. In one study, their team installed sensors to measure the concentrations of air pollution in residential areas near major roads. Collaborators in McMaster's Faculty of Health Sciences and Faculty of Science then explored the link between those exposures and mortality, pneumonia, asthma and heart disease. They also conducted life-cycle analysis of greenhouse gas emissions of electric vehicles and their health benefits. Their work suggested that to achieve full benefits, adoption of electric vehicles should be integrated with renewable energy goals.
"The pandemic lockdowns have shown us the dramatic drop in air pollution that happens when we eliminate non-essential vehicle traffic," he says. "It's not realistic to expect to maintain that situation, but if we could all reduce our driving in some way there would be noticeable improvements in air quality and health. Greater adoption of electric vehicles powered by renewable energy is a highly promising strategy."
But the crucial importance of thriving ecosystems for human health goes beyond our need for clean air. "Spend a few hours in the woods or in any natural environment, and you can feel the healing effects," he says.  These landscapes are vanishing in large urban areas, yet they're crucial for recreation and well-being."
Small actions, big impacts
Reversing climate change is a daunting task for researchers and regular citizens alike – but it's viable if everyone works together. At the heart of the problem is our consumption of resources and lifestyle, Arain says. "If we can all consume less of the earth's resources, it will have substantial effects on waste, pollution and our ecosystems. We have ample scientific evidence that our lifestyles aren't sustainable."
Moving forward, he says we need to make sure information reaches a much wider audience. We must create broad coalitions committed to transformational change. And we need to act fast.
Altaf Arain's work exemplifies McMaster's commitment to advancing the United Nations' Sustainable Development Goals (SDGs).  Learn more about the best ways to align research with the UN's SDGs.