The art of nature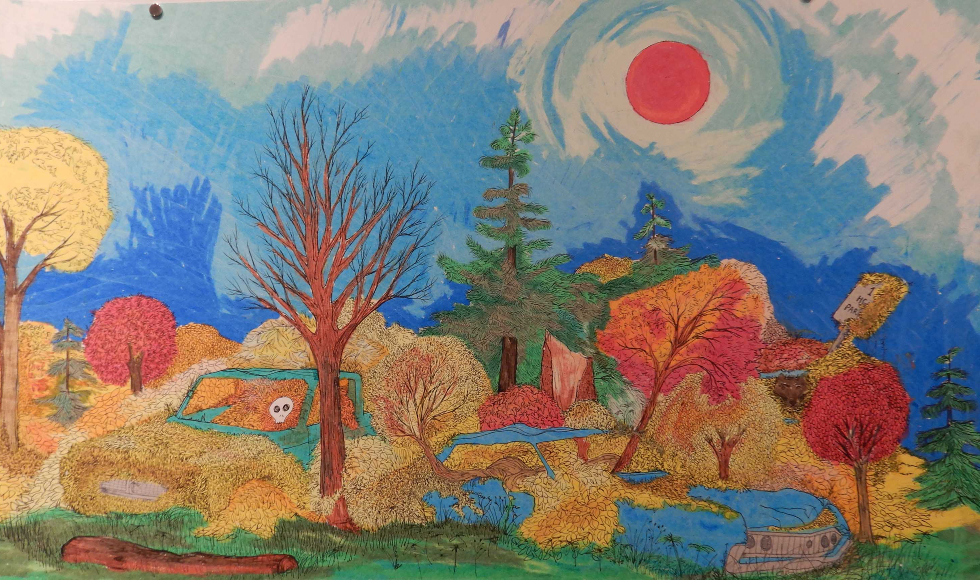 Artwork by Level II Studio Art student Javan Wellum
---
BY Sara Laux
October 26, 2018
Judy Major-Girardin grew up surrounded by wetlands.
Her family's tomato farm was close to Point Pelee National Park, Canada's southernmost point and a key stopping point for migratory birds and butterflies.
"Being outside and engaged with nature has been part of my life since Day One," says Major-Girardin, a professor in the School of the Arts. "I didn't realize what was on my doorstep at the time – but all my 'Oh wow' moments in nature happened around those wetlands, lakes and farms."
A childhood attraction to drawing developed into a summer job at the park, working as a graphic designer. When she went on to the University of Windsor and later to the University of Alabama to study art, she abandoned the precise attention to realism needed to satisfy the park's biologists – but she says the interest in and inspiration from the natural world was never far away.
Art to advocacy
Eventually, Major-Girardin found herself drawn back to wetlands – this time as an advocate, as well as an artist.
"I started thinking less about visual inspiration and more about the issues around water," she explains. "They're such beautiful, high-functioning spaces – they filter water, handle flood control and oxygenate the environment, but we take them out and then try to replace them with something mechanical that does the same things."
Along with the environmental benefits, Major-Girardin says wetlands – and natural spaces generally – have a positive effect on mental health: something she sees as her students go from being anxious and stressed to relaxed and engaged in their work whenever they go outside as a class to work on projects.
Creating an environmentally responsible art program
At McMaster, Major-Girardin's commitment to the natural world has taken shape in interesting ways. For one thing, she worked with colleagues 10 years ago to re-imagine McMaster's new BFA degree as a green program, working over the years to replace solvents, alcohols, acids and harsh cleaners with gentler, more environmentally friendly materials.
She teaches a class dedicated to environmentally responsible art – something that's as much for the health of her students as for the environment.
"Art students love to experiment. They won't use materials as directed – they're going to combine things, and pull out the heat guns, and do all sorts of things with no chemical background on the safety of what they're doing," she says. "I went through art school myself, and we did horrible things that put people at risk, or dumped stuff down the drain that was really hazardous."
So things changed.
Now, in her class, students use natural materials to create sculptures that also function as bee houses, or, more recently, to create projects inspired by the natural lands around McMaster.
Paradise Revisited
Those in-progress student projects are now part of Paradise Revisited, a six-month initiative undertaken in partnership with the Socrates Project that aims to re-engage student, faculty, staff and community with the environment around Mac.
As part of the project, Major-Girardin has led canoeing and sketching trips into Cootes Paradise, which is owned by the RBG. Environmental artist Patricia Johanson, who creates large-scale functional landscape art projects, has lectured at Mac as part of the Hooker Distinguished Scholar program. A bus trip to the Mac Forest next month is open to the public. And an interdisciplinary panel of biologists, hydrologists, Indigenous scholars, artists and others has explored the past, present and future of the MacMarsh – a restored wetland planned for the west end of Parking Lot M.
"We're so lucky at McMaster that we have these natural lands, some of which we own, that people don't know about," Major-Girardin says. "For me, that's the key thing that's unique about McMaster. I don't know any other campus where five minutes out the door you can be in these incredible environments for learning and for refocusing yourself."
For more information about the Paradise Revisited project, go to https://socrates.mcmaster.ca/events/.