Watch panel: The Conversation @ MAC on Vaccine Confidence in an Era of COVID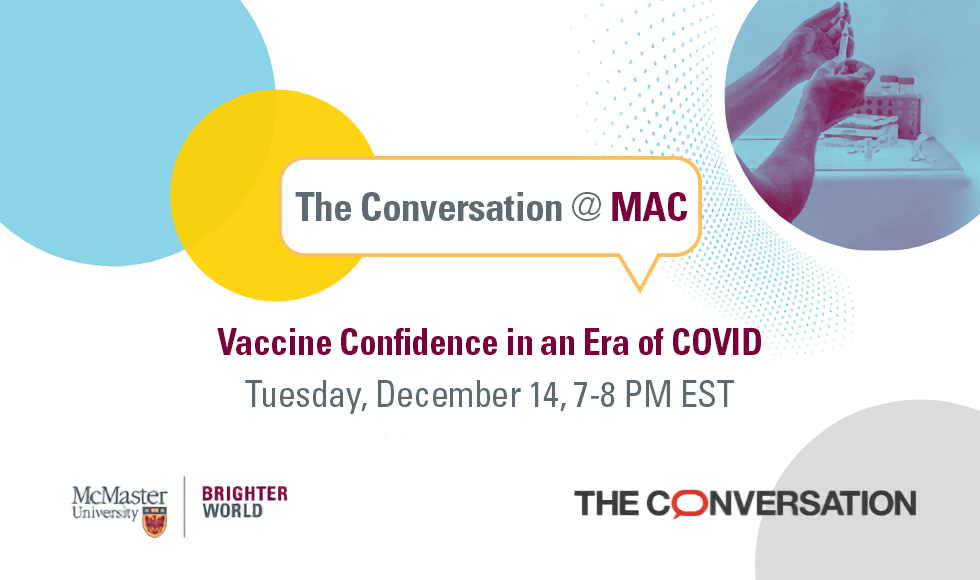 The online event is happening via Zoom on Dec. 14 at 7 p.m. and includes an opportunity to ask expert panelists questions.
---
December 7, 2021
This article has been updated Dec. 15, 2021, to include the recording of the panel discussion, above. The original article, with information on the panellists and registration, which was posted before the event, is below. 
The Conversation Canada and McMaster University are hosting a live, online panel to discuss vaccine confidence. McMaster experts will look at vaccine hesitancy, explore where it comes from and discuss ways to address it during the ongoing COVID-19 pandemic.
This event comes as a new variant of COVID-19 is raising questions about the efficacy of the current vaccines, the need for boosters and the importance of global vaccine equity. Omicron has been confirmed in places around the globe, including southern Africa, Europe, and North America.
Experts say variants will continue to pose a global threat if large parts of the world remain unvaccinated.
The panel discussion will feature four McMaster academics who have been drawing on their expertise throughout the pandemic and providing commentary and information to the public through traditional media, social media, and their research.
The online event is happening via Zoom on Tuesday Dec. 14 at 7 p.m. and includes an opportunity to ask the panelists questions.
Panelists:
Dawn Bowdish is a professor in the Department of Pathology and Molecular Medicine and a Canada Research Chair in Aging and Immunity and the Executive Director of the Firestone Institute of Respiratory Health. Her lab studies how the microbiota and the innate immune system change with age and how these changes impact healthy/unhealthy aging and increase susceptibility to pneumonia and COVID-19.
Zain Chagla is an associate professor of medicine and infectious disease specialist.  He is a Consultant Physician at St. Joseph's Hospital and Hamilton Health Sciences and has regularly appeared in the media to provide context and comment on the COVID-19 pandemic.
Manali Mukherjee is an assistant professor in the Division of Respirology and Department of Medicine. She is the lead researcher of a team of McMaster scientists studying long-term illnesses suffered by some patients after they've recovered from COVID-19.
Clifton van der Linden is an assistant professor of political science and director of the Digital Society Lab at McMaster.  He is actively engaged in the application of new, technologically enabled methods to the study of political behaviour and public opinion.
The panel will be moderated by Scott White, editor-in-chief of The Conversation Canada. The Conversation publishes news and views from the academic and research community.