The future of COVID-19 detection lies in wastewater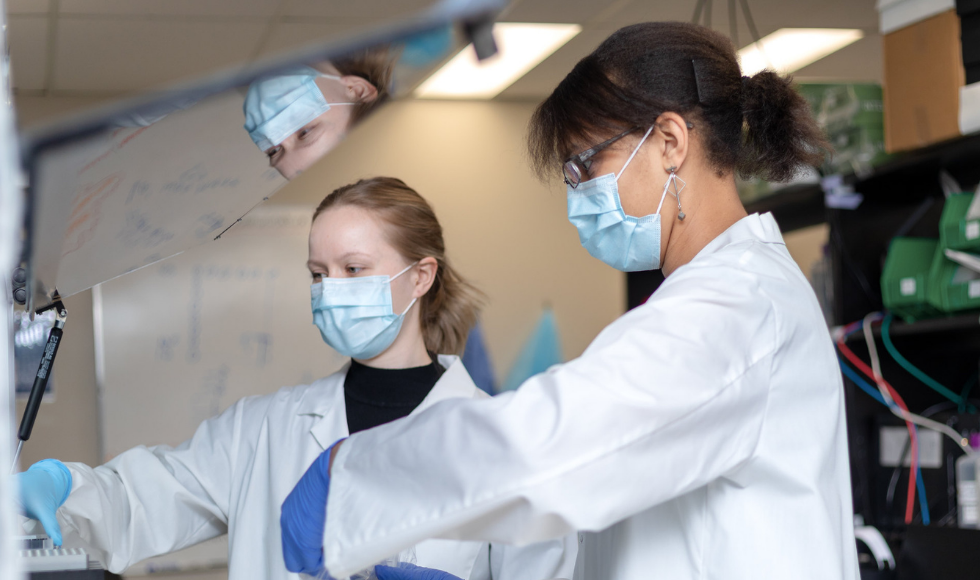 Sarah Marttala, left, and Doris Williams load samples for the McMaster waste water testing surveillance study at a lab at the Research Institute at St. Joseph's – Hamilton. (Photo by the Research Institute at St. Joseph's – Hamilton)
---
BY Michelle Donovan
March 29, 2022
The surveillance of wastewater has emerged as an important and non-invasive tool to quickly detect and track COVID-19 outbreaks and could be used to detect other pathogens such as influenza and hepatitis, says a researcher at McMaster who is leading monitoring efforts across 13 cities and municipalities throughout the province.
Samples from the community and wastewater treatment plants can provide early warning signs, indicating when viral levels are on the rise or declining.
"There are still variants that continue to emerge and we need to ensure we are staying on top of the situation," says project lead David Bulir, an assistant professor of pathology and molecular medicine at McMaster, and an affiliated researcher at the Research Institute at St. Joseph's – Hamilton.
Researchers are testing raw sewage generated from several municipalities including St. Thomas, Stratford, Goderich, Brantford and Coburg. Samples are drawn three times per week, every hour over a 24-hour period, creating a composite sample as water flow will fluctuate throughout the day and night.
Data from these sites is then uploaded to a central portal and used to project trends and inform public health discussions and decision-making.
"This is a very new tool and while we are still optimizing the testing to maximize its usefulness, it is clear it can provide insight to the disease prevalence in different populations that can inexpensively provide useful information for public health decisions," says McMaster chemical engineer Fran Lasowski, who is an expert of the efficacy of the testing.
Wastewater testing is highly sensitive and does not rely on people realizing they are sick and only then getting tested. In many instances, it can be an early warning sign of a community outbreak.
"Wastewater testing is already a viable approach to keeping track of prevalence in the general population as well as protecting vulnerable populations," says John Preston, associate dean of research, innovation and external relations in the Faculty of Engineering.
"It is exciting to imagine how much improvement is possible from the sample collection through to the data analysis."
The researchers are also drawing samples from three locations on the north and west side of campus, and from outside Les Prince Hall.
This form of testing and analysis goes beyond COVID-19, say researchers. The applications for many other infections are significant and could inform public health policy in the future.
"It is very easy to transition this surveillance to other types of pathogens," says Bulir.
"If we could do year-round screening for influenza, for example, we might be able to identify the strains that come to Canada, when they arrive and whether or not it might be soon enough to influence vaccine choice so we can match circulating strains more effectively."
He also points to identifying outbreaks in congregate settings, such as homeless shelters, where hepatitis or other pathogens could be readily detected in wastewater.
"This is an absolutely a novel field," says Bulir. "But there could be significant advantages to shifting from wastewater facilities, which gives you a snapshot of the whole city, to more community-based facilities where we could test and get greater sensitivity to many pathogens."