"There's a need to keep innovating:" Robert Pelton awarded for contributions to Canada's pulp and paper industry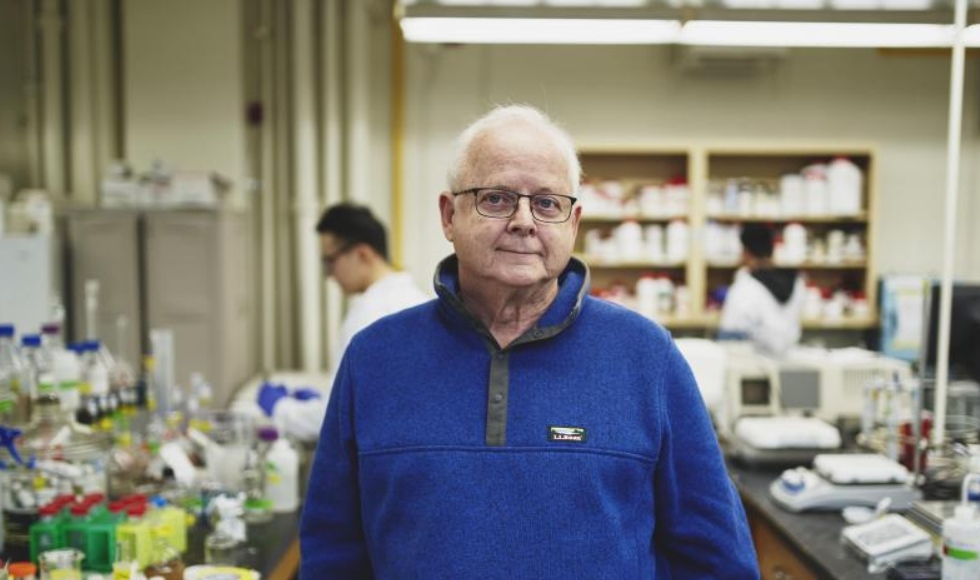 Photo by Jin Lee
---
BY Jessie Park, Faculty of Engineering
February 21, 2020
Looking back on more than 40 years in pulp and paper research, Robert Pelton says he had to continuously adapt to changing environments, technologies and markets.
But one thing, he says, remained the same: "We have 10 per cent of the world's trees in Canada – they're of exceptional quality and so there's a need to keep innovating."
Pelton, a chemical engineering professor at McMaster University, received the John S. Bates Memorial Gold Medal this month. The award, presented by the Pulp and Paper Technical Association of Canada (PAPTAC), is given to a member of the association for their great contribution to the science and technology of the pulp and paper industry.
"I had no idea this was coming whatsoever," Pelton said of the award, which is the highest individual honour from PAPTAC. "I'm flattered to be part of the group of past winners and it all means a lot."
Pelton is best known for his invention of gel nanoparticles which shrink by about 90 percent when exposed to heat above body temperature, called polyNIPAM thermosensitive microgels. Invented by accident during his early days as a researcher, the microgels have been intensively studied around the world, resulting in hundreds of publications and thousands of citations.
"There's people all over the world using them for all sorts of different things, like controlled drug delivery," he said. In this case, the particles can carry drugs to a target inside the body, releasing the drugs where they are needed.
When Pelton began research in the paper industry in 1977 with the Pulp and Paper Research Institute in Montreal, Que., the pulp and paper industry was the largest exporter in Canada.
"When the industry is booming, it means the research labs are booming," said Pelton, who is also the director of McMaster's Centre for Pulp and Paper Research. "It was a really great time to work in the pulp and paper industry because there were lots of resources, people and expertise."
He joined McMaster's Faculty of Engineering in 1987 as a new professor. As technology developed over the years, he says more and more chemistry became involved in the papermaking process, which was very much a mechanical engineering discipline.
"Back then, the biggest market was newsprint – big publishers like the Chicago Tribune and The New York Times owned or purchased from newsprint mills in Canada, and making newsprint was a huge business," Pelton said.
When the newspaper industries first started declining approaching the '90s, he recalls publishing companies selling their paper mills, leaving the industry no choice but to pivot.
"They were trying to find something else to make with the tons of newsprint they were producing – but newsprint turns yellow after half a day," Pelton said. He was then part of a large effort to use chemicals to stop newsprint from yellowing, which was funded by the then-new National Centres of Excellence (NCE).
Pelton is currently collaborating with Canfor, a Canadian forest products company, to develop a technology platform to dial specific surface properties into market pulps, with a view to making them   more commercially valuable.
"They're expensive trees so we need to find high-value applications for them," he said.
For instance, if successful the technology will give "water-loving" pulp fibres that could perform better in diapers to absorb liquid.  Whereas a slight variation of the technology could give very strong, wet paper that could compete with plastic bags.
These days, Pelton says the sociological shift of moving away from single-use plastics is giving new life to the pulp and paper industry.
"Consumer product companies are trying to use more sustainable packaging and that is a huge win for the forest product sector," Pelton said.
Pelton was also the scientific director for the Sentinel Bioactive Paper Network, a strategic network funded by the Natural Sciences and Engineering Research Council of Canada (NSERC) in 2005 to develop paper surfaces that detect and kill pathogens and more. The network continued for 12 years.
"McMaster is a really good place to be a scientist," Pelton said as he reflected on his long career in academia. "The resources we have now, including the management at the faculty and department levels are spectacular – and that's important."
When asked for advice to young researchers, Pelton said, "If something doesn't work the first time, maybe try it once more, then do something else. Also watch out for what does happen – something that happens might not be what you expected, but far more interesting."