"This is our contribution to the community": McMaster engineers help shape transit services amid COVID-19 crisis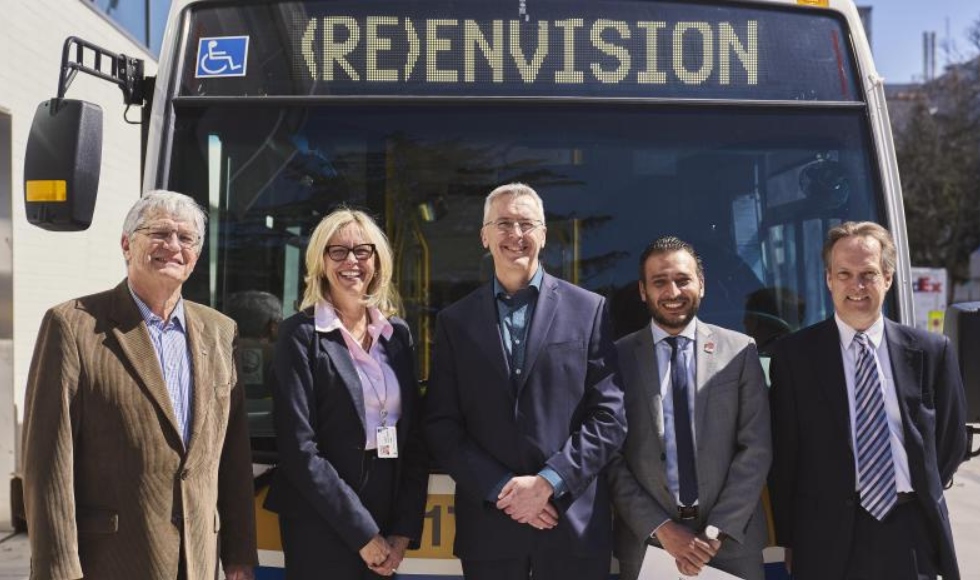 Moataz Mohamed, assistant professor, civil engineering (second from right) with Debbie Dalle Vedove, Director of Transit, City of Hamilton (second from left) and others in a file photo from 2018.
---
BY Jessie Park, Faculty of Engineering
March 30, 2020
People who rely on public transportation for essential trips – such as to the grocery store – are put in "very difficult positions" if transit services are shut down during crises, says Moataz Mohamed, an Assistant Professor of Smart Systems and Transportation in the Department of Civil Engineering.
That's why when Mohamed and his team of eight McMaster students first started hearing news about COVID-19 in Hamilton, they went straight to develop applied research to offer guidance to the City of Hamilton on potential changes to transit service.
"Our aim is to offer support to the decision-making process," he said, still offering to pay his research students. "The students all agreed to do this voluntarily – they insisted that this is their contribution to Hamilton."
Although this was an unsolicited study, the results were provided to the City for their consideration.
The team, led by PhD candidate Gamal Eldeeb, swiftly gathered data on what percentage of Hamilton's population is within a two-kilometer walking distance to one of the city's 42 major grocery stores. They found that about 41 per cent of Hamiltonians are not – these people need public transit if they don't own a vehicle.
"Our verdict was that five HSR routes need to always remain in service. Otherwise, almost half of Hamilton will not be able to walk to access basic goods," Mohamed said.
The routes Mohamed's team identified as essential are 05 Delaware, 11 Parkdale, 18 Waterdown, 44 Rymal and 55 Stoney Creek Central.
"The pressure might be mounted on [HSR and other providers] to stop operating because they're losing money every day. It will be a costly decision, but a very wise decision to at least operate the five routes for a couple of hours each day, to provide accessibility to grocery retails" he said.
The team's recommendations were provided to the City of Hamilton, Mohamed says. He acknowledges that accessibility to other destinations, such as medical care and pharmacies, should be considered in their model.
"The results of the analysis are those of our team and do not represent the views or opinions of the City of Hamilton's Transit Division," he says.
Mohamed says he welcomes other surrounding cities to ask for help from their team.
"Kitchener-Waterloo, London, any place," he says. "We can model it fairly quickly."
Special thanks to the McMaster students working on this project: Gamal Eldeeb (PhD), Mohamed Elsayed (PhD), Hatem Abdelaty (PhD), Yassien Yassien (MSc), Roxana Rasouli (MSc), Conner Nikel (BEng), Mohammed Mirza (BEng), Anastasia Soukhov (BEng).