Three profs to be honoured at Negev Dinner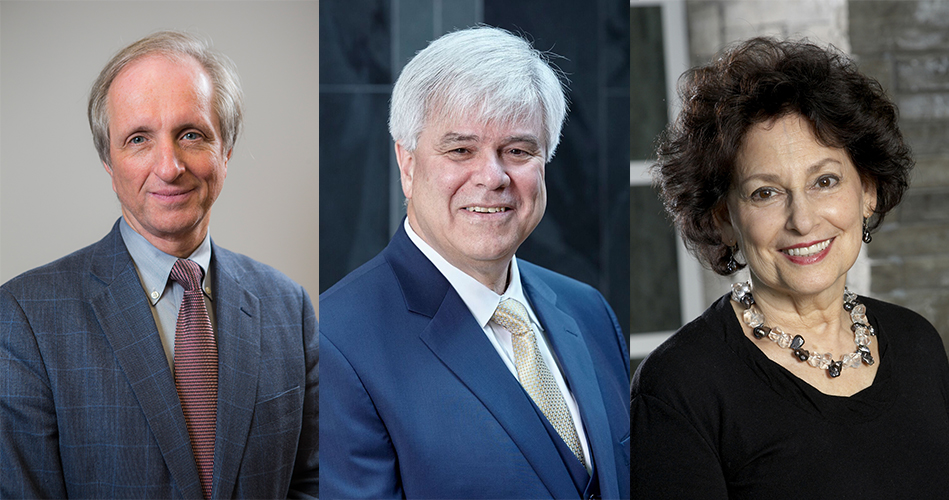 Hertzel Gerstein, Mark Levine and Sandra Witelson are being honoured at the Jewish National Fund of Hamilton Negev Dinner on June 25.
---
BY Tina Depko
June 22, 2017
An endocrinologist, an oncologist and a neuroscientist will be honoured at the Jewish National Fund of Hamilton Negev Dinner on June 25 at Liuna Station.
Professors Hertzel Gerstein, Mark Levine and Sandra Witelson of the Michael G. DeGroote School of Medicine are the guests of honour at the marquee event that brings hundreds of community-builders together.
Hertzel Gerstein is a professor of medicine, and the director of the division of endocrinology and metabolism. He serves as the deputy director of the Population Health Research Institute and holds the Population Health Institute Chair in Diabetes Research. He is also the director of the Diabetes Care and Research Program at Hamilton Health Sciences.
Gerstein has focused his career on improving the lives of people with diabetes through related research. He has even produced a music video focused on destigmatizing diabetes. Gerstein's many awards have included the Canadian Diabetes Association's Lifetime Achievement Award.
Mark Levine is a professor and chair of oncology and he holds the Buffet Taylor Chair in Breast Cancer Research at McMaster. He is the scientific director of the Escarpment Cancer Research Institute, a joint research institute of McMaster University and Hamilton Health Sciences. He has been a medical oncologist at the Juravinski Cancer Centre for the past 35 years, focusing on the treatment and care of patients with breast cancer.
Levine's research has had significant impact on the treatment of early breast cancer, other cancers, and the treatment of venous thrombosis. He has also conducted landmark research in decision making in breast cancer. Last year, he received the Order of Canada for his contributions as an oncologist, researcher and clinician.
Sandra Witelson is a professor emerita of psychiatry and neurosciences and she was the inaugural Albert Einstein/Irving Zucker Chair of Neuroscience at McMaster University. She was elected a Fellow of the Royal Society of Canada for her scientific work in the area of the brain basis of language, intelligence, dyslexia, sex differences, and genius.
Bringing international acclaim to both McMaster and Hamilton, she has been inducted into Hamilton's Gallery of Distinction, and is an elected member of the U.S. Dana Alliance for Brain Initiatives, which fosters global public awareness about the progress and promise of brain research.
Paul O'Byrne, dean and vice-president for the Faculty of Health Sciences, is a co-chair of this year's Negev Dinner. He said he is proud these McMaster faculty members will be honoured by the Jewish National Fund of Hamilton.
"This recognition of the outstanding medical advancements of Dr. Gerstein, Dr. Levine and Dr. Witelson is well-deserved," said O'Byrne. "Each has made invaluable contributions to McMaster, Hamilton, Canada and beyond."