Tracy Bear appointed director of the McMaster Indigenous Research Institute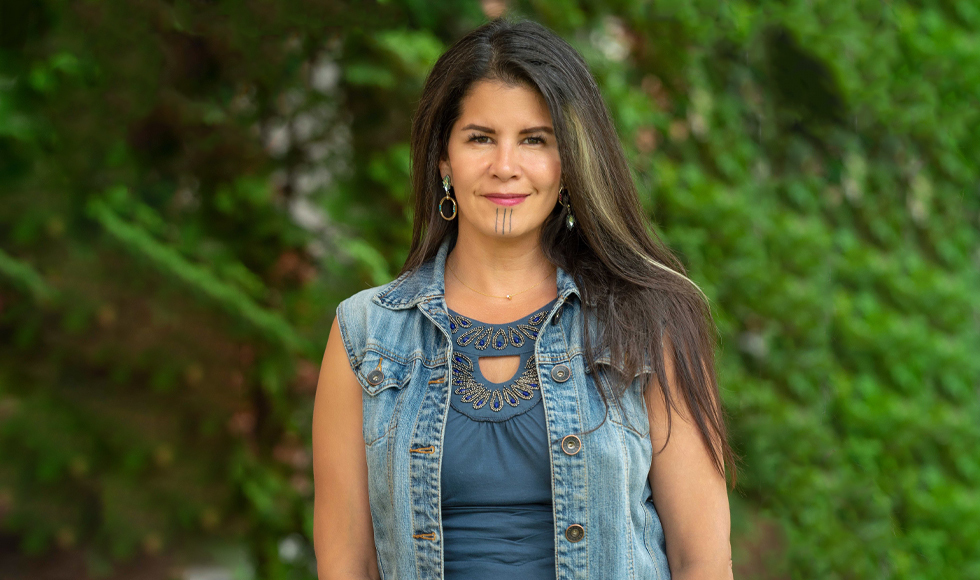 Tracy Bear will hold joint appointments in the Faculties of Social Sciences and Health Sciences and comes to McMaster from the University of Alberta. She is a Nehiyawiskwew (Cree woman) and member of the Montreal Lake Cree Nation in northern Saskatchewan.
---
BY Lori Dillon
February 12, 2021
Indigenous scholar and education advocate, Tracy Bear, has been appointed director of the McMaster Indigenous Research Institute (MIRI).
Bear, a Nehiyawiskwew (Cree woman) and member of the Montreal Lake Cree Nation in northern Saskatchewan, will hold joint academic appointments in the Faculties of Social Sciences and Health Sciences. She comes to McMaster from the University of Alberta, where she is the director of the Indigenous Women & Youth Resilience Project and the academic lead on 'Indigenous Canada,' and assistant professor of Native Studies and Women's and Gender Studies.
An accomplished academic, Bear has made significant contributions to Indigenous scholarship and the national Indigenous education landscape since earning her PhD from the University of Alberta in 2016. Her current research includes social justice, prison abolition, body sovereignty, sexuality and gender, contemporary Indigenous art, and Indigenous literature.
Her appointment begins on July 1, 2021. It has been approved by the Senate and the Board of Governors.
Bear says she was attracted to McMaster because of its "increasingly visible Indigenous presence in academia, research and structure" and sees it as a "fertile ground" to further advance Indigenous research, knowledge and community partnerships.
"McMaster has an incredible reputation as a research-intensive university and is recognized for its interdisciplinary research and teaching," she says. "But more than that, it has respectful and reciprocal relationships with Indigenous Peoples and that's critically important to me personally and professionally for the kinds of initiatives I envision for the community."
One such initiative is 'Indigenous Canada' – a Massive Open Online Course (MOOC) designed to help Canadians understand the history of Indigenous peoples – for which Bear is the academic lead. Since its inception in 2016, the course has grown from 20,000 to more than 230,000 learners and has been named the most popular online course in Canada.
"I'm keen to build on the success of this program and expand it, in some fashion, to McMaster and its surrounding communities," says Bear. "The more Canadians who learn about the history of Indigenous peoples in Canada – which is a bitter pill to swallow – the better off we'll all be," she says.
Karen Mossman, McMaster's vice-president, research, says Bear brings the perfect blend of passion, knowledge and experience to the role.
"Tracy's research is rooted in hands-on experiences and her passion for all things research, teaching and community service embodies the vision for MIRI, and our broader University mission for advancing Indigenous research with our community partners and attracting more Indigenous scholars," says Mossman.
While developing University of Alberta's Indigenous Strategic Plan, Bear says she learned first-hand the importance of community engagement and the seamlessness that must exist among teaching, research and community service.
"For Indigenous studies, community engagement is the priority – we need to understand a community's needs, listen to what they're telling us and then work together on a response," she says.
"It's about uplifting the community, leaving it in a better place than when you found it," she says, noting the reciprocal is true too. "Researchers get so much out of community engagement. You really can't understand that until you're in it."
Bear's joint faculty appointments will allow her to bring her breadth of knowledge to a number of academic areas; building on McMaster's multidisciplinary approach to teaching and research, according to Jerry Hurley, dean of Social Sciences.
Hurley credits the work of all McMaster's Indigenous faculty members – and particularly, Bernice Downey, McMaster's first associate dean, Indigenous Health in the Faculty of Health Sciences, and Chelsea Gabel, Canada Research Chair in Indigenous Well-Being, Community Engagement, and Innovation and associate professor in McMaster's Indigenous Studies Program – as catalysts in the recruitment process.
"McMaster's Indigenous scholars have gained national and global recognition as leading Indigenous researchers whose contributions have made McMaster a go-to place for leaders like Tracy," he says. "Collectively, their work and reputation will allow us to attract additional Indigenous scholars, build our capacity, and contribute meaningfully to reconciliation."
Bear will also work with the Indigenous Health Learning Lodge – an initiative led by Downey, designed to encourage the development and support of Indigenous health programming, address barriers to Indigenous faculty recruitment and integrate Indigenous health education into program curricula.
Acting Director of MIRI, Bonnie Freeman, says the Institute has been gaining momentum and the timing is ideal for new leadership.
"We've been raising awareness of the importance of Indigenous knowledge and, now, as we welcome our new director, we can build on our success and look forward to further engagement with our local communities and planning the next phases for MIRI."
For her part, Bear is looking forward to her move to the Hamilton area, taking in all the nature the region offers, and getting down to work.
"I can't wait to get there – to teach and draw on the energy and wisdom of students, to collaborate with colleagues and Indigenous community leaders and knowledge keepers, and to work with everyone to put McMaster on the map for Indigenous studies."