Two faculty named to the College of New Scholars, Artists and Scientists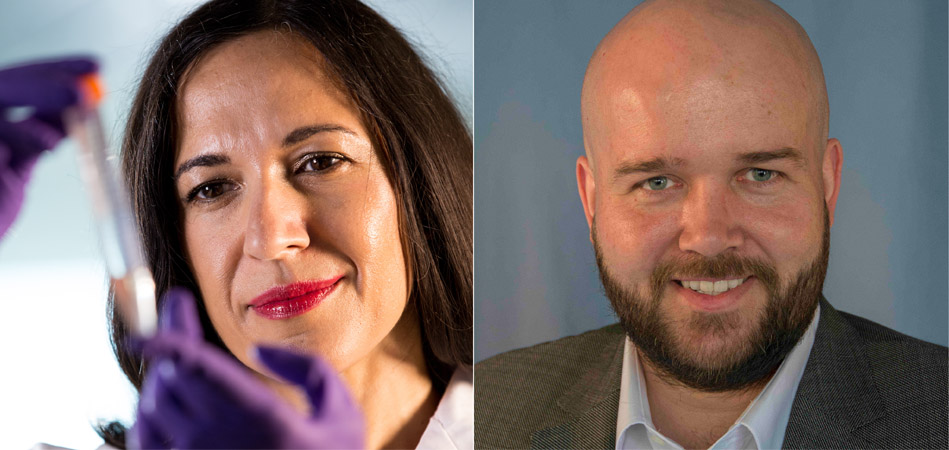 BY Danelle D'Alvise
September 13, 2017
The latest cohort of the College of New Scholars, Artists and Scientists includes two McMaster researchers who will be among the first in their field elected to the College.
Sheila Singh and Paul McNicholas have forged new paths in their respective areas of research: Singh, as an accomplished clinician scientist and internationally recognized scholar in the area of stem cell biology and cancer research; McNicholas as a  global leader in computational statistics research, at the forefront of the field because of his trail-blazing work in classification and clustering using mixture models.
Singh, a pediatric neurosurgeon, is the Canada Research Chair in Human Stem Cell Biology, and has achieved research advances that have led to innovative new cancer therapies. She is widely respected for her dedication to new knowledge and its translation into improved health care.
McNicholas, the Canada Research Chair in Computational Statistics continues to make significant breakthroughs in the field, developing approaches that extract as much quality information as possible from the big, complex, or otherwise 'tricky' data that is key to solving emerging problems in areas as diverse as genetics, disease diagnostics, management science and terrorist behaviour.
"The criteria for election to the College of New Scholars, Artists and Scientists is excellence, and certainly both of our new Members merit this distinction," said Rob Baker, vice-president, research.  "Among their many accomplishments, Dr. Singh and Professor McNicholas are Canada Research Chairholders, and were most recently recognized as University Scholars. Both of these young scientists are especially active in exploring new – and important — research domains, and are widely regarded as the up-and-coming leaders in their fields."
Singh and McNicholas will join the College at a ceremony in Manitoba November 2017. Last week, the Royal Society of Canada elected Lorraine York and Mark Crowther as Fellows, and they will be honored at the same event. McMaster now has eight members of the College: Singh and McNicholas join Paul Ayers, Sarah Brophy, Catherine Connelly, Wael El-Dakhakhni, Bonny Ibhawoh and Gregory Steinberg in representing the emerging generation of scholarly, scientific and artistic leadership in Canada.
In today's announcement by the Royal Society of Canada, College President Cynthia Milton noted that, "The College is a unique institution that is able to respond to the challenges of today through broad creativity and innovation, cutting cuts across the traditional divisions of sciences, social sciences, arts and the humanities as well as across the diverse linguistic and cultural map of Canadian institutions of higher learning and beyond. The incoming cohort reflects this vision of engaged knowledge for the social good."